| | |
| --- | --- |
| Posted by bakinglady on September 6, 2009 at 11:35 AM | |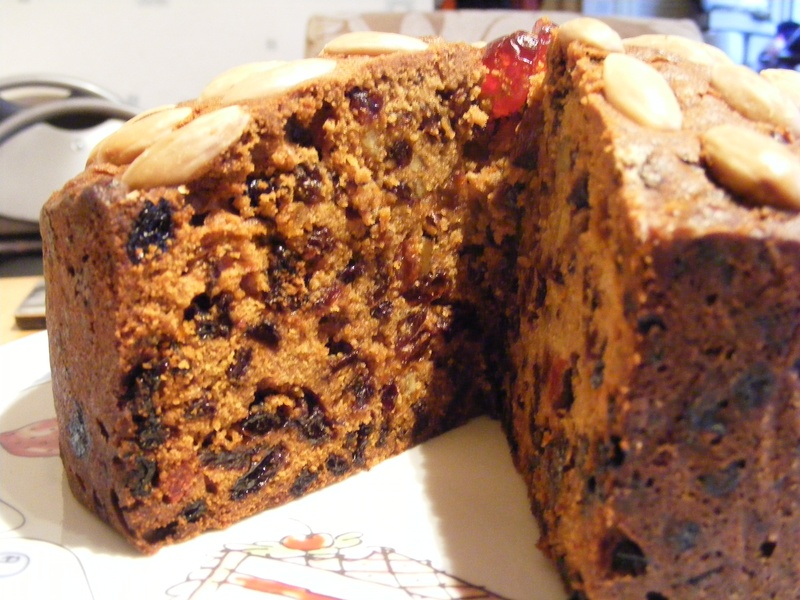 Dundee cake is one of the simple pleasures in life, a nice cup of coffee and a slice of fruit laden, almond topped, wonder-ful-ness on a sunday afternoon are enough to warm the cockles of even the hardest Scot, of course a wee dram of a decent whisky would be the perfect accompniament but that would have me prostrate on the floor so I will stick to my latte....
Pre-set oven to 160c, 150c for fan ovens.
Grease and line an 8" round tin
Ingredients
225g butter
225g soft dark brown sugar
5 eggs
200g currants
200g sultanas
200g raisins
75g dried apricots, chopped
75g glace cherries, quartered plus one whole cherry for decorating the top of the cake
100g diced mixed  peel
grated rind of 1 orange (zest)
grated rind of 1 lemon (zest)
300g plain flour
1 teaspoon mixed spice
1 teaspoon ground cinnamon
1/2 teaspoon baking powder
2 tablespoons of whisky
100g blanched almonds
Place the butter, orange and lemon zests and the sugar into a large bowl and beat until the mixture is pale in colour and fluffy, this might take up to ten minutes if you are using a wooden spoon, I prefer to use a hand held electric mixer, its just so much quicker and easier.
Beat the eggs in a jug and then add them a little at a time to the butter and sugar mixture, beating well after each addition.
Sieve the flour, baking powder and spices onto the mixture and fold in using a metal spoon or spatula.
Add all the dried fruit, mixed peel and cherries and the whisky and fold in carefully till well combined.
spoon into the lined 8" tin and smooth the top.
Decorate with the blanched almonds in circles, placing the reserved cherry in the middle.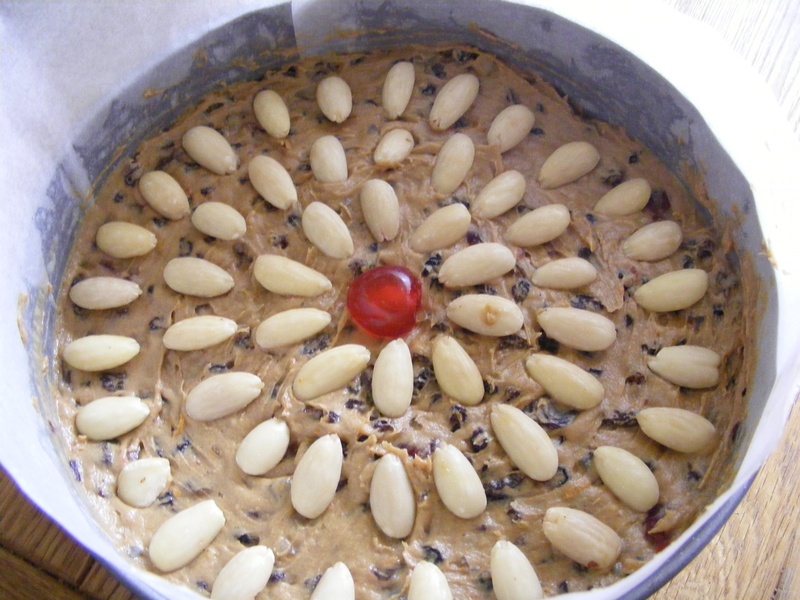 Place in the pre-heated oven and cook for 2 3/4- 3 hours.
To test if the cake is cooked, place a wooden skewer into the middle, there should be no sticky residue when removed, the cake should also spring back when pressed with the fingers.
Leave to cool in the tin for 30 minutes, then turn out and cool completely.
If like me you have a partner who adores Dundee cake, I would suggest you store the cooled cake in an airtight tin and hide it at the back of the cupboard or you are unlikely to get more than just one small slice....
Enjoy!
Categories: Just like Grandma used to make, Cutting cakes