| | |
| --- | --- |
| Posted by bakinglady on September 7, 2009 at 2:05 PM | |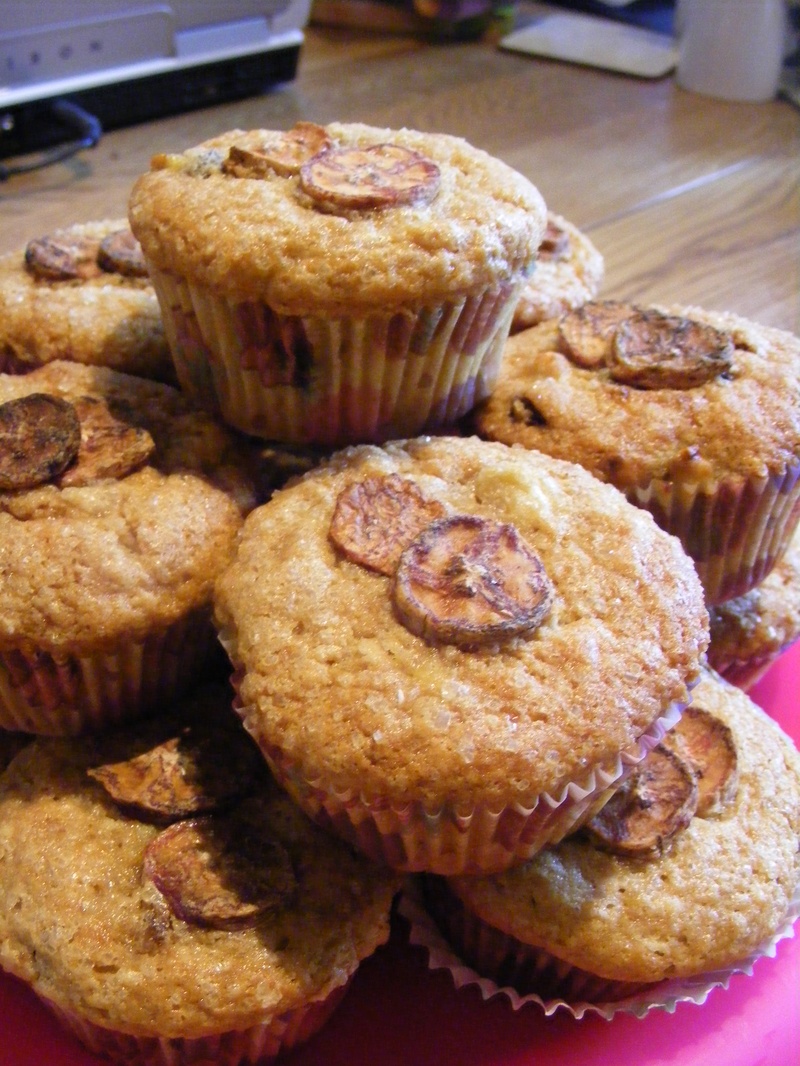 A few months ago I made Banana muffins from a well known 'craft bakery' cookbook and the results were less than pleasing. This is my version, and the flavour, texture and appearence is far superior try them and see what you think.
Makes 12 large muffins
Preheat the oven to 180c
Ingredients
225g self-raising flour
1/2 teaspoon salt
100g butter, cut into cubes
175g soft dark brown sugar
100g raisins
2 large ripe bananas, mashed (try and get bananas that have really brown skins and are over-ripe, they will have lots more flavour)
1 teaspoon vanilla essence
1 teaspoon ground cinnamon
1 egg, beaten
3 tablespoons of milk
100g Chewy banana chips to decorate
3 tablespoons demerara sugar
Line a 12 hole muffin tin with paper muffin cases 
Sieve the flour, cinnamon and salt into a large bowl and add the cubed butter, rub the fat into the flour with your fingertips until you have fine bread crumbs. You can cheat if you like and do this in a food processor ( I like to cheat!).
Stir in the sugar and the raisins.
Break the eggs into a bowl, add the vanilla essence and beat well, add the mashed banana and mix until well combined, pour the gunky banana into the dry ingredients and stir until you have no pockets of dry ingredientsleft.
Divide between 12 large paper cup or muffin cases.
Sprinkle with the demerara sugar and place two banana chips on the top of each muffin.
Place into the oven for 25-30 minutes, the muffins should be well risen and light golden brown,
push gently with your finger the cake should bounce back.
Cool on a wire rack.
These muffins are a fab way to get fruit into  kids and are brilliant for packed lunches, they will keep well for a week if stored in an airtight container.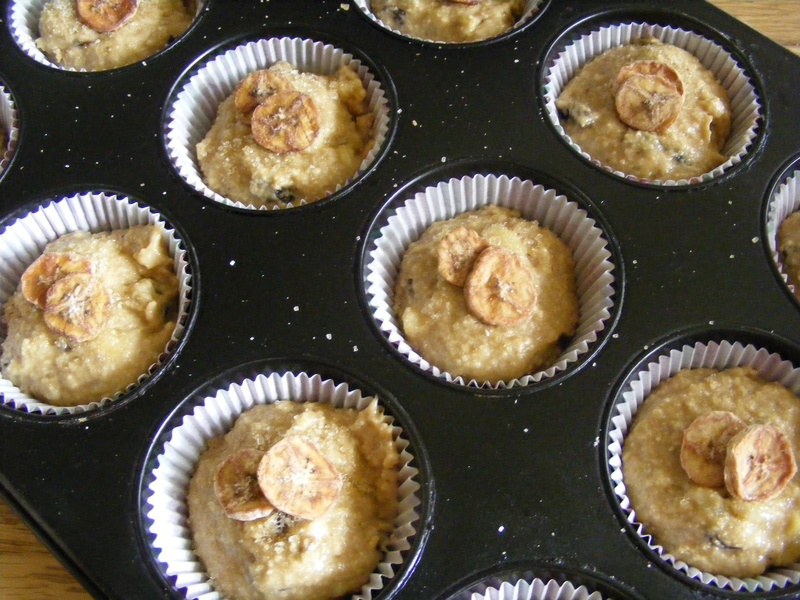 Categories: Cupcakes, Just like Grandma used to make