| | |
| --- | --- |
| Posted by bakinglady on September 20, 2009 at 9:35 AM | |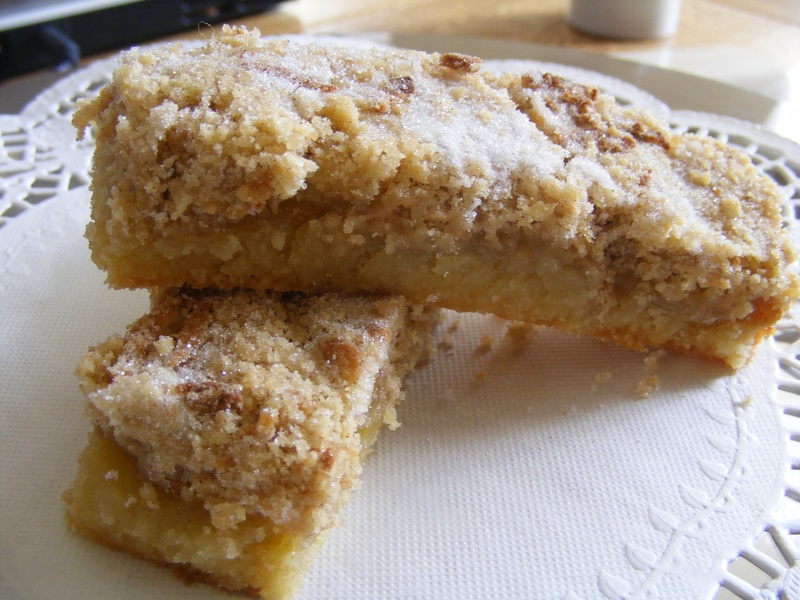 Ten to two... Sunday afternoon... ringing phone!
"Hi Sharon can we all pop round at five, I bet you have some lovely cake on the go...."
Wahhh.... panic!!!! I didn't, but I need to now!
Oops, not alot of ingredients though, not enough for a cake, no eggs, no dried fruit and only a couple of bits and bobs hanging around that need using up- a solitary apple in the fruit bowl and an opened jar of lemon curd in the fridge.
Panic is about to set in, deep breaths in, and out.... and in....
 Inspiration is required, then in a flashbulb moment, this old recipe came to me.
Apple streusel bars, buttery, lemony and lovely, perfect when friends pop by.....
Ingredients
160g plain flour
90g icing sugar
125g ground almonds
220g butter
5 tablespoons good quality lemon curd, I used Dutchy Original, but then I am terribly posh!!!
Topping
1 large Granny Smith apple, peeled, cored and quartered
90g demerara sugar
90g butter
185g plain flour
1 teaspoon ground cinnamon
A little caster sugar to finish
Preheat the oven to 180c
You will need an 8 x 12" swiss roll tin, and a clean, unused J cloth, I kid you not!
Sieve the flour and icing sugar together into a large bowl and stir in the ground almonds, cut the butter into pieces and add to the dry ingrediends. Rub together with your fingertips until you get coarse 'breadcrumbs' and then using one hand work the mixture gently to form a soft dough.
Place the dough into the swiss roll tin and using your fingertips and hands squash the mixture until it is an even thickness all over.
Prick the base with a fork and cover evenly with the lemon curd, then place into the fridge.
Now the technical bit.
Coarsely grate the apple onto the clean unused J cloth, bunch the material up and squeeze the juice out ( I like to save the juice for later on when I get out the Vodka and Cranberry juice, hic).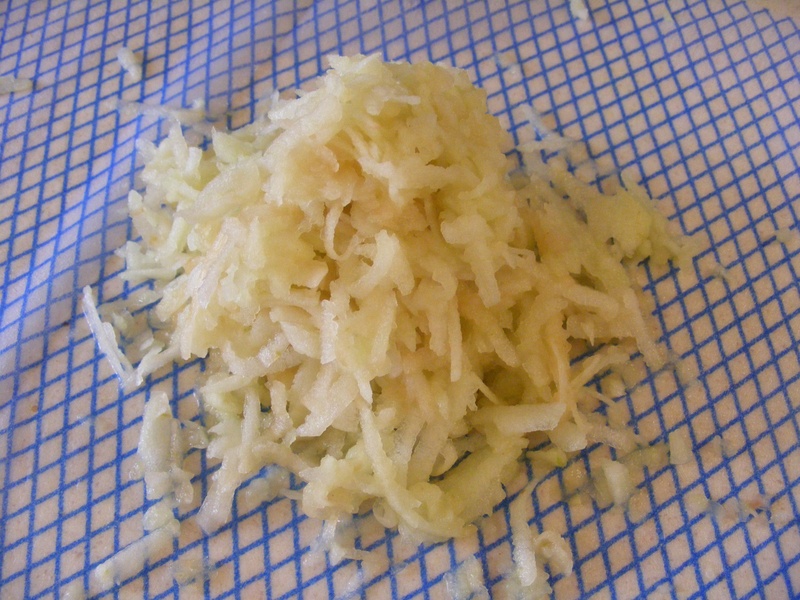 In a bowl, sieve the flour and cinnamon together then add the butter, rub together with your finger tips until you have fine breadcrumbs.
Stir in the sugar and using your fingertips, 'sprinkle'  the grated apple over the top, stir well to combine.
Remove the chilled tray from the fridge and evenly sprinkle the topping over the lemon curd, pressing down lightly to compact the streusel.
bake in the oven for 35-45 minutes depending on your oven.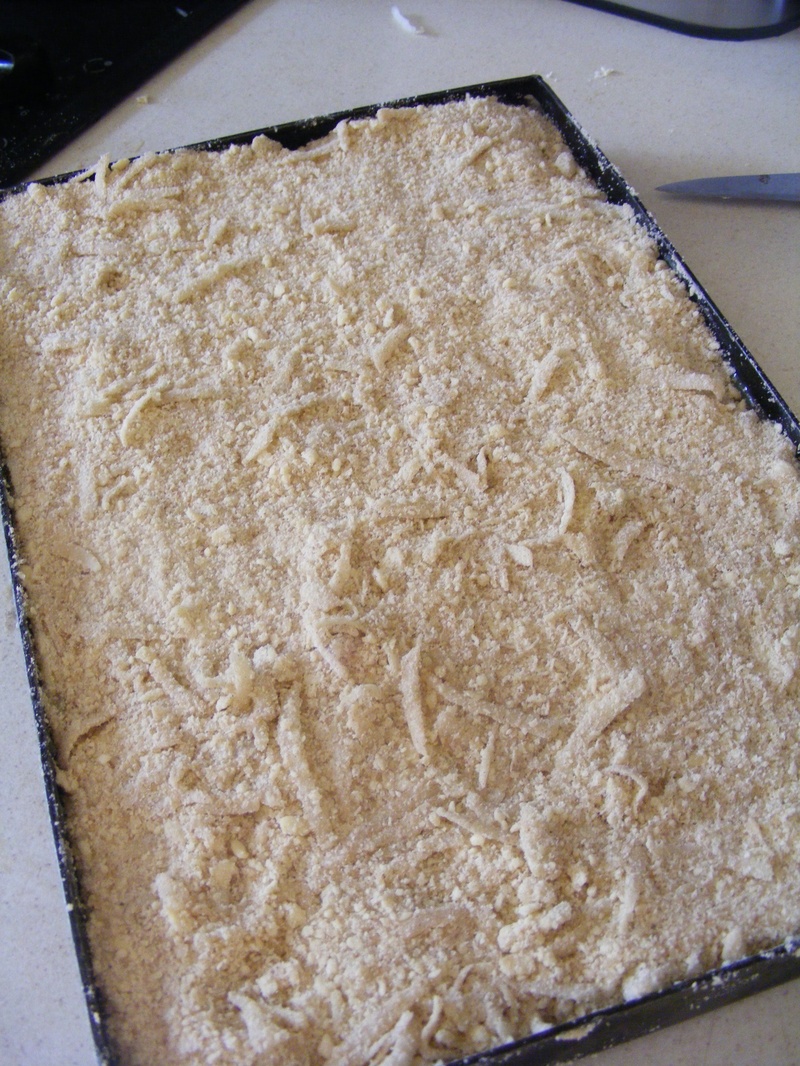 It should be lightly browned when ready.
Cool in the tin, sprinkle with a little caster sugar then cut into 24 x 1" bars.
The Bars were still a  little warm from the oven when my friends descended and their buttery smell, filled the whole house, prompting big oohs of admiration and appreciation, its amazing how far an old apple and a half empty jar of lemon curd will go in a panic situation, Who's the daddy................. 
Categories: Just like Grandma used to make, Brownies and bars