| | |
| --- | --- |
| Posted by bakinglady on October 18, 2009 at 9:15 AM | |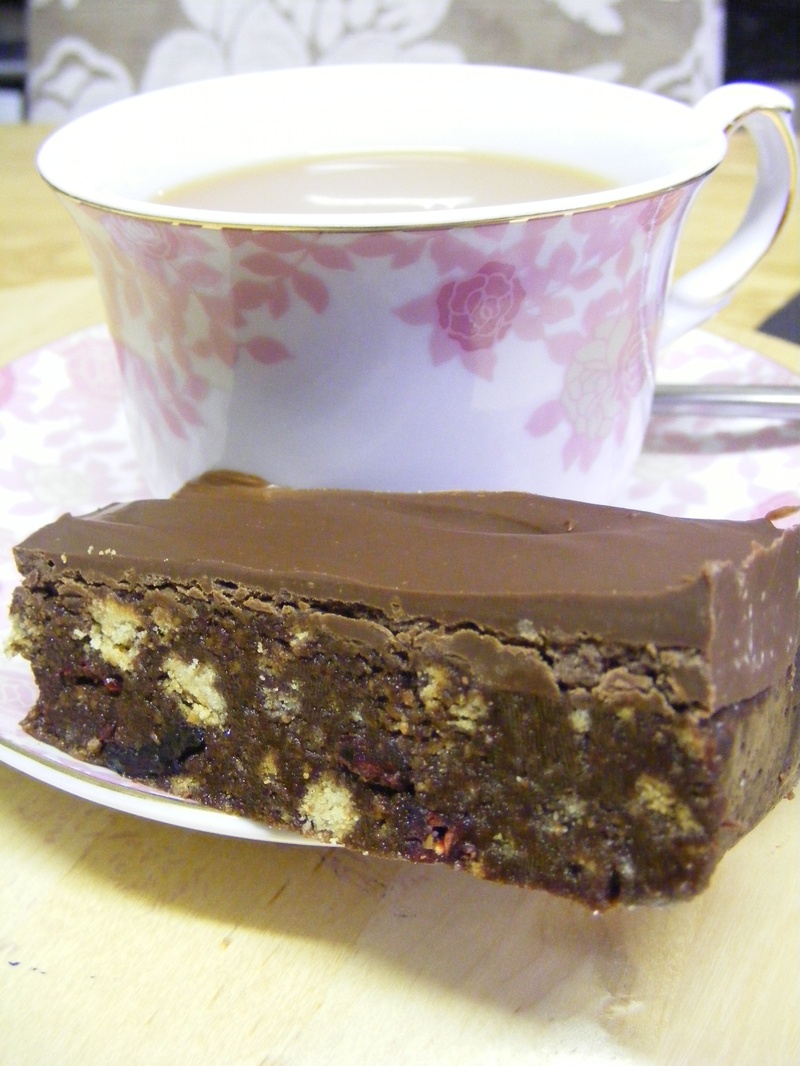 When my Ex husband and I lived in sunny Swindon we were friends with a lovely bubbly lady called Sue who used to produce this scrummy tea time cake at the drop of a hat. I have made a few changes over the years and although I still refer to it as Sue's cake the finished chocolate concocction is now all mine and once you have played with it too you can call it all yours... Enjoy!
Ingredients 
350g digestive biscuits, crushed to 'breadcrumbs' with a few bigger chunks left
6 tablespoons golden syrup ( the easiest way of measuring this is to place the tin in a bowl of hot water until the syrup goes very runny)
200g butter, dont skimp on margarine...
4 tablespoons cocoa powder
200g dried fruit mix- I love to change this depending on the season, at the moment I am using a fabulous dried cranberry, jumbo raisin and white chocolate chip mix but you can use anything, Apricots, almonds and white chocolate chunk is another fabulous mixture or even plain sultanas or dried bitter sweet cherries, get adventurous, make this recipe all yours...
200g plain chocolate for the topping
No preheating of oven required... Woohoo!!!!
Line a 8" x 6" tray with a sheet of silicone paper or baking parchment
Place the butter, cocoa and golden syrup into a saucepan and stir gently until the butter is melted (you might want to put in on the heat to do this or you might be here for a while) you should have a lovely glossy sauce .... fabulous on icecream but dont do that today or you wont have fridge cake just a pile
of broken digestive crumbs, not good :D! Now chuck in the crumbs and your chosen fruit and give it a good stir, making sure that you cover all the biscuit crumbs, tip into the tin and refigerate till firm.
Once firm, melt the chocolate and pour all over the top giving it a swirly pattern, leave to set on the side ( this should give you a nice shine on the top)  and then keep in the fridge, well clingfilmed or it really wont last very long, actually you could wrap it in corrugated iron with ten padlocks, it still won't last for any length of time so I suggest giving into temptation and having a big wedge and a cup of tea.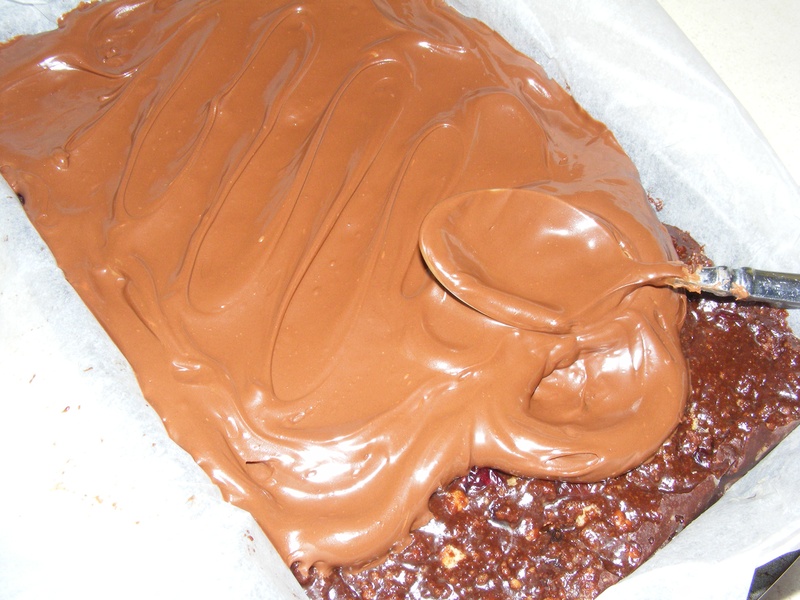 Categories: Chocolate... chocolate and more chocolate!, Brownies and bars