| | |
| --- | --- |
| Posted by bakinglady on November 14, 2009 at 11:45 AM | |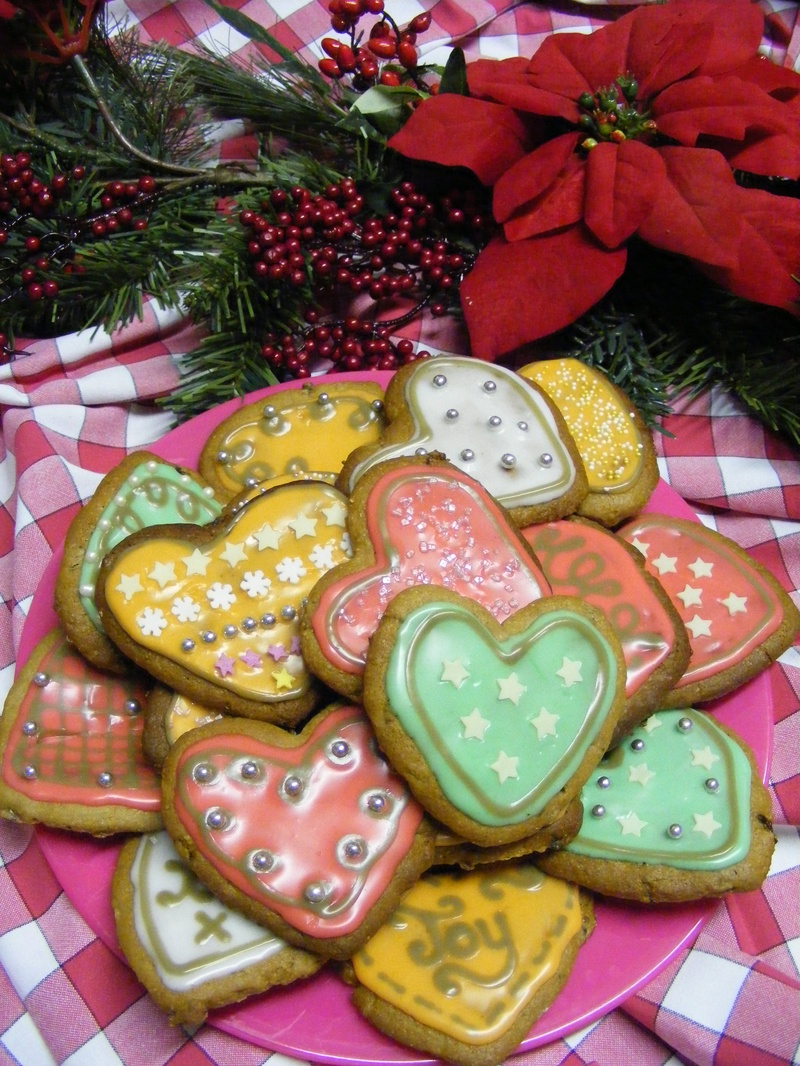 When I was a child my family lived in Hannover in Germany for a few years, and Christmas was just the most magical time.  We would wrap up in fifteen layers and venture out to the snow covered markets, and on some of the stalls were beautifully iced and decorated, heartshaped Lebkuchen, ranging in size fron mouthsized morsals to some bigger than a dinnerplate. Pfeffer nuss and Gingerbread, Gluhwein and candied nuts, and the fantastic savoury aroma of Bratwurst and Bockwurst , the sights and smells of these wonderful markets embedded themselves in my subconscious and I love to make these traditional spiced cookies every year, sometimes making a hole at the top of the prebaked cookie and threading them with brightly coloured ribbon to hang on the tree. Christmas just wouldn't be the same without them......
Makes 30 cookies
Ingredients
170g honey
60g soft light brown sugar
30ml water
25g butter
1 tablespoon cocoa powder
1 teaspoon cinnamon
pinch of ground nutmeg
pinch of ground cardamom
grated rind of 1/2 a lemon
1 egg yolk
225g plain flour
145g ground almonds
60g, mixed peel, finely chopped
60g raisins, very finely chopped
3 teaspoons baking powder
Icing
225g Fondant icing sugar
2 tablesppons water
To decorate
Hundreds and thousands, silver dragees, sugar stars...etc....
Food colouring
What to do
Preheat the oven to 180c
Melt the butter, honey, sugar and water in a small saucepan then add all the spices, lemon zest and cocoa, stir really well then leave to cool.
Sieve the flour and baking powder into a large bowl and add the ground almonds and very finely chopped raisins and mixed peel, combine well.
Add the egg yolk to the honey mixture then pour this over the dry ingredients, combine well to make a fairly firm dough. Add a little flour if it seems a little sticky.
Turn out onto a lightly floured work surface, knead briefly and then roll out to 1/4" thick 1/2cm cut out using a heart shaped cutter . Place onto a baking tray lined with silicone or parchment paper and bake in the pre-heated oven for approximately 15-18 minutes. The cookies should be light golden brown.
Leave to cool on a wire rack.
Once the cookies are cool, make up the fondant icing with the water, combining to make a paste of a thick spreadable consistency, colour with food colouring and then go mad, decorating your lovely cookies with the fondant icing, dragees, hundreds and thousands and whatever else you have found to decorate your lebkuchen.... Enjoy!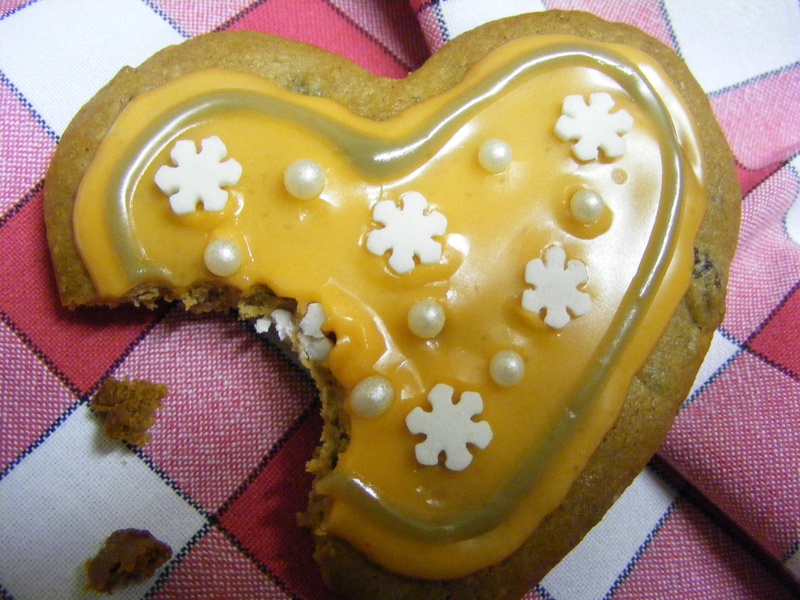 Categories: Christmas, Biscuits and Cookies