| | |
| --- | --- |
| Posted by bakinglady on November 22, 2009 at 11:20 AM | |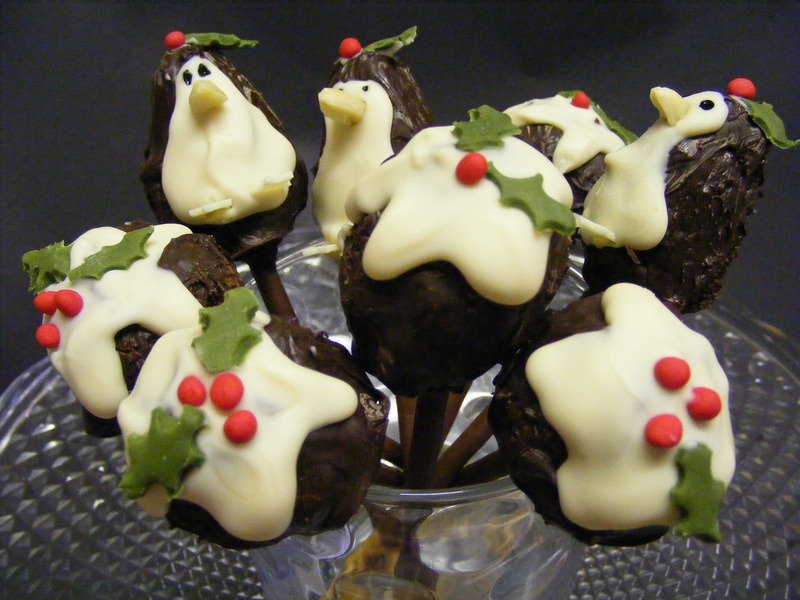 Tis the season to be jolly, get out the chocolate and make up some lolly... or two... or three...
These fabulous cake lollypops are totally edible including the sticks and just cant get any cuter, so get into the festive spirit, get out your mixing bowl, roll up your sleeves and have some 'Crimbo'  fun in the kitchen.
Ingredients
10g Cointreau or other orange flavoured alcohol, or you could use rum ( for a non alcohol version just use orange juice)
250g chocolate cake crumbs
50g dried cranberries
20g apricot jam
75g Bournville orange or other plain chocolate with real orange bits
Box of Mikado biscuits for the edible lolly sticks
100g plain chocolate to coat
75g white chocolate to decorate
sugarpaste holly berries and leaves, white chocolate stars for the penguins feet, a few whole blanched almonds for the penguin beaks
This is a really easy recipe, but you will get covered in chcolalate so be warned... Makes about 18
Mix together the cake crumbs and cranberries in a large bowl.
Melt the jam with the Cointreau then melt the chocolate with the orange bits in a bowl over hot, not boiling water, stir the chocolate and jam mix together then add to the cake crumbs and cranberries mixing really well to combine all the ingredients.
Divide the cake mixture into 20g balls and squash to  firm them up, elongate half of them into a pear shape for the penguins then place onto a sheet of silicone whist you melt the plain chocolate in  a bowl over a pan of hot not boiling water. Using a teaspoon or small paintbrush coat the balls and penguins with a thin layer of the plain chocolate and place back onto the silicone paper to set,
Once the choclolate has set, dip the chocolate covered ends of the mikado biscuits into the melted plain chocolate ( about 1cm)  and push into the bases of the balls, leave to set once more ( I stand them in a tumbler for this).
Melt the white chocolate and spoon a small amount on top of the balls, drawing it down to resemble the cream on top of the puddings, decorate with the holly berries and leaves, leave to set.
Now for the penguins..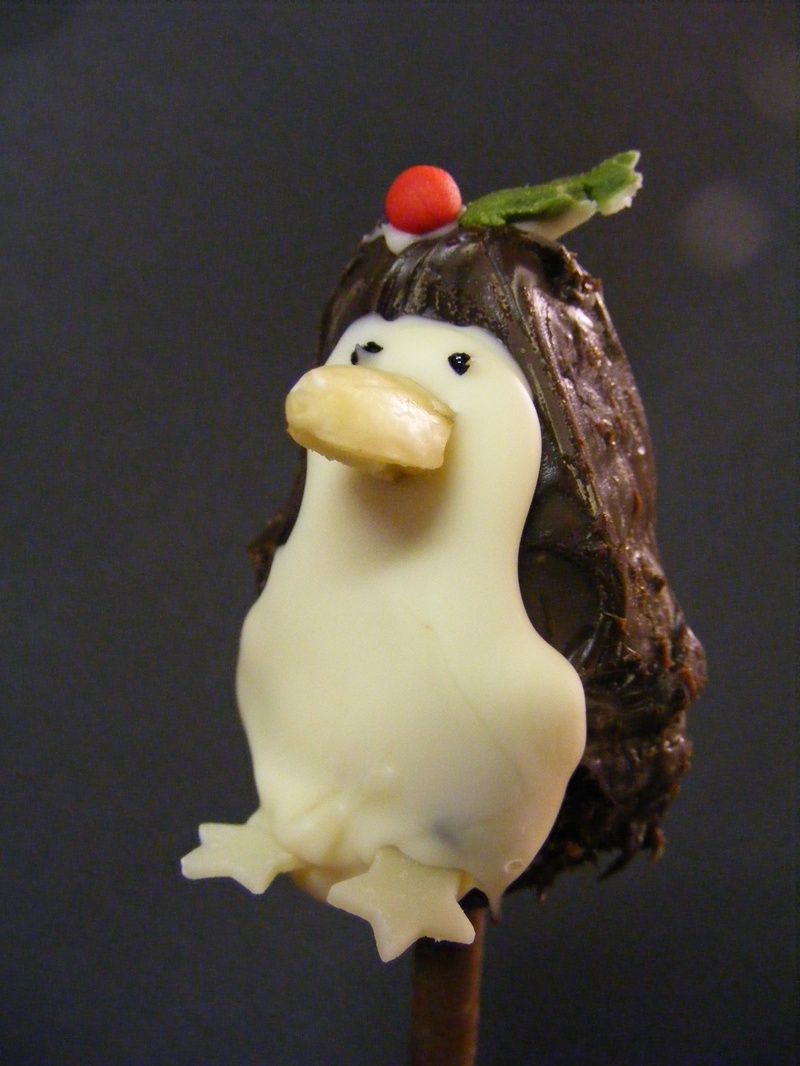 Cut the almonds in half and then in half again and trim to make beak shapes.
Using a teaspoon, spoon some melted white chocolate on the front of the penguin to form the tummy and face, push a sliver of almond in to form a beak then push two chocolate stars in at the bottom of the tummy for the feet.
Dip a cocktail stick into a little melted plain chocolate or black food paste colouring and push onto the white chocolate for the eyes. leave to set.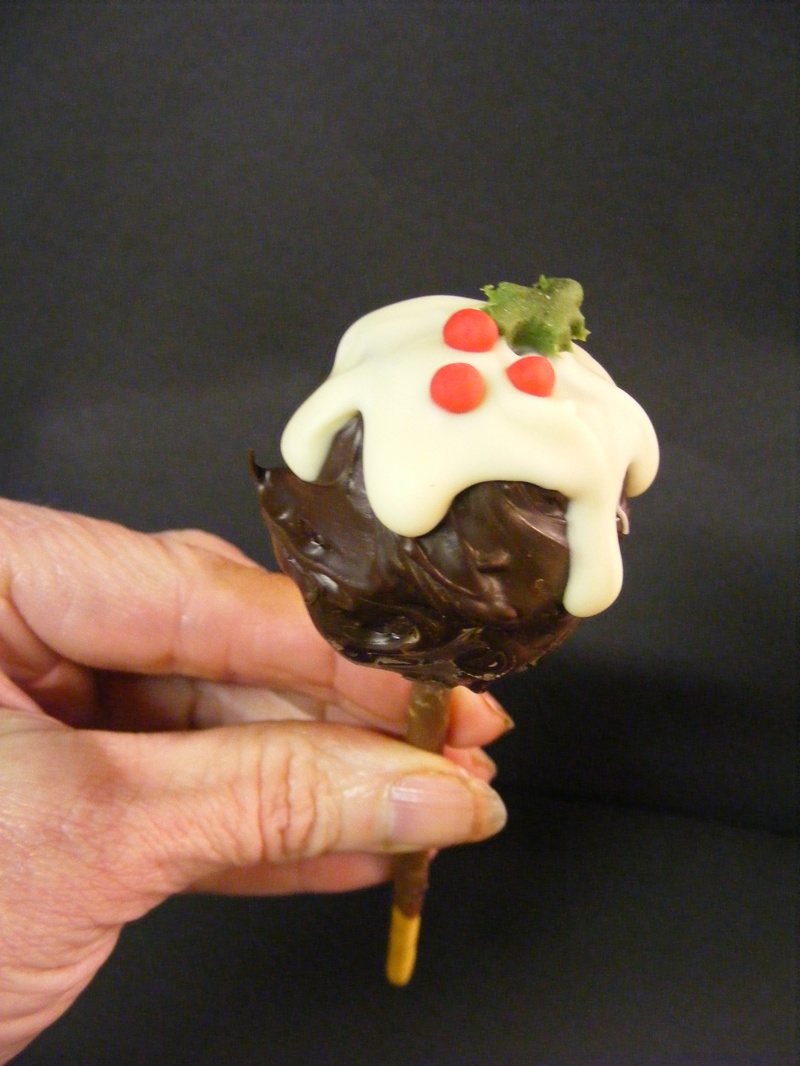 Now for a close up of the finished pudding pop....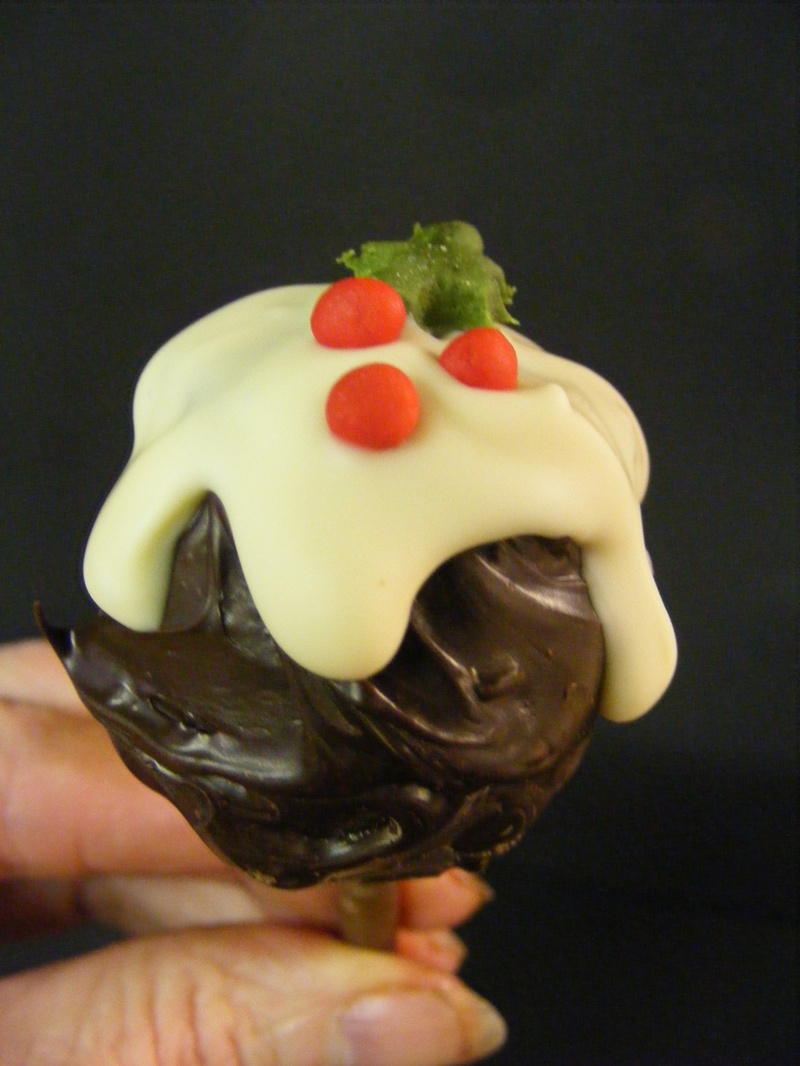 closer still...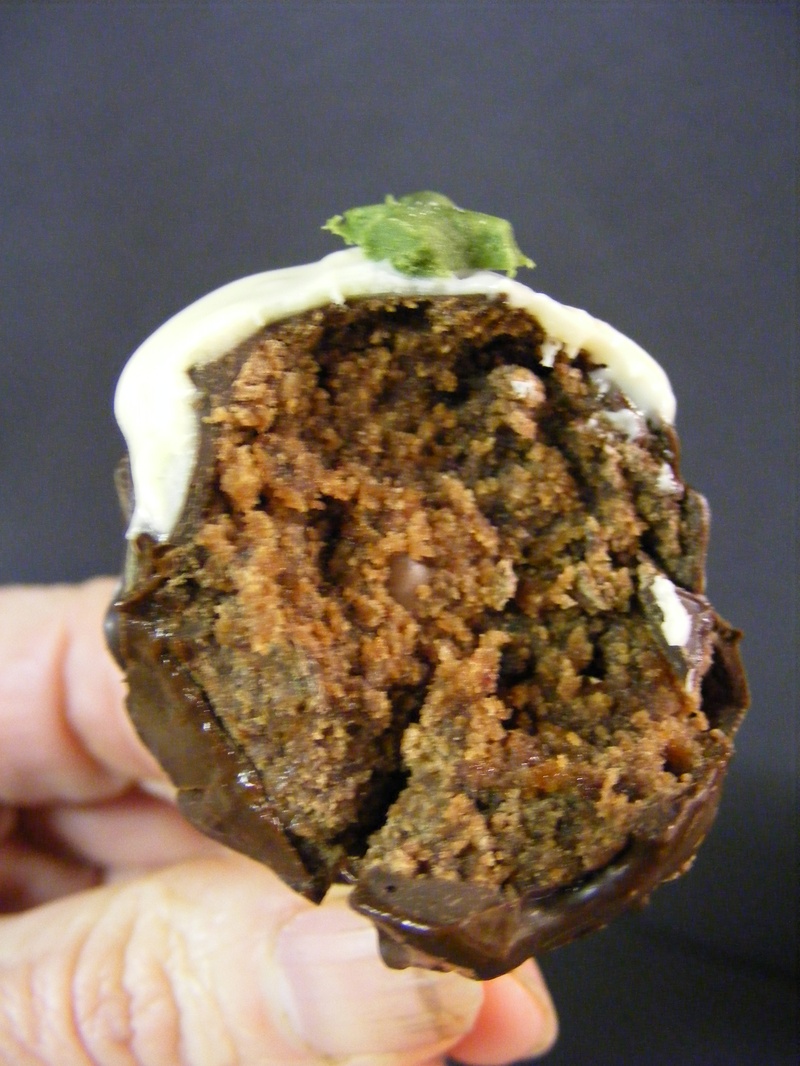 Oops...
Categories: Christmas, Cupcakes