| | |
| --- | --- |
| Posted by bakinglady on February 13, 2010 at 1:40 PM | |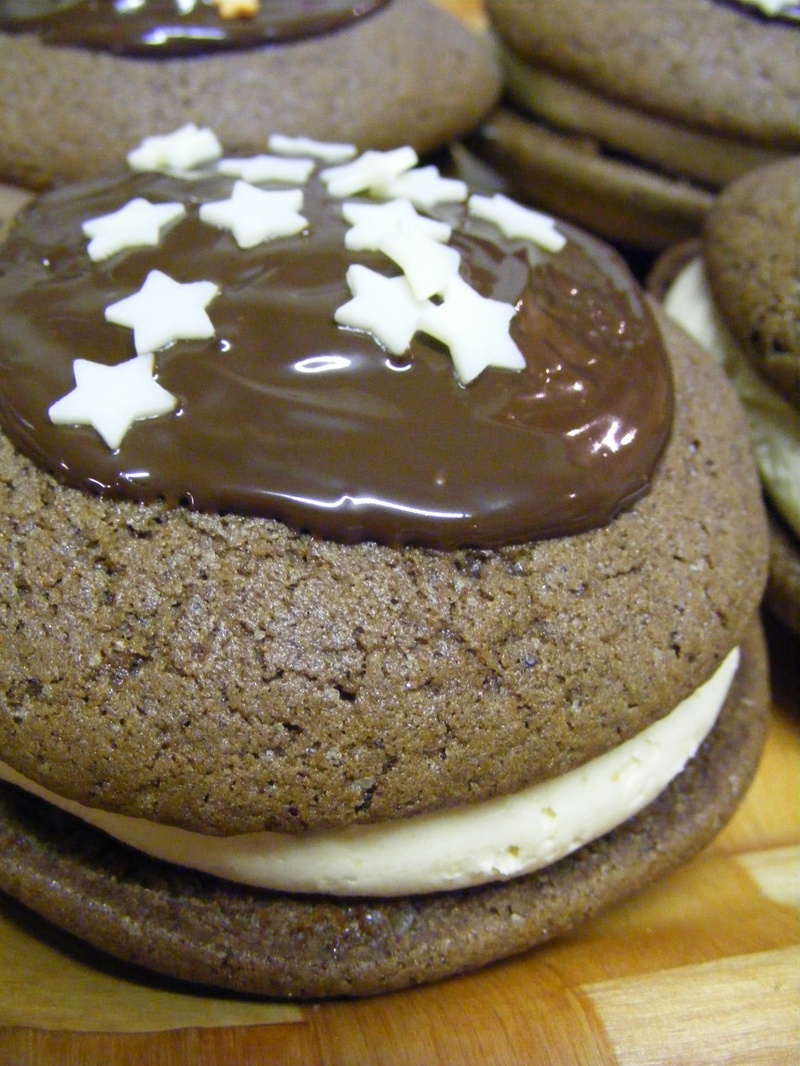 Whoop-di-do.......Whoopie pies are going to take the UK by storm, mark my words! I predict they will be as big as cupcakes and you can say you heard it here first. Whoopie pies originate in New England and were traditionally made by the Amish community, I came across them by chance and after alot of hunting on the internet managed to find a recipe I was happy with. Here is my version complete with a lush peanut butter frosting. Enjoy!!!
Ingredients
100g White shortening ( I used Trex, find it by the butter and margarine)
180g Soft dark brown sugar
1 egg
30g Cocoa powder
280g plain flour
1 teaspoon bicarbonate f soda
1 teaspoon baking powder
1 teaspoon salt
1 teaspoon vanilla extract - dont be tempted to use a vanilla substitute!
200ml milk
Filling
100g Trex or other solid white shortening
125g  unsalted butter
250g icing sugar
1/2 tablespoon vanilla extract
2 heaped tablespoons smooth peanut butter
1/2 teaspoon salt
Preheat the oven to 180c and line 2 baking sheets with parchment paper.
In a large bowl, beat together the white shortening, brown sugar and egg until soft and fluffy.
Sieve the flour, baking powder, bicarbonate of soda, cocoa powder and salt together, twice, into a seperate bowl.
Mix the milk and vanilla essence together in a small jug.
Now...
Beat the milk mixture into the creamed sugar mixture then fold in the sieved flour mixture until you have a fairly soft 'dollopy' mix.
Spoon 20, slightly heaped, tablespoons of mixture onto the baking sheets, allowing room for them to spread then place into the pre-heated oven for 15 minutes until firm to the touch.
Cool on a wire rack.
Now the fun part, the filling....
Cream the white shortening and butter together until really light, soft and fluffy then add the vanilla essence, icing sugar, salt and peanut butter and continue beating until the mixture is smooth and well combined.
Once your cakes are completely cool, pipe or spread the filling on the flat side of half of the cakes and top with the the remainder.
If you Go to Pennsylvania this is how you will find Whoopie pies, nice and simple, tasting like a giant squishy 'Oreo' cookie but if you want to 'funk' them up, then try melting 100g of a good plain chocolate with a tablespoon of cooking oil and spread a teaspoon over the top of each pie then sprinkle with some edible decorations. I used white chocolate and multi-coloured sugar stars for mine and everybody agreed that they were fabulous.
Categories: Chocolate... chocolate and more chocolate!, Cupcakes