| | |
| --- | --- |
| Posted by me on August 14, 2013 at 5:50 AM | |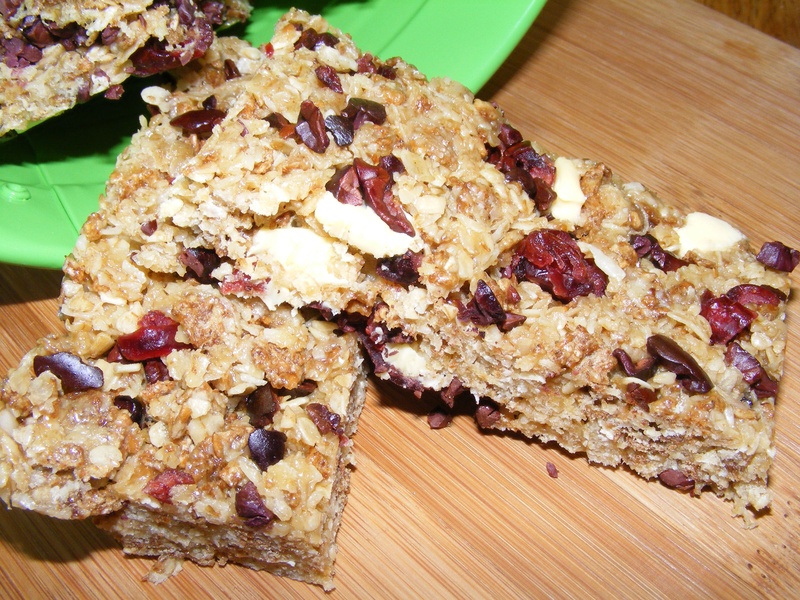 I would like to tell you that these gorgeous no bake.... yes you read me right....NO BAKE....bars are healthy because they contain oats, bran flakes and honey but I would probably be fibbing because once you start munching on them you wont be able to stop and then you will turn into a great big marshmallow fluff sat on the sofa watching endless reruns of Coronation street and Emmerdale.... But IF you can eat them in moderation and chuck them into the kids lunch boxes I guarantee they will become a family favourite very quickly and be taken on picnics, outings and into the hubby's office where they are devoured faster than you can say "morning Glyn...ooh has Sharon been baking ag......" Enjoy!!!!
What you will need....
420g rolled oats (porridge oats....NOT READY BREK type oats
60g desiccated coconut
160g Branflakes crushed with your hands but not pulverised!
150g soft light brown sugar
300g runny honey or golden syrup, or even maple syrup if you want to be very extravagant or Aunt Mabel bought you back a bottle 8 years ago from Canada and its still sitting in the back of the cupboard....
150g butter
1 teaspoon salt
2 teaspoons vanilla essence
200g of anything you fancy chucking into it- I used 100g of cocoa nibs (get them from a health food shop which are chocolatety and nutty and very grown up) as well as a further 100g of white chocolate chunks with dried cranberries but you can use ALL chocolate chips, toasted hazelnuts or almonds, dried cherries are gorgeous as are chopped dried apricots... whatever you want as long as its 200g in total you can even use Smarties or other small sugar coated chocolate sweet if you want to be really naughty....
What to do...
Line an oven roasting tin (mine was 12" x 10") with a sheet of baking powder but make sure that it will fit into your fridge first, I didn't the first time I made this recipe and ended up getting very frustrated as I tried ramming it into the vegetable drawer in my fridge and ended up smashing half a dozen eggs in the process, or if the tin wont fit in just split the mixture into 2 x 8" square tins, maybe making two separate flavours in the process... OOh Good thinking....
In a large mixing bowl place the rolled oats, dessicated coconut and crushed bran flakes and mix to combine.
In a non stick saucepan place the butter, honey, soft brown sugar, vanilla essence and salt, stir till melted and then as soon as the mixture is just at the boil remove the spoon and boil rapidly for            2 minutes 15 seconds, the mixture will be slightly thicker and definitely more syrupy in texture. 
Immediately pour over the dried mix and stir well to coat and combine all the ingredients. If you want to add in chocolate chips or any other melt able ingredient then leave the mixture to cool for five minutes otherwise they will melt but you can throw in any other ingredients at this stage.
Once you have all you ingredients mixed in, place into the prepared tin and squash the mixture FIRMLY down with your hand/s don't be tempted to just use the back of the spoon as you wont compact it enough, get your Arnie Schwarzenegger vibe on and squish that mixture.... then chuck the tin in the fridge for about twenty minutes and cut into bars.
Once set these gorgeous (almost healthy) bars are chewy and very moreish, my family devour them in seconds so I have to lock them away!!!;)
Delicious!!!!!! 
Categories: Brownies and bars, Just like Grandma used to make