| | |
| --- | --- |
| Posted by me on August 28, 2013 at 9:00 AM | |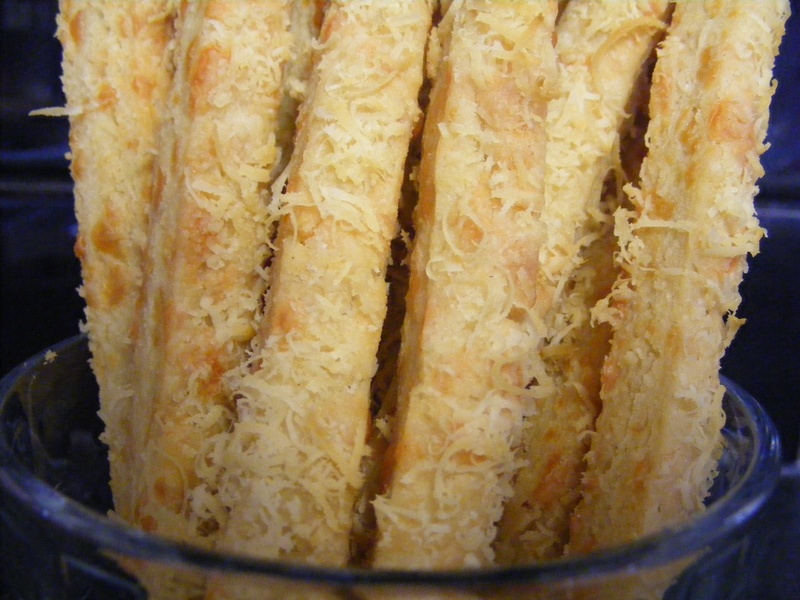 Sometimes you just need something incredibly quick and easy to slap into the oven when unexpected guests turn up for a few drinks and there isn't a packet of crisps to be found in the cupboards.
These delicious cheesy nibbles are adapted from our lovely friend Gary's mum who makes them every time we descend on them for the weekend in glorious Selsey Bill in West Sussex. They go down a treat with a chilled glass of wine and although I can never quite persuade her to give me the recipe they are as close as I am going to get other than sitting on a stool by her side and weighing everything as she never weighs the ingredients as she has been making them so long…Enjoy!
What you need
375g plain flour
½ teaspoon salt
225g butter, cubed
200g extra mature cheddar cheese (as strong as you can find, preferably the kind that takes the skin off your tongue), grated
½ teaspoon dried mustard powder
2 egg yolks
3-4 tablespoons water
20g parmesan cheese, finely grated to sprinkle over the straws before baking
What to do…
Preheat the oven to 190c or 180c for fan ovens
Line a baking sheet with parchment or baking paper and then put all the ingredients (except the finely grated parmesan cheese) into a food processor and blitz for a few seconds until the mixture comes together into a firm dough… if by any chance you haven't got a food processer don't worry it doesn't take that much longer to do it the old fashioned way (but it will make you feel far superior that you have made them without modern technology) .
Place the flour, salt, mustard powder and cubed butter into a large bowl and using your fingertips combine the ingredients until you have the consistency of fine breadcrumbs. If the mixture starts to go 'claggy' if you have hot hands just pop the bowl into the freezer for half an hour and all will be well.
Once you have a bowl full of fine crumbs, mix in the grated cheese, egg yolks and the water and mix to a firm paste with a fork and then your hand.
Leave the dough to rest for half an hour ( if your visitors have already descended miss this stage out and start rolling them out with a glass of wine in your other hand) then sprinkle your work surface with a little flour and roll the dough into a nice oblong about ½cm thick.
Cut the straws into lengths 1cm wide by however long you would like your straws and then place them onto your prepared baking sheet and sprinkle with the finely grated parmesan cheese.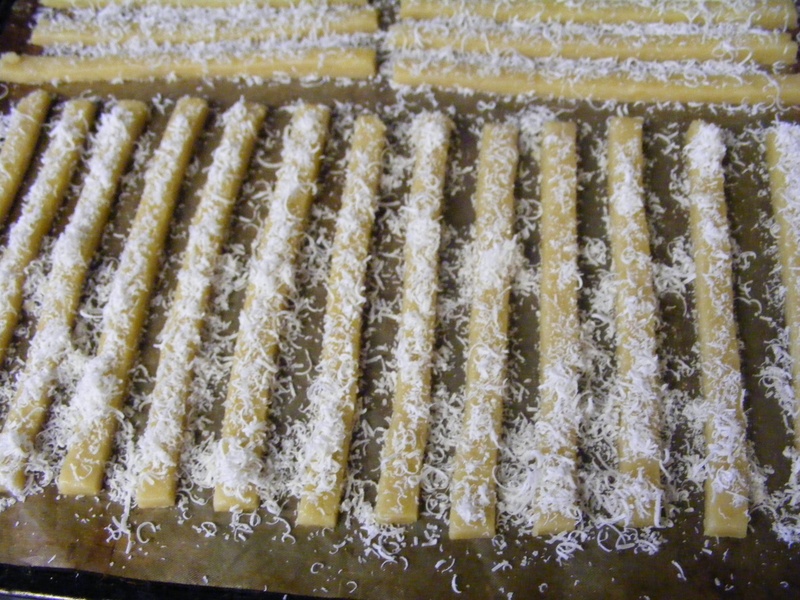 Bake in the oven for 10-15 minutes until golden brown then remove then remove but leave them to cool on the sheet.
You can always mess around with the flavour of these straws by adding some celery salt (omit the ½ tsp salt) garlic powder or Nigella seeds or sprinkle them with some poppy seeds instead of the parmesan before baking, however you eat them just remember the vital ingredients….Good friends and a lovely cold bottle of something bubbly!
Categories: Just like Grandma used to make, Something savoury, Pies, pastry, Tarts and Tartlets