| | |
| --- | --- |
| Posted by me on September 2, 2013 at 10:50 AM | |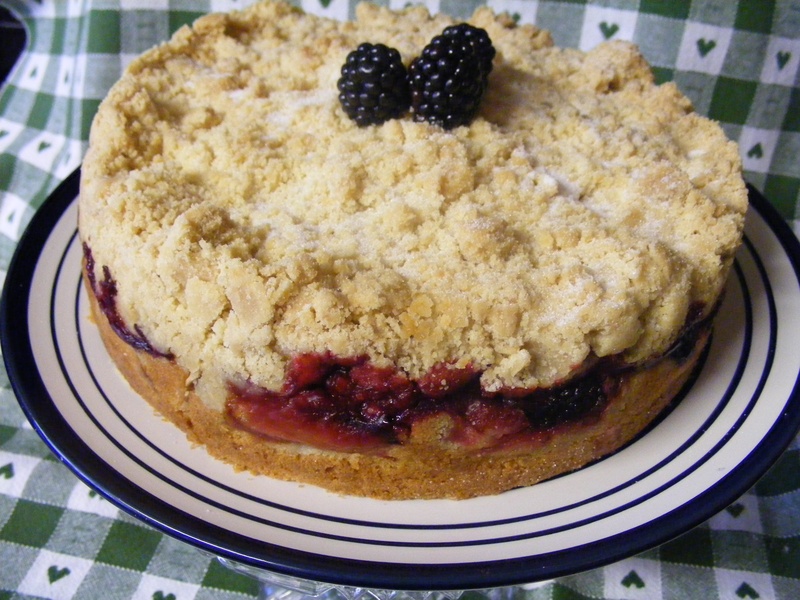 I have had this hand written recipe in my collection since about 1980 and it's a lovely tea time treat that I have revisited and updated especially for these chilly autumnal evenings when something decidedly warming covered with a great big dollop of vanilla infused cream is called for. Although there are lots of ingredients in this recipe and three layers it's an easy peasy recipe that you can knock up quickly and then chuck into the oven whilst you wait for the aromas to waft through the house, enjoy….
What you need
Filling
1 kilo brambly apples peeled, cored and sliced
150g blackberries (reserve three for decoration)
Cake base
100g butter (don't skimp and use margarine)
100g caster sugar
2 eggs
½ teaspoon salt
1 teaspoon vanilla extract
180g self raising flour
2 level tablespoons cornflour
4 tablespoons milk
Crumble
100g butter
100g caster sugar
200g plain flour
A little caster sugar to dust the top after baking
What to do
Preheat the oven to 170c or 160c for a fan oven
Line an 8" round baking tin with baking parchment or silicone paper.
First take a bowl and make the crumble topping by rubbing the plain flour, butter and caster sugar all together between your fingertips until you have chunky crumbs, I like to leave them really rustic looking then you get a big buttery mouthful on top of the apple layer.
Next place all the cake base ingredients into another bowl and beat for two minutes with an electric beater to get some air into the mixture, the mixture should be creamy and fairly stiff as it needs to hold the weight of the apples and not let them sink into the batter
Place the cake mixture into your prepared tin then top with half the sliced apples (hopefully you read that they were supposed to be peeled, cored and sliced or you will have to quickly do this or plonk the whole apples onto the cake paste which wont taste brilliant but would be a real talking point!)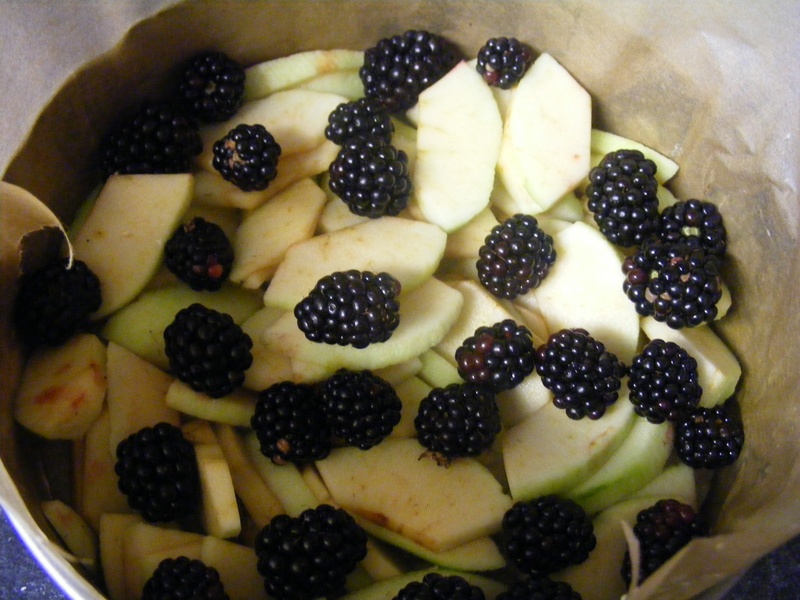 After half of the apples are on top of you batter sprinkle with the blackberries, making sure that you place some right up against the side of the tin so you can see their gorgeous purple jewel like colour after baking. Top with the remaining apples and push down gently then finish off the cake with the final layer of crumble.
Bake in the middle of the pre-heated oven for 1-1 ½ hours until the crumble topping is golden brown and the base and apples are cooked (you can test this by pushing a wooden skewer through the apples, they should feel soft all the way through). Leave to cool in the tin for about twenty minutes before carefully removing to a cooling rack.
Serve warm with whipped vanilla infused cream or cold as an afternoon tea cake.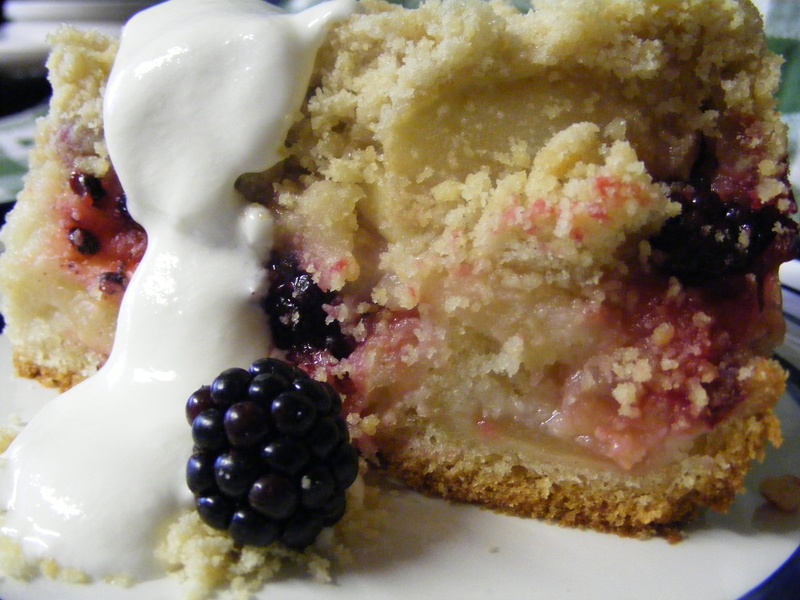 Categories: Just like Grandma used to make, Cutting cakes