| | |
| --- | --- |
| Posted by me on September 9, 2013 at 4:40 AM | |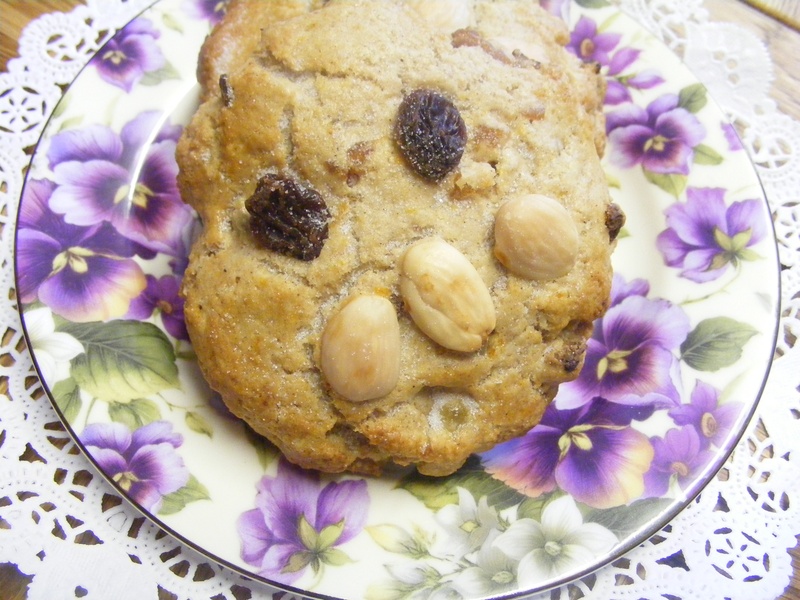 In the mid 19th century Yorkshire farmers would cook turf cakes on a spade over a turf fire. A cross between a traditional scone and a rock cake they would have been made with the simplest of ingredients, flour, sugar, a drop of fresh milk and an egg and if the farmer's wife was feeling generous a handful of currants or raisins.
In 1919 a Swiss confectioner named Frederick Belmont founded the world famous Bettys Café Tea Rooms in Harrogate and in 1983 they introduced their best selling cake the 'Fat Rascal' based on an original Turf cake recipe.
My affectionately known Yorkshire Chubby chaps have been bought into the 21st century with a tropical twist and baking them yourselves means you don't have to Travel to Harrogate and stand outside Bettys looking forlornly through the window at the delicious cakes because you forgot to book a table six months in advance….
What you need….
150g plain flour
150g self raising flour
1 teaspoon baking powder
150g butter
90g soft light brown sugar
Grated zest of one large orange
Grated zest of one large lemon
1 teaspoon of ground cinnamon
½ teaspoon of ground nutmeg
½ teaspoon ground ginger
½ teaspoon salt
50g tropical ready to eat fruit mixture (pineapple, papaya, mango etc)
100g chopped dried apricots
5 tablespoons milk
1 egg
To finish…
4 glace cherries cut in half
20 blanched almonds cut in half lengthwise (if you place the almonds into boiling water it softens them up so you can easily split them, otherwise you end up with almonds pinging off in all directions)
1 tablespoon of milk
What to do….
Preheat the oven to 200c or 180c for fan ovens
Place both of the flours, the cinnamon, nutmeg and ginger as well as the baking powder and salt into a large bowl and using a wire whisk give the mixture a really good stir (this simple method adds air and combines all the ingredients, alternatively you can use a sieve).
Rub the butter into the dry ingredients until you have the texture of fine breadcrumbs then add the zest of the orange and lemon, the dried fruits and sugar, stir well with your whisk.
Now add the beaten egg and milk and bring the mixture together with a fork until you have a soft dough.
Divide into 8 equal portions and form into round balls then squash them gently on a lined baking sheet until they are about ¾ of an inch thick.
Brush the tops of the chubby chaps with a little milk and place a cherry half into the middle with 5 split almonds coming out like flower petals.
Bake in the centre of your oven for 15-20 minutes or until well risen and golden brown.
Transfer to a wire rack and serve warm with or without butter, I have to say these go down a treat on a chilly Lancashire day and are so easy to whip up in a few minutes. If you want to change the dried fruit to another of your choice feel free they will taste just as good whatever you put in them, just make sure you end up with 150g in total.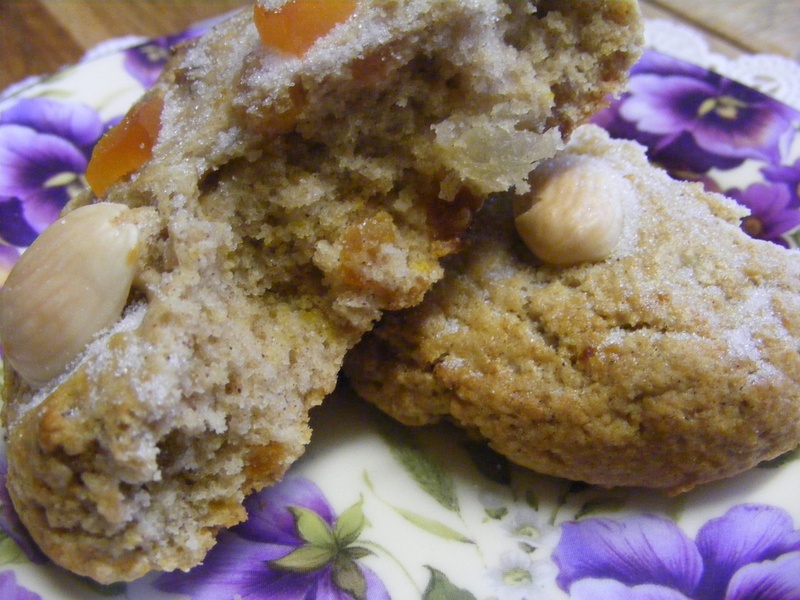 Categories: Just like Grandma used to make, Scones, A blast from the past.... old fashioned recipes with a modern twist!