| | |
| --- | --- |
| Posted by me on September 11, 2013 at 2:05 PM | |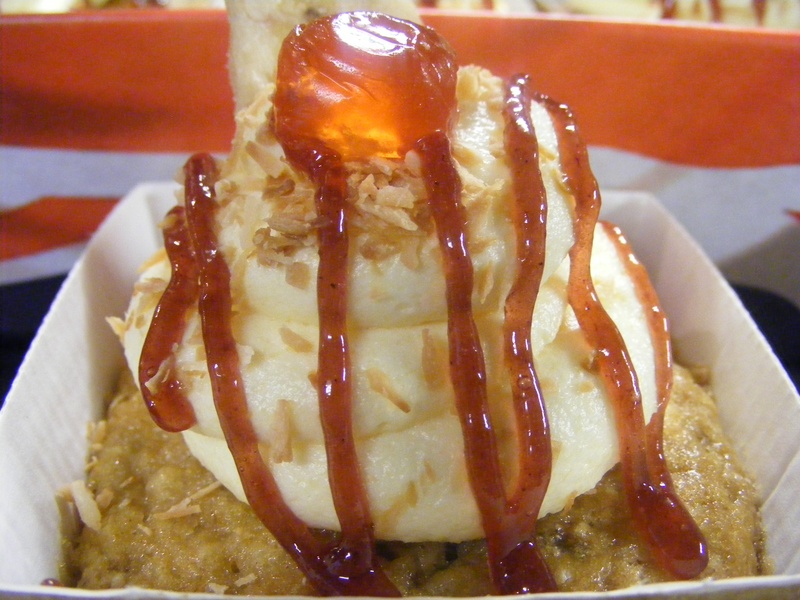 Ask any fella in any pub what they associate with Manchester and they will invariably say football, whether they are a red or a blue supporter football is synonymous with this great Northern city… However ask any girl and they will probably come up with the Gallagher brothers or the Arndale centre which is full of fabulous shops and restaurants but it is also famous for the birthplace of Suffragette leader Emmeline Pankhurst and a small custard tart (a favorite of school dinners) with a thin layer of jam on the bottom, a sprinkling of toasted coconut and a cherry plonked on the top. Some original recipes also call for sliced banana as an addition.
Manchester tarts are an adaptation of a much older dessert from the 17th century called a Manchester pudding that was made using scraps of bread, warm milk and egg yolks (hence the custard part) it was closely related to the queen of puddings which had a thick layer of meringue and jam on the top.
I have decided to bring the humble Manchester tart into the 21st century where it rightly belongs by adapting it, this time in the guise of a cupcake, with moist banana cake , custard infused butter cream, a drizzle of raspberry jam and of course the obligatory toasted coconut and a glistening cherry.
What you need
For the cakes
225g self raising flour
½ teaspoon salt
100g butter
175g soft dark brown sugar
2 very ripe bananas (the riper and browner the better)
½ teaspoon vanilla essence
1 egg beaten
5 tablespoons milk
For the butter cream
70g packet of instant custard mix (not the reduced sugar version)
100mls water
200g butter
200g icing sugar
3 tablespoons milk
To decorate
3 tablespoons desiccated coconut, toasted
6 glace cherries, cut in half
12 banana chips (optional)
2 tablespoons seedless raspberry jam mixed with 1 teaspoon boiled water
What to do
Preset the oven to 180c or 160c for a fan oven
Place 12 muffin cases into the holes of a muffin tin (I found these funky little cardboard cases in my local supermarket and couldn't resist them)
Next make the custard mixture up by placing the instant custard powder into a small microwavable bowl and adding 100mls of boiling water, stir really well to mix in all the dry powder then you will need to cook the custard in the microwave for a minute or two to ensure it doesn't taste 'floury', cover with a bit of cling film and leave to cool completely, stirring every now and then to stop a skin forming.
Now for the cakes… place the flour, salt and butter into a large bowl and add the butter broken up into small pieces, using your fingertips rub the fat into the flour until the mixture resembles fine breadcrumbs, stir in the soft brown sugar.
In a small bowl, bash the bananas with a fork to make a gloopy mess then add the egg, vanilla essence and milk. Pour the liquid into the flour and sugar mixture and mix well then spoon a heaped tablespoon into your cases, filling them to about half way.
Bake in the preheated oven for between 12-15 minutes or until well risen, golden brown and smelling totally delicious, transfer to a wire rack and leave to cool whilst you make the butter cream.
Beat the icing sugar, butter, milk and (cold) custard mix (which now looks like a blob of neon yellow rubber) together using an electric mixer or plenty of elbow grease and a wooden spoon/whisk until the butter icing is smooth and lump free.
Toast the desiccated coconut in a small dry frying pan until golden brown ( if you haven't already got this) and place the blended raspberry jam and water into a small piping bag (no nozzle needed) or simply use a small sandwich or plastic bag and cut a small corner off to allow you to drizzle.
To finish your delicious Mancunian Cupcakes simply spoon or pipe the custard butter cream on the top, sprinkle with the toasted coconut and drizzle with a little jam then delicately place a cherry and banana slice on top for the crowning glory…. Delicious!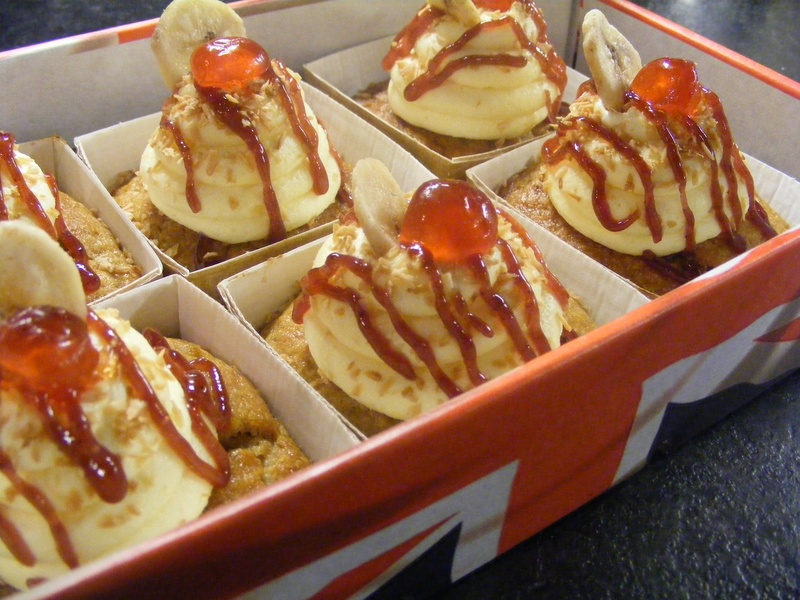 Categories: Just like Grandma used to make, Cupcakes