| | |
| --- | --- |
| Posted by me on September 14, 2013 at 12:15 AM | |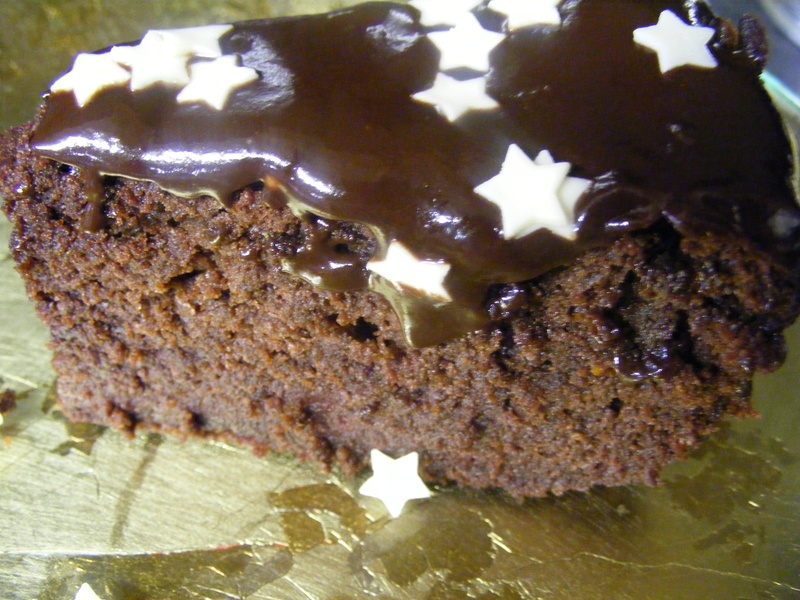 Ahhh Norfolk, home of Bernard and his turkeys, fiery English mustard and in 60AD the queen of the Iceni tribe Boudicca herself. Nowadays people from Norfolk are sometimes known by the name of Norfolk dumplings (a rather uncomplimentary comparison to the flour dumplings that were traditionally a significant part of the local diet) but I think that if some hairy legged Roman General had insulted 'Queenie' and called Boudicca a flour dumpling to her face, she would have pummeled him into the ground, kicked his leather clad posterior then had a rather large slice of this delicious cake as she sat around the fire recounting his feeble whimpering with her girlfriends.
Beetroot is grown by the field full in the fertile soil around the Norfolk Broads and is a surprising ingredient in any cake (I used to think it was only good on a ploughman's but how wrong was I) it adds an earthiness and moistness that goes incredibly well with the rich dark chocolate and compliments the subtle spices and hint of orange.
What you need
200g butter, plus a little extra for greasing your baking tin
250g cooked and peeled beetroot ( I gave this recipe to a friend and she mistakenly bought a jar of baby beetroot in vinegar which gave the cake a VERY strange taste and one that I don't want to repeat very quickly so please make sure you buy your beetroot cooked in water only- you can get this from most supermarkets or from small independent greengrocers)
200g Plain chocolate (at least 55% cocoa solids)
4 tbsp strong black coffee
Grated zest of one orange
135g plain flour
1 ½ teaspoons baking powder
½ teaspoon salt
3 tablespoons cocoa powder
5 free-range eggs, separated
190g soft light brown sugar
For the frosting
The juice of half an orange
50g milk chocolate, broken into small pieces
20g butter
A liberal sprinkling of Chocolate curls, or stars or a Cadbury flake crumpled up to decorate
the alternative frosting for the cupcakes is 160g of chocolate Philadelphia mixed with 100g of full fat Philadelphia until smooth with a teaspoon of orange essence... absolutely delicious
What you do
Preheat the oven to 180c or 160c for a fan oven and line a 20cm/8in round cake tin with baking parchment or you can make 16-18 cupcakes which take about 20-25 minutes baking time
First the messy bit….blend the beetroot and orange zest in a food processor to a rough purée or if you don't have a processor, pull on a pair of rubber gloves and finely grate the beetroot making sure you don't have any big lumps left.
Melt the chocolate, butter and the hot coffee, in a bowl in the microwave leave to cool for five minutes (try to resist dunking shortbread biscuits strawberries or marshmallows into this or you won't have enough for the cake… walk away from the chocolate!!!!)
Meanwhile, sift the flour, ½ teaspoon salt, baking powder and cocoa together in a bowl and set aside.
Separate the eggs. Whisk the yolks and sugar in a large bowl until pale and creamy then fold the chocolate and butter mixture, followed by the beetroot puree into them. Fold the flour mixture in, then finally whisk the egg whites until still peaks form and finally fold these into the chocolate mixture
Pour the batter into the prepared tin and bake for 45-60 minutes or 20-25 minutes for cupcakes  , or until a skewer inserted into the cake comes out clean. Leave to cool on a wire rack then place all the frosting ingredients into a small bowl and microwave for a minute or two until the chocolate is smooth and glossy, leave to cool for five minutes and then spread over the top of the cake, sprinkle with chocolate curls or crumpled up flake or any other chocolate extravagance your little heart desires (I used small white chocolate stars from the baking section of my local supermarket)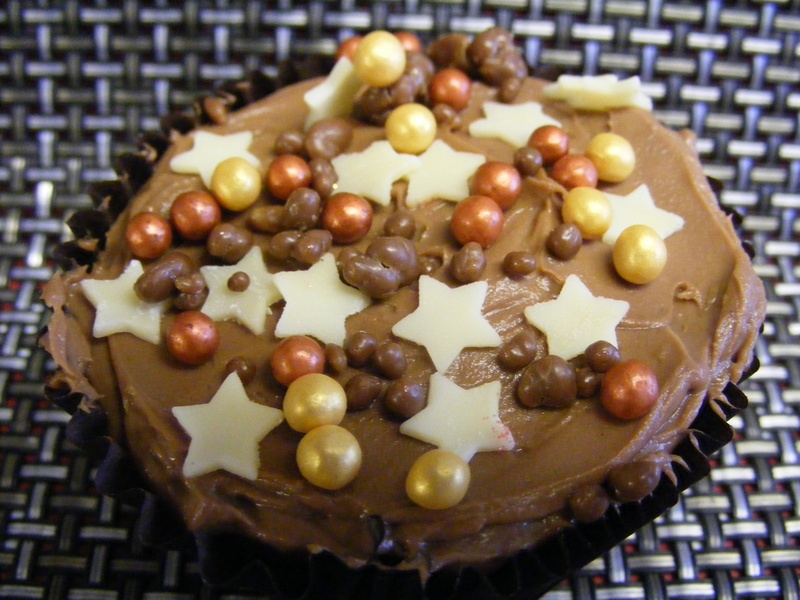 This is a rich and decadent cake with a hint of an earthy undertone which is beautifully moist…. Best served at the end of a long day with your feet up on the sofa watching telly with your bed socks on or after drop kicking a Hairy Italian into the middle of next week for insulting your womanly curves….. Either way, Enjoy!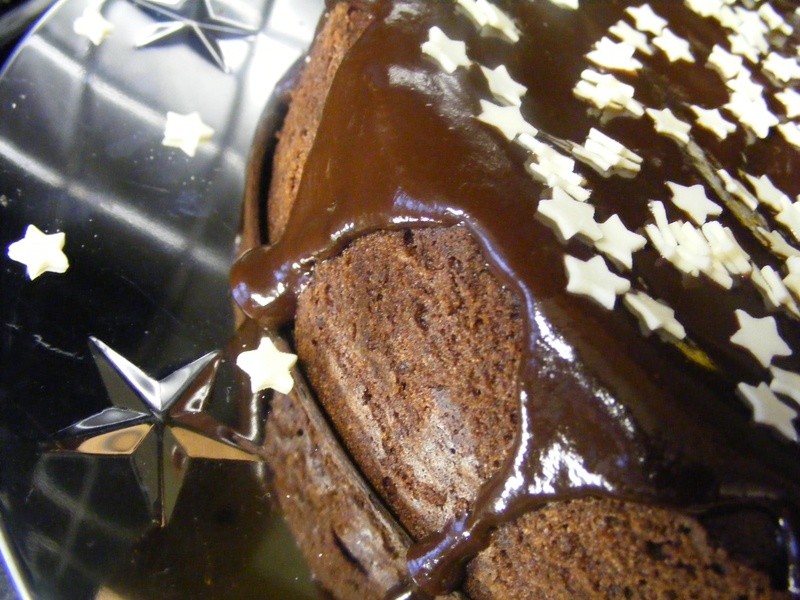 Categories: Chocolate... chocolate and more chocolate!, something a little bit special..., Cutting cakes