| | |
| --- | --- |
| Posted by me on September 20, 2013 at 8:30 AM | |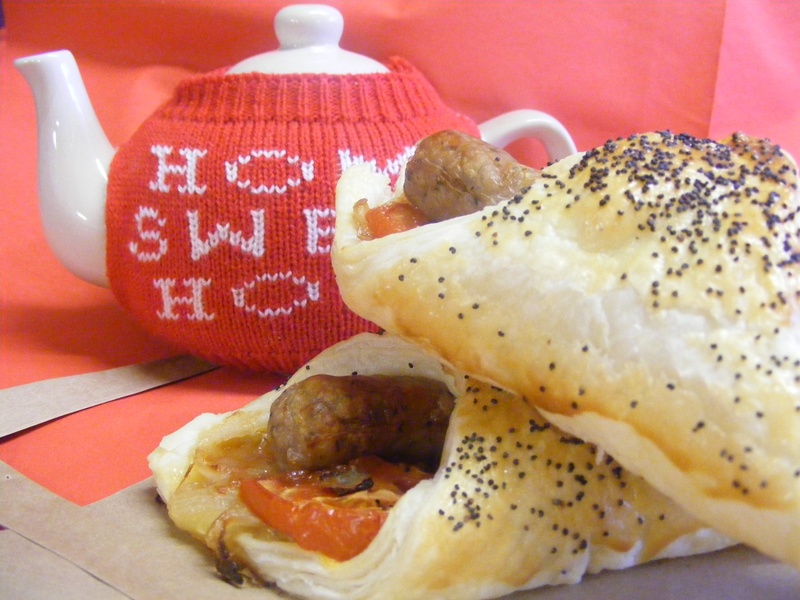 There is nothing so boring as a sausage roll, they have always got too much pastry and not enough under seasoned sausage meat and when I spy them sitting forlornly on the buffet table next to an even sadder plate of mini pork pies or scotch eggs my taste buds take a dive into the bottom of my socks, which is why I thought it time to bring the boring old sausage roll screaming and kicking into the 21st century.
Glistening, golden caramelised onions, juicy slices of vine tomato and a secret little dollop of indulgent tomato chutney transform the 70's buffet mainstay into something you will be proud to display at your next social gathering and they are so simple and delicious to make you will never look at a banger in the same way again….
What you need
350g onions, sliced thinly
28g butter
½ teaspoon sugar
Salt and ground black pepper to taste
2 vine tomatoes, cut into half and then cut into ½ moon slices
375g pre rolled puff pastry sheet
454g pack of Lincolnshire pork sausages
8 teaspoons tomato chutney
1 egg yolk
1 tablespoon poppy seeds
What you do
Pre heat the oven to 200c 180c (fan oven)
Fry the sliced onion in the butter for 15-20 minutes until they are soft, golden brown and smelling delicious, add the sugar and plenty of seasoning to taste, leave to cool.
Unroll the puff pastry and cut into 8 equal sized squares/rectangles depending on the shape of your pastry.
Divide the caramelised onions equally on the pieces of puff pastry running them in a line diagonally across each piece then top with two slices of tomato and a teaspoon of tomato chutney.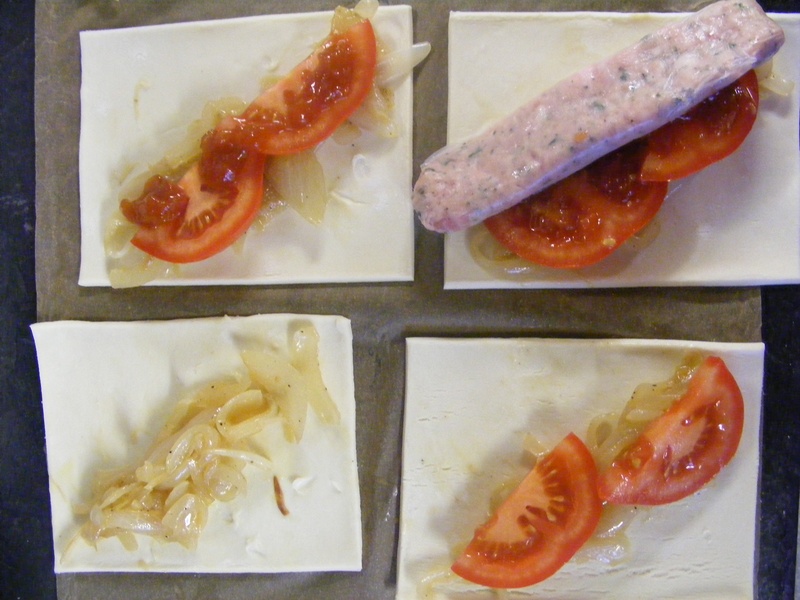 Squash each sausage until it is a little flatter and wider and place on top of the tomato, onions and chutney now use a little of the egg yolk on one corner of the pastry and fold it on top of the other corner so that it looks a bit like an opened envelope (You should be able to see the sausage poking out at both ends).
Place the rolls onto a tray and brush liberally with egg yolk then sprinkle with some poppy seeds and place the tray into the fridge for 30 minutes to allow the egg yolk to dry and seal the pastry closed
Bake in the pre heated oven for 25-30 minutes or until the puff pastry is well risen, golden brown and the sausages are cooked.
Serve hot or warm
This recipe is fantastic at Halloween or bonfire night and kids absolutely love them as much as the adults. I guarantee that you won't want the other kind again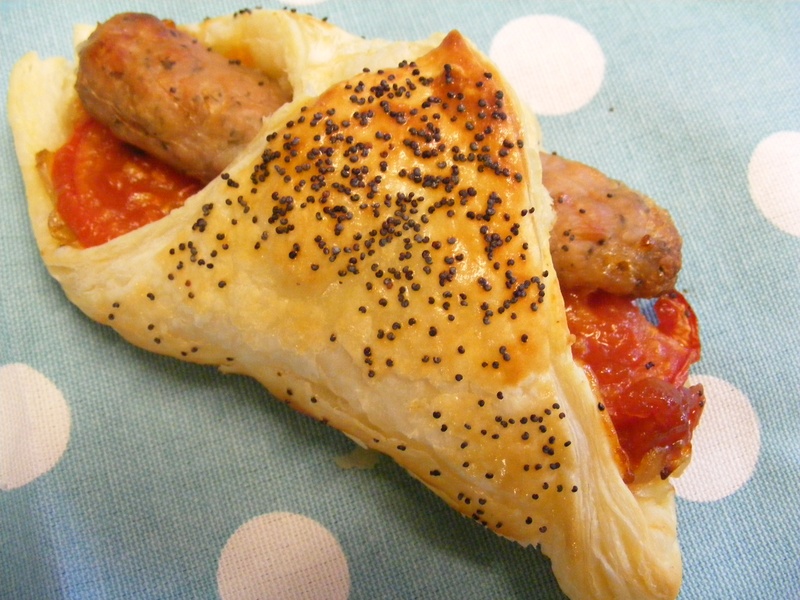 in a hurry….
Categories: Something savoury, Seasons eatings...., Pies, pastry, Tarts and Tartlets