| | |
| --- | --- |
| Posted by me on October 4, 2013 at 10:15 AM | |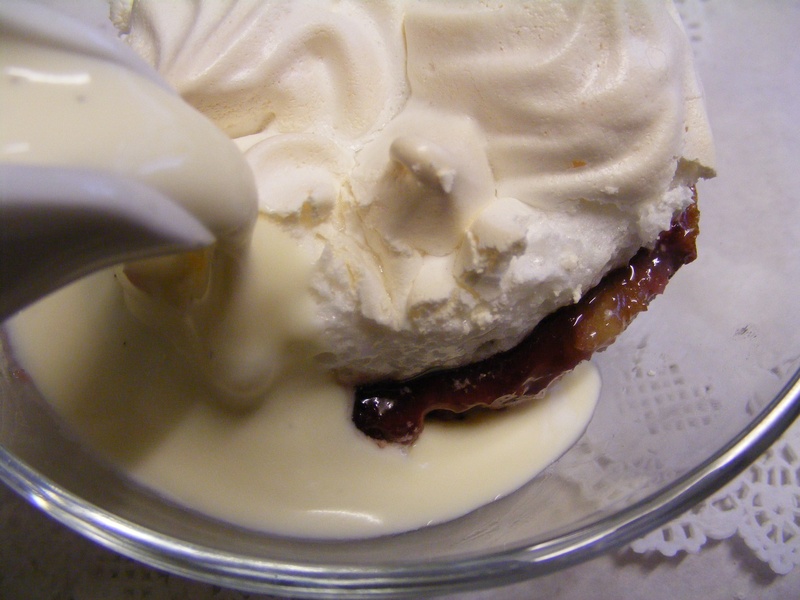 Over the last couple of months I have had a little live cake/baking chat with the lovely presenters from BBC Radio Lancashire and this month (October) they asked me to chat about puddings. As I always talk live from the Blackburn studio I take in a little baked treat ( well it would be rude to turn up empty handed) and I thought I would take John Gilmore and Carol (the two presenters) something dessert based as we could  talk about it .... But Oh my, where do I start???? Whatever dessert I took in needed to encompass my love of all things slathered  in hot creamy custard and an hour is just not enough time to discuss the merits or pros and cons of Cumbrian sticky toffee pudding with luxurious butterscotch sauce versus Sussex pond pudding with its golden melted centre of liquid lemon, butter and sugar, then there is a good old fashioned treacle tart to consider or maybe bun and butter. Decisions, decisions! In the end it came down to an old personal favourite and one which I have baked again and again. When I was young (many hundreds of years ago) there used to be a cookery book/diary that you could buy from your milkman called the Dairy Diary and this was one  of the first recipes that I created. Over the intervening years I have changed and tweaked the original dessert  and this is my updated version. the three different layers are to die for, soft creamy custard enveloping tangy raspberries and lemony cake crumbs topped with a smooth raspberry jam and finally the crowning glory of crisp melt in the mouth meringue. Served warm with a bucketful of custard, this is a delicious dessert that the whole family will enjoy and make you feel like you are indeed the Queen of Puddings...  
What you need
200g cake crumbs, I used shop bought lemon muffins with a lemon curd filling which added a lovely lemony zing….
200g frozen or fresh raspberries
4 eggs
250mls single cream
250mls milk
50g caster sugar
1 teaspoon vanilla essence
2 tablespoons seedless raspberry jam
Meringue topping
2 egg whites
100g caster sugar
What to do
Preheat the oven to 160c or 140c for a fan oven
Break the cake up into crumbs and sprinkle over the base of a 1 ½ litre pudding dish (make sure its oven proof) then sprinkle the raspberries over the top.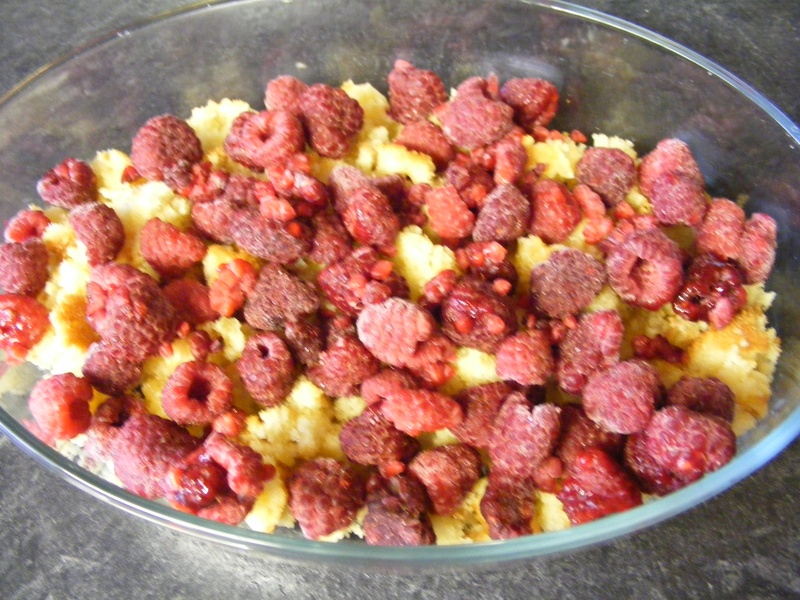 Break the eggs into a bowl, add the caster sugar and vanilla essence and whisk well to combine then add the cream and milk and pour this over the top of the crumbs and raspberries.
Place into a preheated oven and bake for 45-60 minutes or until the custard is just set with a lovely little wobble.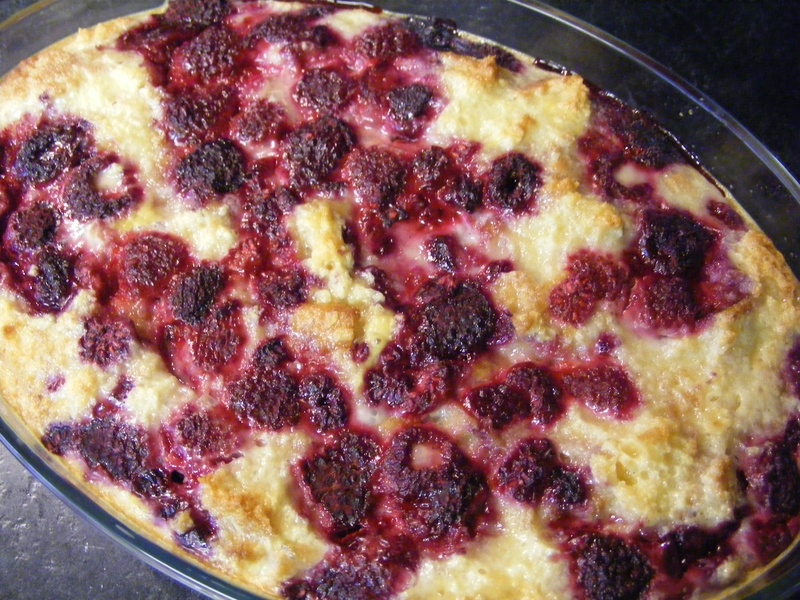 Beat the jam in a small bowl until smooth then carefully spread over the top of the cooked custard base.
Now for the meringue…
Place the two egg whites into a clean, dry large bowl and using a hand beater or a wire whisk and a lot of elbow grease whisk the egg whites until they are form soft peaks then add half of the caster sugar, continue whisking adding the remaining sugar a tablespoon at a time until the mixture stands up on its own and forms firm peaks ( if you feel the need to tip the bowl upside down to see if the meringue moves, don't blame me if it plops out onto the floor) .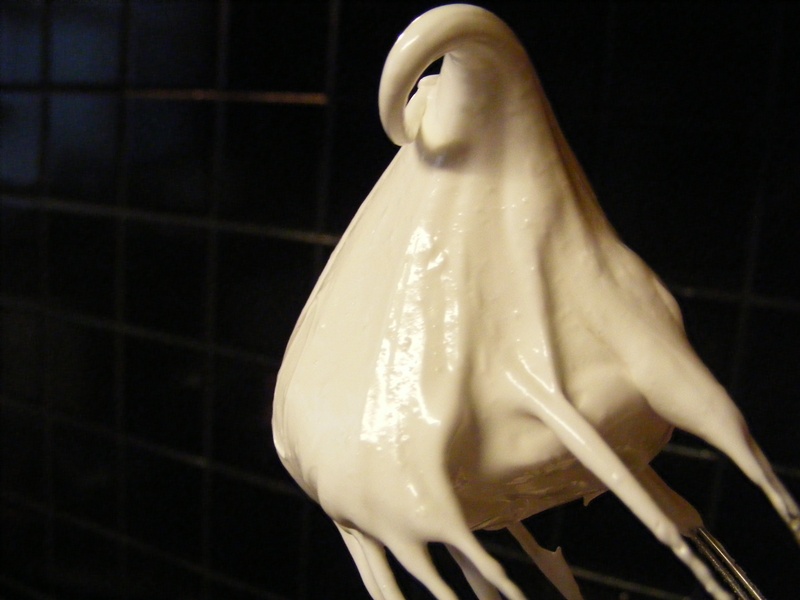 Spoon or pipe the meringue on the top of the jam/custard base and place back into the oven for 10-15 minutes or until it turns a light golden brown and the meringue goes crispy.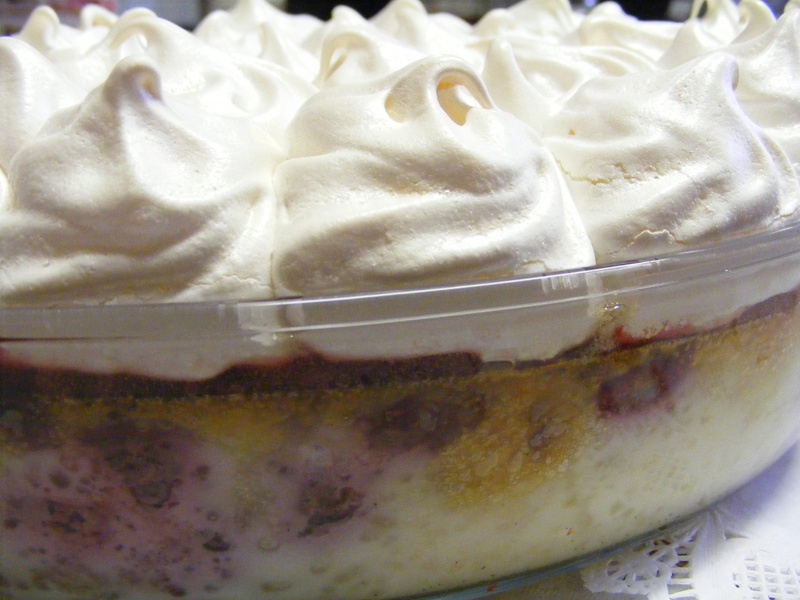 Dig in with the biggest spoon you can fit into your mouth served with gallons of creamy custard or a great big dollop of extra thick cream.....yummmmm....
Categories: Just like Grandma used to make, Puddings and desserts