| | |
| --- | --- |
| Posted by me on October 5, 2013 at 7:30 AM | |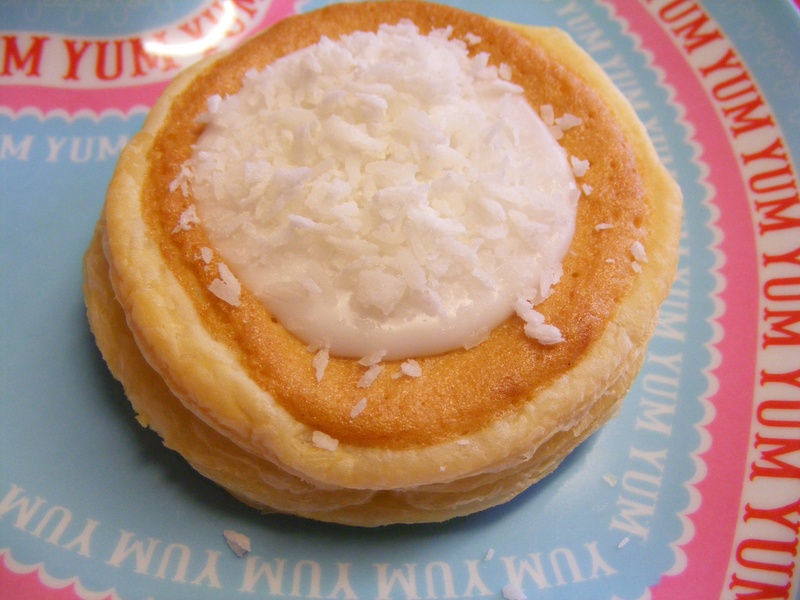 Although I live in Chorley, Lancashire I originally hailed from Croydon in Surrey so I consider myself a bit of a 'dirty Southerner'! There are few things I miss about the South of England, Sunshine, my family and friends and the lovely seaside town of Brighton in Sussex are a few that I care to mention but I also miss a couple of foods that are just not available in the North of England, Rock salmon from the chippy all covered in whisper thin batter with a portion of chips drowned in pickled onion vinegar ( don't knock it, its better than malt vinegar) and these little pastry delicacies the London Cheesecake.
Now before you go and get all antsy on me, they do not contain cheese in any shape size or form and get their name from the coconut on the top. Bakers in the London area would use a long shredded sweetened coconut similar to the old coconut tobacco that you used to buy when I was a hundred years younger but its white in colour without the chocolate taste, but unfortunately shredded coconut is a commercial product and impossible to buy in the shops so I have substituted sweetened  desiccated coconut instead.  
London Cheesecakes are equally fabulous inside or outside of the M25 area and you don't have to start speaking in a cockney accent or calling everyone Guvnor to enjoy them, Put your 'Plates of meat' up on the sofa and indulge....
375g sheet of ready rolled puff pastry
75g margarine
75g caster sugar
75g self raising flour
1large egg, beaten
30g ground almonds
1 teaspoon almond essence
4 tablespoons seedless raspberry jam
150g Icing sugar, sieved
1 ½ tablespoons water
50g Sweetened desiccated coconut (find this in the baking section, it's a softer sweeter version of traditional desiccated coconut, if you can't find it just soften the same amount of coconut in a little boiling water for 15 minutes, drain and remove excess water by squeezing it out through a clean J cloth then adding a heaped teaspoon of icing sugar to coat and sweeten, leave to dry a little then use in the same way)
What to do
Pre-set the oven to 180c or 160c for fan ovens
Unroll the puff pastry sheet and cut out 12 circles using a 88mm cutter, place onto a baking sheet ( don't line with parchment paper, you need the direct heat from the metal tray to fully cook the base of the puff pastry) then put half of a teaspoon of jam in the centre of each circle, don't spread it….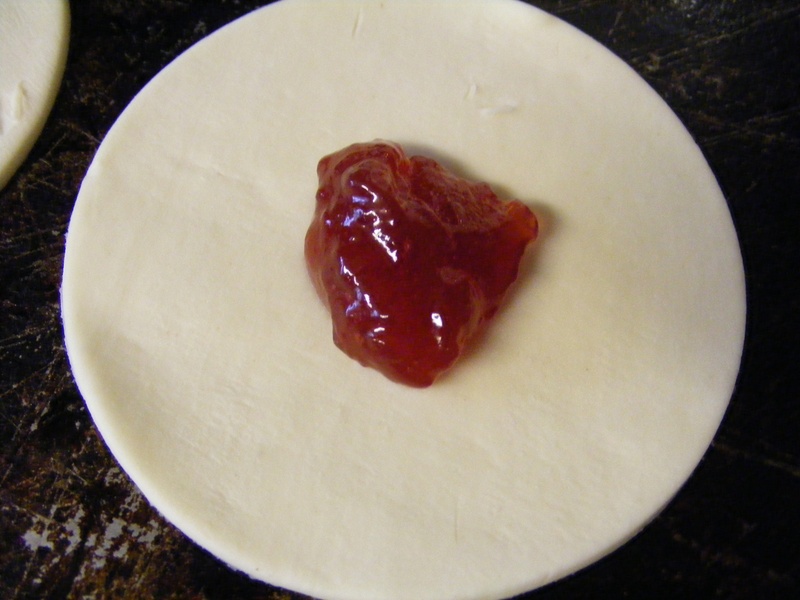 Beat the margarine, sugar and almond essence in a bowl until very light and fluffy then add the beaten egg a little at a time. Finally stir in the self raising flour and almonds until well combined and place a heaped teaspoon on top of the jam making sure you completely encase it or it will run out.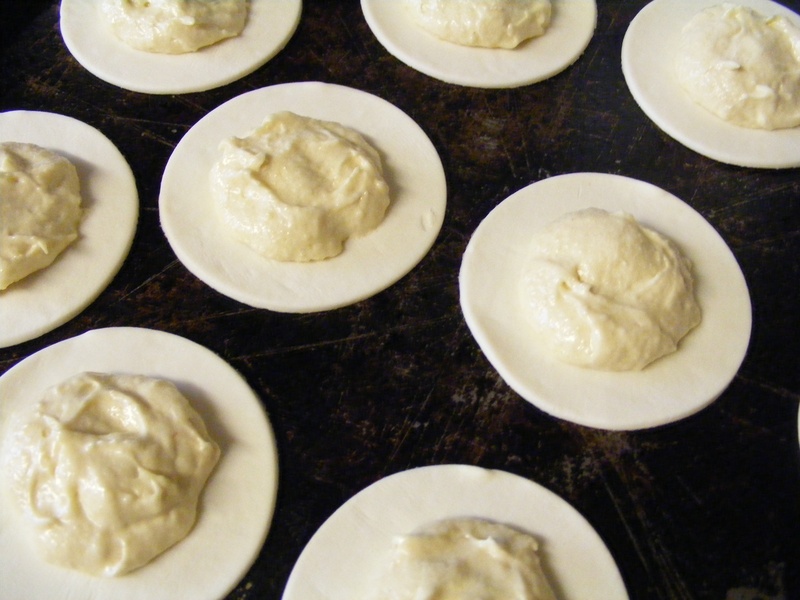 Bake in the preheated oven for 20-25 minutes or until golden brown and the puff pastry is well risen and cooked thoroughly underneath.
Cool on a wire rack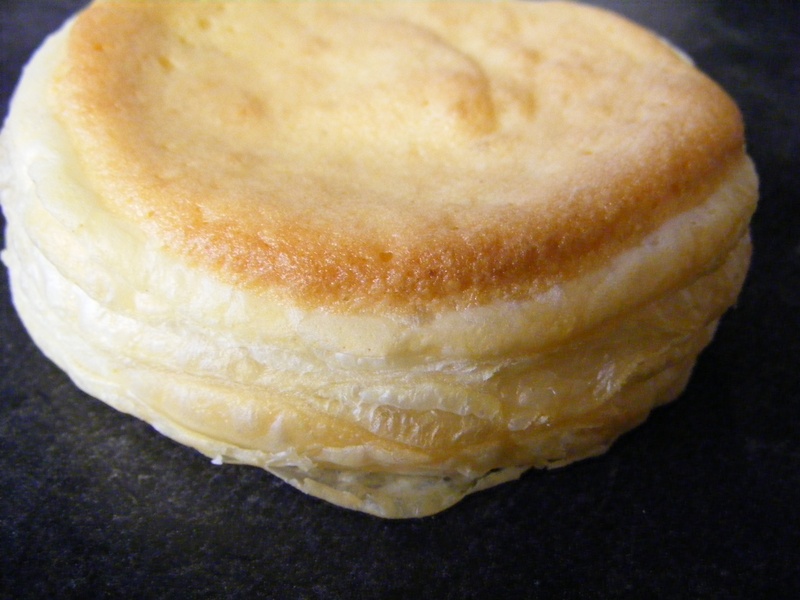 Combine the sieved icing sugar with tablespoon of water until you get a lovely smooth thick icing, spread a teaspoon on top of the sponge circle and sprinkle with lots of desiccated coconut… the combination of crisp puff pastry, fruity jam and light as a feather almond sponge beneath a mantle of icing and sweet coconut is just orgasmic and probably the best thing to come out of London since jellied eels, mash and liquor….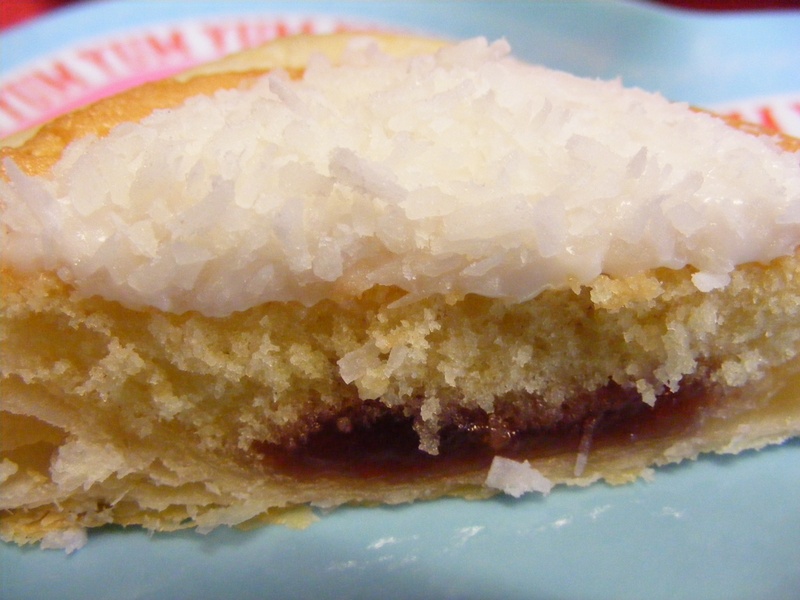 Categories: something a little bit special..., Pies, pastry, Tarts and Tartlets