| | |
| --- | --- |
| Posted by me on October 5, 2013 at 9:50 AM | |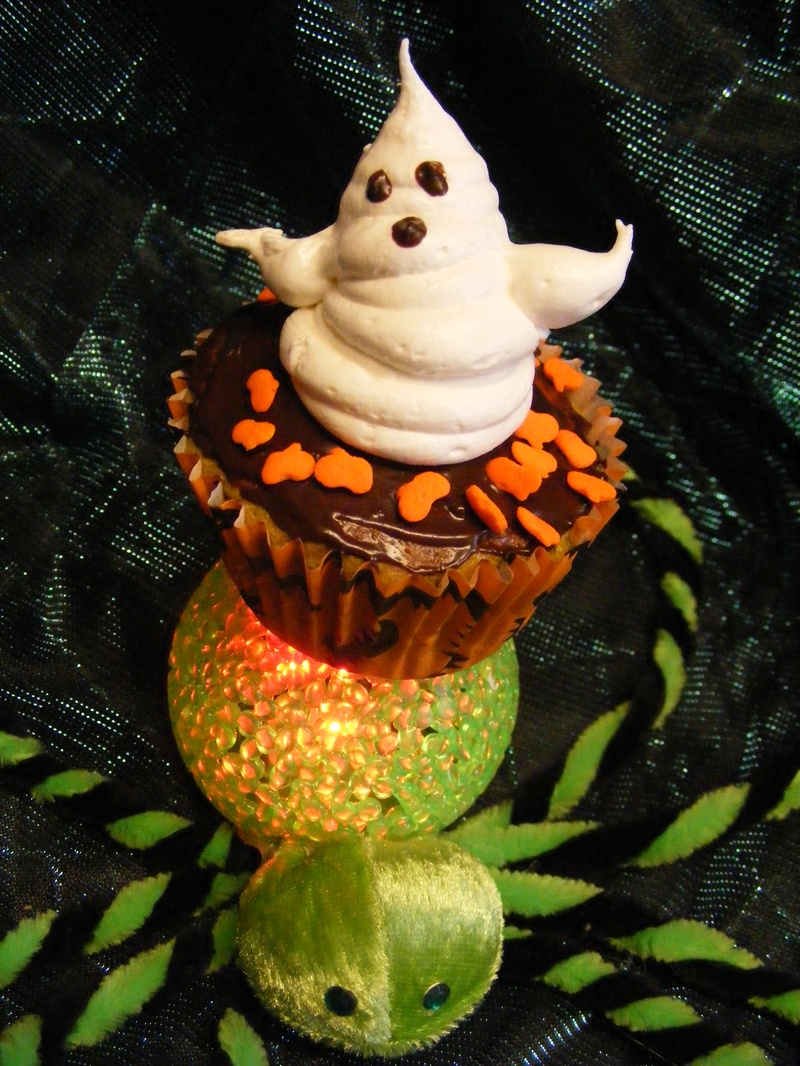 Well my little ghouls and gals, Halloween is upon us once again and it's time to do some spooky baking, Last year it was Bat Bogie muffins with coconut ice spiders and this year's Ghoulish treat is a cleverly fiendish cupcake with a marshmallow ghostie on the top… Bake them if you dare….Mwah ha ha…..
What you need
100g caster sugar
100g soft cake margarine
2 eggs, beaten
100g self raising flour
1 teaspoon lemon essence
A little green food colouring to turn your cake mixture a swampy green
3 tablespoons seedless raspberry jam ( alternatively you can use lemon curd coloured green with a little food colouring or even some smooth peanut butter that has been softened with a little water to make it a pipeable consistency)
75g plain chocolate
150g Trex
150g icing sugar
1 teaspoon vanilla essence
100g (half a jar) of Marshmallow fluff, you can find this in most supermarkets in the jam aisle
A few orange sprinkles for around the base of your cakes, or crush up a flake or maybe colour some desiccated coconut green/orange and use that to sprinkle….just have fun and use your imagination!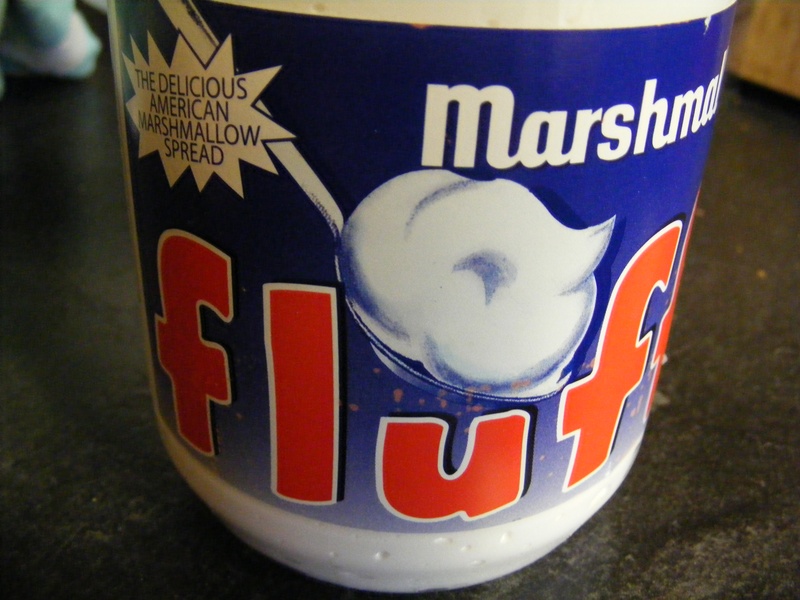 What you do 
Preheat the oven to 180c or 160c for a fan oven
Place 12 funky Halloween paper cup cases into a 12 hole deep bun tin.
Beat the margarine and sugar together in a large bowl until pale and fluffy then add in the beaten egg a little at a time.
Add the green food colouring, and then fold in the self raising flour and stir well until an even colour and no bubbles of flour are visible.
Divide the mixture equally amongst the paper cases and bake for 12-16 minutes or until the cakes are well risen, golden brown and spring back when pressed with a finger.
Leave to cool on a wire rack whilst you make the marshmallow frosting. In a large bowl beat the Trex, icing sugar and vanilla essence until well combined then add the marshmallow fluff and beat again. Place the mixture into a disposable piping bag and cut about 1cm off the end.
Once the cakes are cool, cut a small round circle from the middle of each cake and fill with a little raspberry jam, place the lid back on top and push down until the cut cake circle is flush with the top.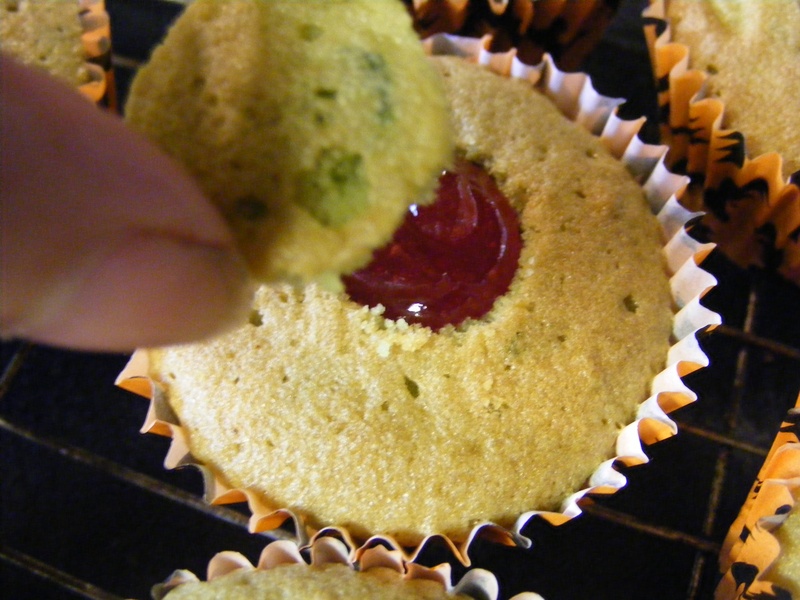 Melt the chocolate in a small bowl (either in the microwave or over a saucepan of hot but not boiling water), then carefully spoon a little of the melted chocolate over the top of each cake and spread up to the paper casing, sprinkle with a few sugar sprinkles or crushed flake around the outside edge and leave the cakes to set. (Don't throw the remaining chocolate away; you will need it to make the ghosties eyes and mouths)
Pipe a ghost on the top of each cake and add two little arms either side of the body, then dip a cocktail stick into the reserved chocolate and 'dab' little blobs of chocolate for the eyes and mouth.
I found twizziling the cocktail stick between my thumb and forefinger meant I got a clean blob of chocolate as I was making the features.
These look fabulous sprinkled with a little edible glitter if you have it.
Have a spook-tac-ular time munching on them….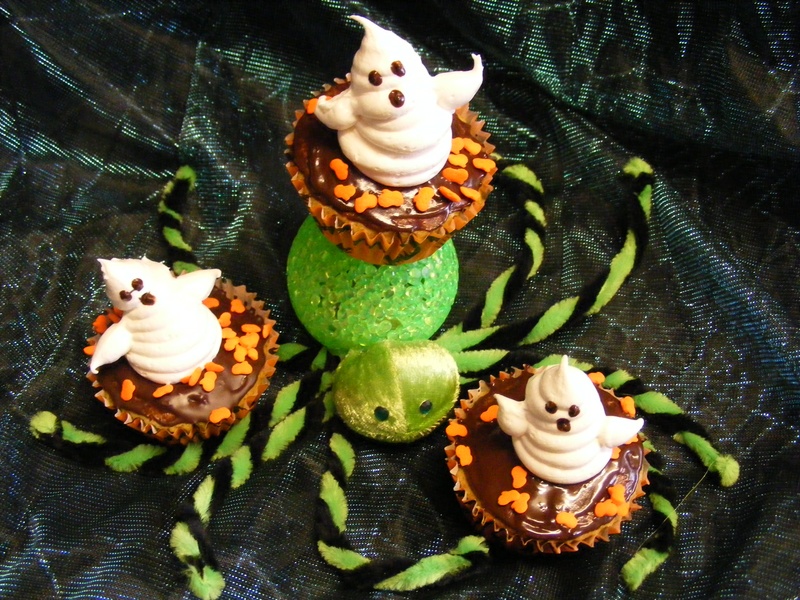 Categories: Seasons eatings...., something a little bit special..., Cupcakes