| | |
| --- | --- |
| Posted by me on November 1, 2013 at 6:05 AM | |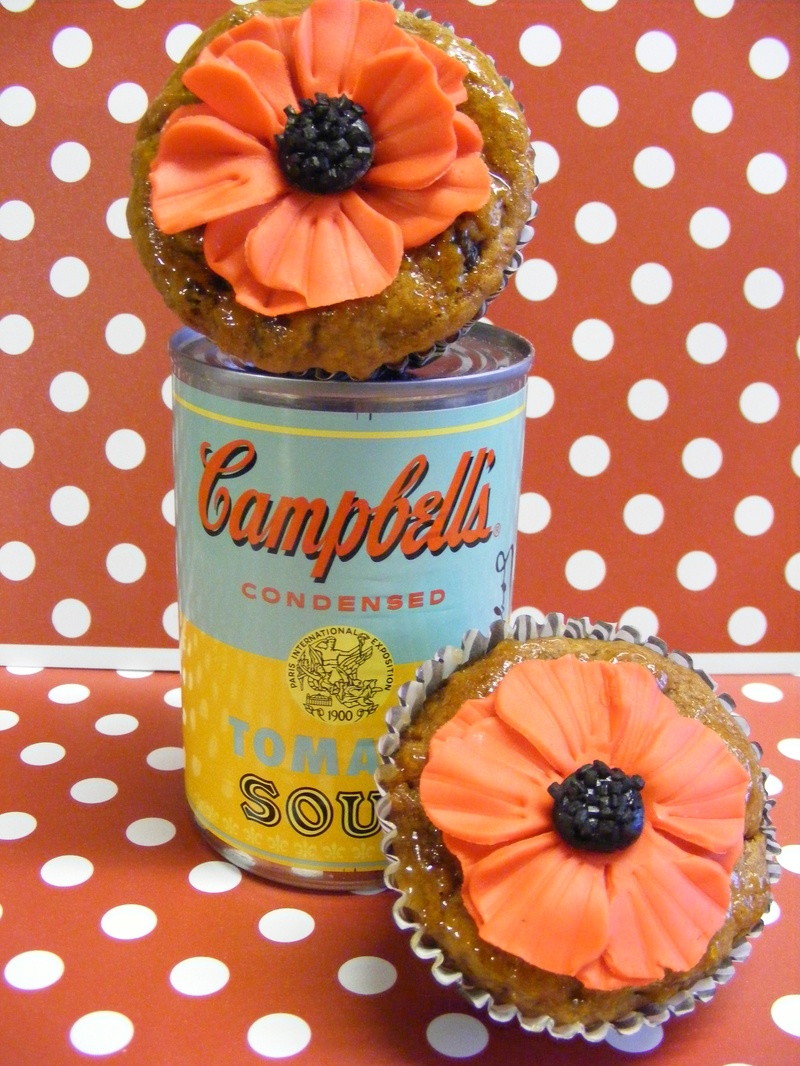 This recipe has always intrigued me, as I saw it being made on the children's TV program Blue Peter (many hundreds of years ago) and although I have made cakes with parsnips, beetroot, carrots and courgettes I have never made one with tomato soup. I have held off from sampling this cake mixture for a long time as I honestly thought it would be decidedly yucky…. How wrong was I????!!!!!!
The cake is a semi rich fruit cake with a hint of spice and a little taste of something you can't quite place (obviously the soup) but its rich and sumptuous and very moist and makes a wonderful talking point at a coffee morning, and it doesn't contain eggs which is a marvel in itself. Have a go, don't tell your victims what the secret ingredient is and enjoy their faces when you divulge the tomato soup….
I made these cakes with Remembrance Day poppies on as I was visiting BBC Radio Lancashire in Blackburn, Lancashire on their bake/testing day and it was also close to the 11th of November (Remembrance Day here in the United Kingdom) so I went armed with secret ingredient cupcakes. You can find the tutorial video on how to make the poppies on my YouTube page or under the video tutorials on my website or you can simply use a little a little sugar paste (fondant icing) or royal icing and a little marzipan to decorate the tops, just remember to glaze the tops with a little boiled and sieved apricot jam to help the decorations stick.
What you need
100 grams butter
175 grams soft light brown sugar
295 grams condensed tomato soup ( I used Cambells)
200 ml water
300 grams self-raising flour
1 teaspoon mixed spice
1 teaspoon cinnamon
½ teaspoon salt
1 teaspoon bicarbonate of soda
100g cranberries Or any other fruit of your choice
100g dried apricots, chopped or any other fruit of your choice
100 grams pecans, (chopped)
A little apricot jam boiled and sieved to glaze the tops of the cakes
18 sugar paste (fondant) poppies or other edible decoration of your choice or you can simply cut a disc of marzipan and a smaller one of sugar paste for the tops in your choice of colours if you want to go down the 'traditional' route for a fruit cake.
What to do
Pre-heat oven to 150c 140c for a fan oven or Gas Mark2, line 2 muffin tins with paper cases (you will need about 18
Using an electric whisk or a wooden spoon, cream the butter and sugar until light and fluffy
In a jug combine the soup and water and stir well then add this to the creamed mixture.
Sieve the flour, salt, bicarbonate of soda and the spices together then fold in to the tomato and butter mix, add the fruit and nuts and stir well to combine
Dollop heaped tablespoons of the mixture into your paper cases, coming about 3/4rs up the sides then pop them into the oven for about 35-40 minutes or until risen, golden brown and a cocktail stick inserted into the middle comes out clean.
Transfer to a wire rack to cool then glaze the tops with apricot jam to give them a beautiful shine and decorate them with your choice of edible decoration. Find the video on how to make the quick and easy poppies on my free video tutorials….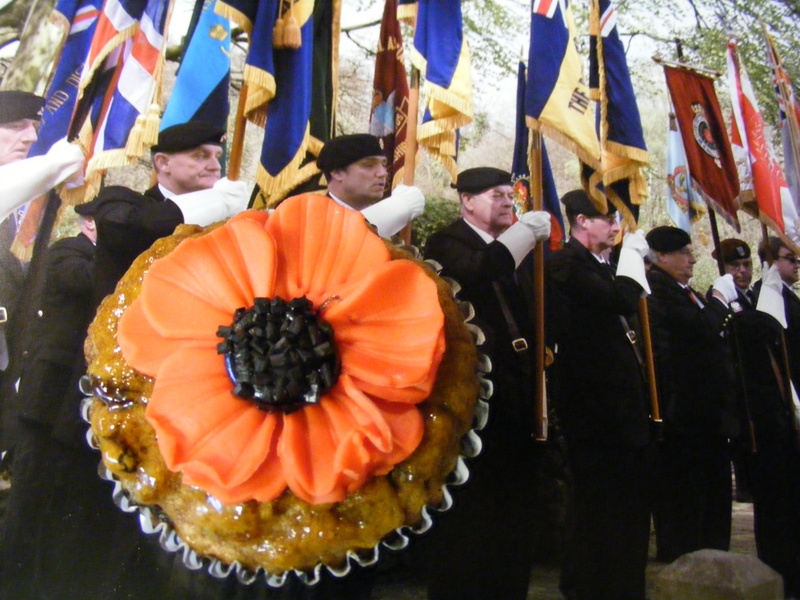 Categories: something a little bit special..., Seasons eatings...., Cupcakes