| | |
| --- | --- |
| Posted by bakinglady on June 14, 2010 at 2:05 PM | |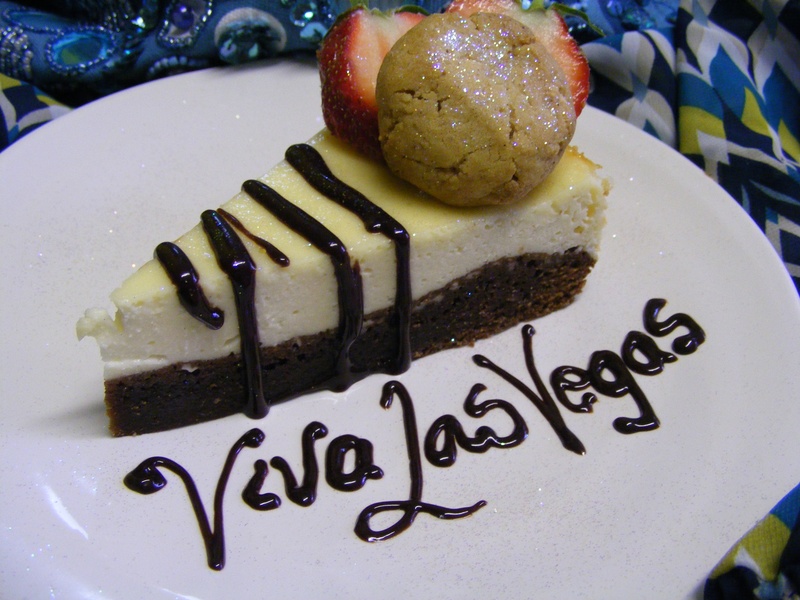 I have been wanting to do something special ever since we got back from  Las Vegas in March, but as hard as I tried I couldn't think of anything that would sum up in one ( or two...or three)  tantalising mouthful this fantastic city.... Until now, and boy has it been worth the wait!
Vegas is such a city of contrasts that this dessert had a lot to live up to, but I love a challenge, something (literally) to get my teeth into.... so I give you.... a rich chocolate brownie base, dense and rich topped with a smooth slightly tangy baked cheesecake contrasting with a crunchy, mini,  white chocolate and macadamia cookie and fresh strawberries.... Ooh and dont forget the velvety chocolate sauce ( my homage to the giant $7 chocolate dipped strawberry that we indulged in at the venetian hotel one sunny day....bliss!) And because its the city of bling and utter exhuberance Ladies and Gentlemen I give you sparkle... lots and lots of edible sparkle.... VIva Las Vegas!
You will need a 9" tin and the oven pre-heated to 180c
Brownie base
115g butter
115g plain flour
115g plain chocolate
200g soft brown sugar
2 eggs, lightly beaten
50ml milk
1/2 teaspoon salt
1/2 teaspoon vanilla essence
Cheesecake topping
500g full fat cream cheese
125g caster sugar
3 eggs
1 teaspoon vanilla extract
115g greek yogurt
Chocolate sauce
80g plain chocolate
100ml single cream
1 heaped tablespoon of soft brown sugar
knob of butter
White chocolate and macadamia nut cookies
115g butter at room temperature
115g soft light brown sugar
1 egg, lightly beaten
250g self-raising flour
1/2 teaspoon salt
1/2 teaspoon vanilla essence
1 tablespoon of milk
150g white chocolate chips
50g macadamia nuts, roughly chopped
Strawberries and edible glitter to decorate and garnish
Brownie base- Place the broken chocolate and butter into a bowl and place into the microwave to melt ( alternatively you can do this is a saucepan over a low heat) stir until smooth. beat in the brown sugar, followed by the eggs, vanilla essence and milk. Finally, stir in the flour and salt until just blended. Pour into a 9" tin that has been lined with silicone or greaseproof paper. Bake in the oven for 25 minutes.
Once baked, remove and turn the oven temperature down to 160c Dont remove from the tin or you will have one hell of a mess when you pour the cheesecake mixture on top
Cheesecake topping- whisk together the cream cheese, yogurt, eggs, sugar and vanilla extract until blended and smooth, pour over the brownie base and return to the oven, bake for 45-50 minutes, or until the centre is almost set.
Chill in the fridge for 4 hours or overnight  if you can wait that long, I never can!
 White chocolate and macadamia cookies...
ok, now the cheesecake is chilling in the fridge its time to make and bake the cookies, which you can sit and enjoy warm from the oven with a nice cup of coffee or even better a glass of ice cold milk....
you will need the oven on 190c and to line a couple of trays with silicone paper.
place the butter and brown sugar into a bowl and beat until, soft and light and fluffy then add the beaten egg and milk a little at a time. Fold in the flour and salt followed by the white chocolate chips and roughly chopped macadamia nuts.
now you will need 12 balls the size of a small walnut to go with your cheesecake, so make these first and place onto a baking sheet , squash them down a little, bake in the oven for about 8-10 minutes or until just golden brown. I then divide the remainder of the mixture into 8 and make big cookies to munch on whilst the cheesecake is cooling down and setting. The bigger cookies will take about 12-14 minutes place them on a wire rack to cool. For a bit of showgirl bling, dust the cooled cookies with edible glitter!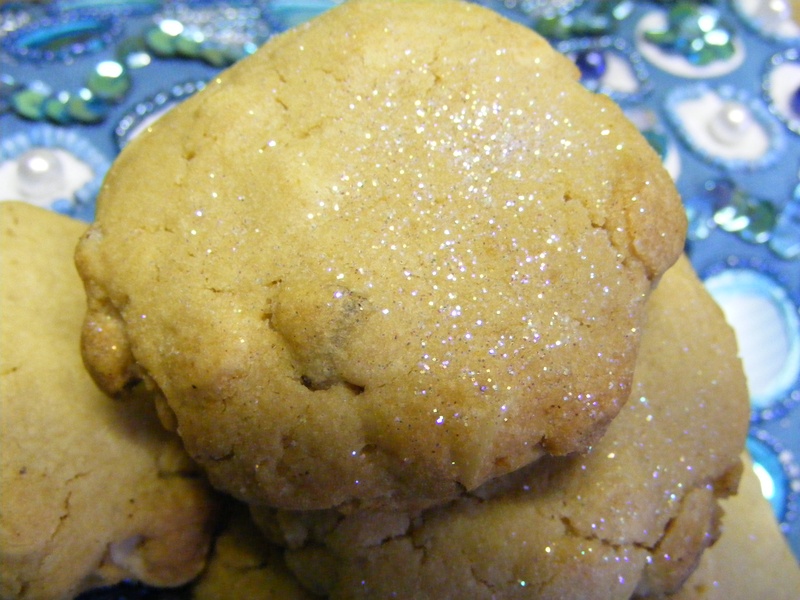 Finally make the chocolate sauce- melt all the ingredients in a saucepan over a low heat, stirring gently until you have a smooth, shiny chocolate gunky-ness, resist the urge to dip your fingers in or even better some of the strawberries because I guarantee it will all be gone long before your cheesecake is cold enough. I serve the chocolate sauce warm so either reheat on the stove when you are ready to serve or transfer to a microwavable bowl and heat in the micro!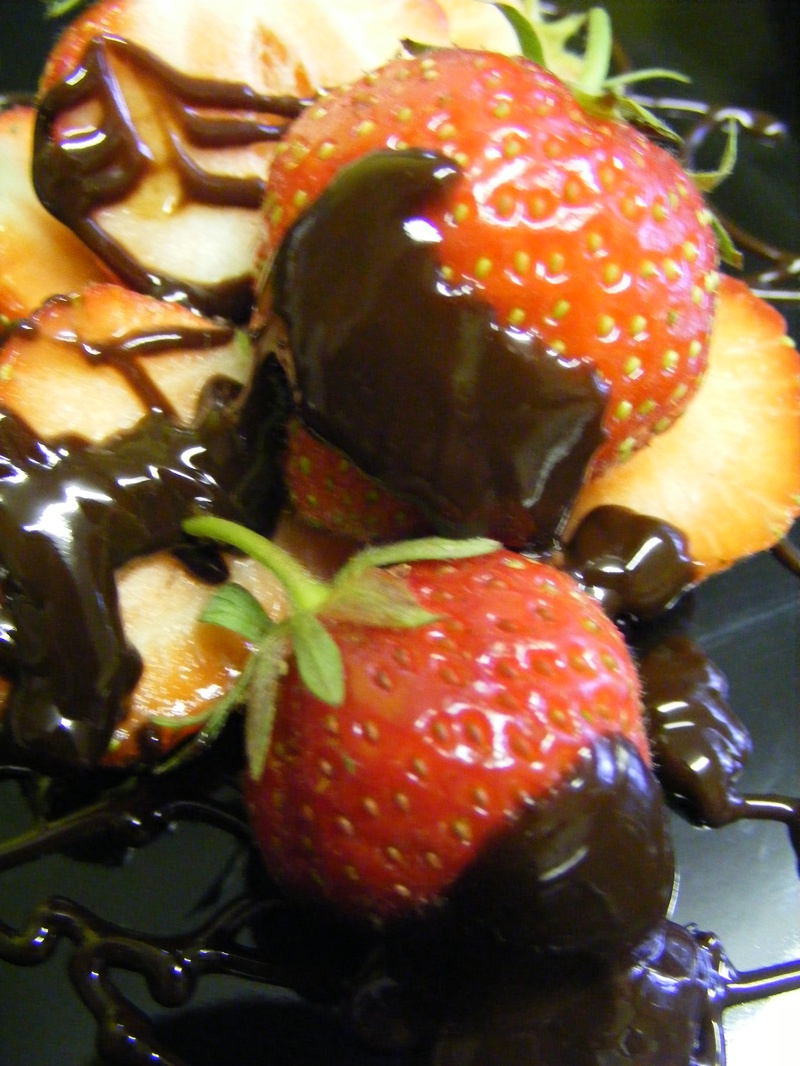 Serve the cheesecake with the strawberries and glitter dusted cookies, drizzled with the warm chocolate sauce and take your self to the city of bright lights and neon....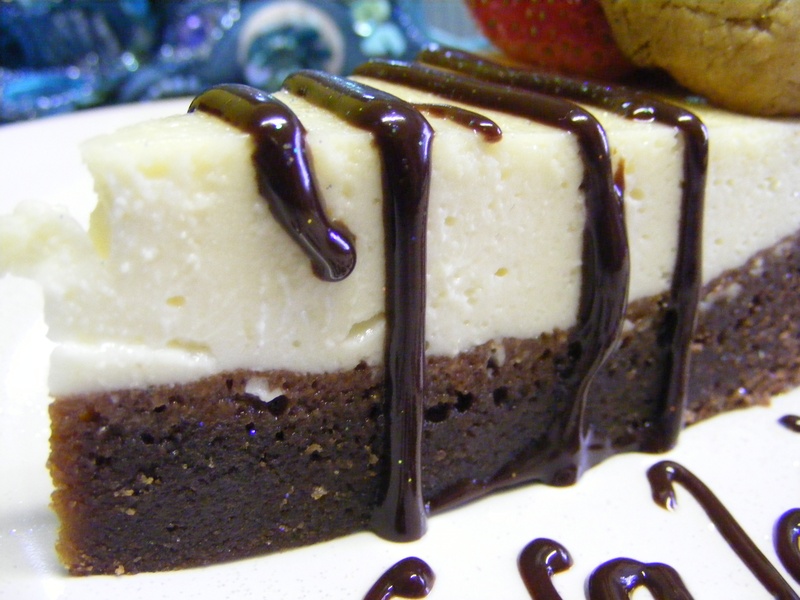 Categories: Chocolate... chocolate and more chocolate!, something a little bit special..., Puddings and desserts