| | |
| --- | --- |
| Posted by me on January 22, 2014 at 1:55 AM | |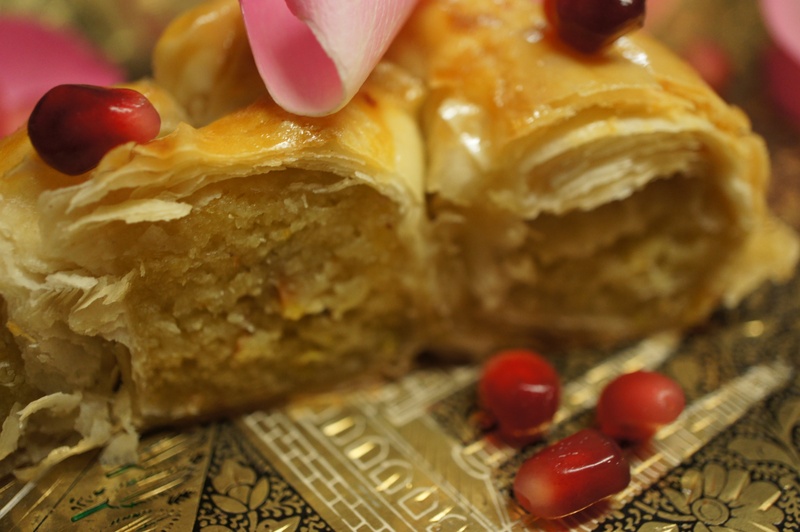 M'Hancha sounds like a weird Disco dance that you performed in the 80's complete with rolling hand movements and gyrating hips but it is in fact a gorgeous almond, pistachio and rose water filled pastry infused with orange and lemon zest from the sunny climes of Morocco.
M'Hancha literally translated means 'coiled snake' and making the almond and pistachio filling wrapped in delicate layers of filo pastry, is akin to making papier-mâché for grownups with butter to glue the concoction together instead of wall paper paste ( far tastier in my opinion) any rips or tears are easily repaired by sticking pieces of filo over the offending hole and the finished pastry is rich and exotic enough to get you hunting out your great aunt Maisie's favourite tasselled tablecloth so you can do the dance of the seven veils in celebration of this wonderful cake.
What you will need
1 pack (12 sheets) of readymade filo pastry
50g (approximately) butter, melted
Filling
275g ground almonds
25g shelled pistachios, chopped
110g caster sugar
40g butter, melted
Zest of one large orange
Zest of one lemon
3 tablespoons rose water
Egg Wash glaze
1 egg yolk
½ tablespoon rose water
To decorate
1 tablespoon honey
½ tablespoon rose water
2 tablespoons pomegranate seeds (optional)
A few rose petals (optional)
What you do
Preheat the oven to 180c or 160c for fan ovens and line a baking sheet with a piece of baking parchment
For the filling- In a large bowl mix the ground almonds, pistachios, sugar, butter orange and lemon zests and rosewater using your hand to make a firm but slightly sticky dough then divide the mixture into four and roll each piece out into an equally sized sausage 2cm thick ( you are going to join the four pieces back together again but it's SO much easier rolling out small pieces of the almond filling than it is rolling out one giant long Anaconda style one) place the almond 'Snakes' to one side whilst you prepare the pastry sheets.
Before you start, get a clean tea towel to cover the filo pastry sheets you are not using as filo dries out really quickly.
Lay four sheets of filo side by side overlapping each one by about 2 ½ cm's and brush with butter, layer another four sheets on top and brush with butter again. Repeat one final time but reserve half of one of the sheets for any tears you might have.
Now place the almond 'snakes' 3cm from the bottom of the pastry joining them back up into one long piece and tightly roll and wrap the pastry over like a Swiss Roll (if you have empty pastry where the filling doesn't quite reach cut it off at this point)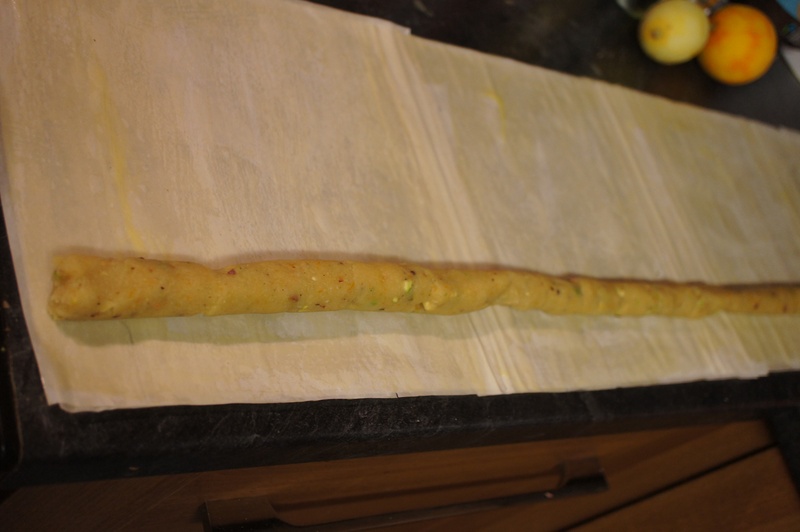 Coil the pastry round and around and place on the baking sheet then use the reserved pastry and melted butter to cover any tears on the outside.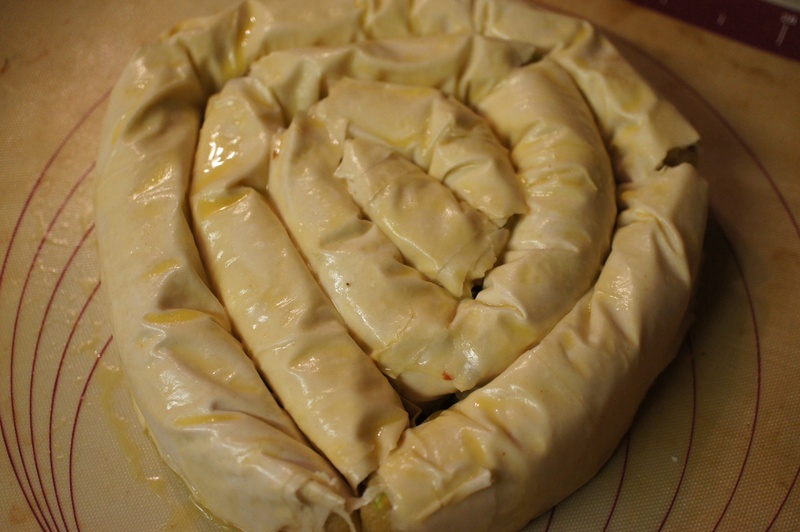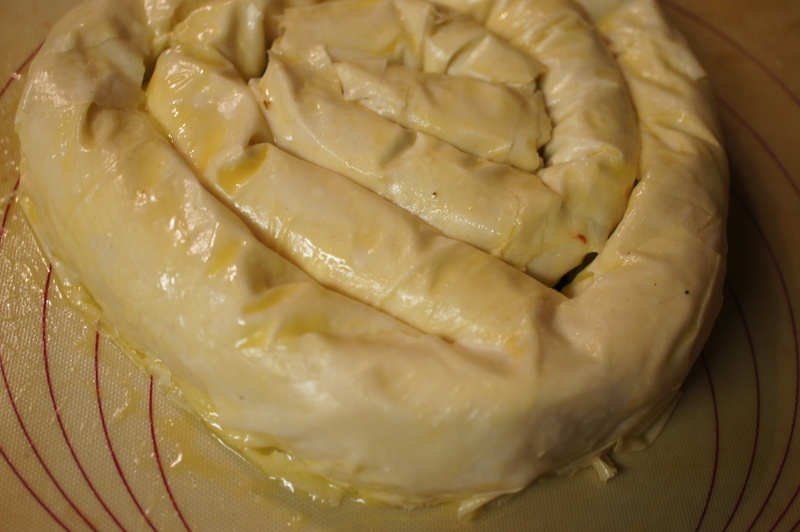 Mix the egg yolk and rose water and brush the M'Hancha evenly on the top and sides before popping it into the oven and baking for 30 minutes or until the pastry is crisp and golden brown.
Once baked mix the honey and final rosewater together and brush over the top.
This beautiful pastry looks wonderful as it is but for a final flourish I sprinkle it with a scattering of jewel like pomegranate seeds and a few rose petals and serve it warm with a big dollop of sweetened Greek Yogurt or cold as a cake.
Categories: something a little bit special..., Pies, pastry, Tarts and Tartlets