| | |
| --- | --- |
| Posted by me on February 11, 2014 at 10:05 AM | |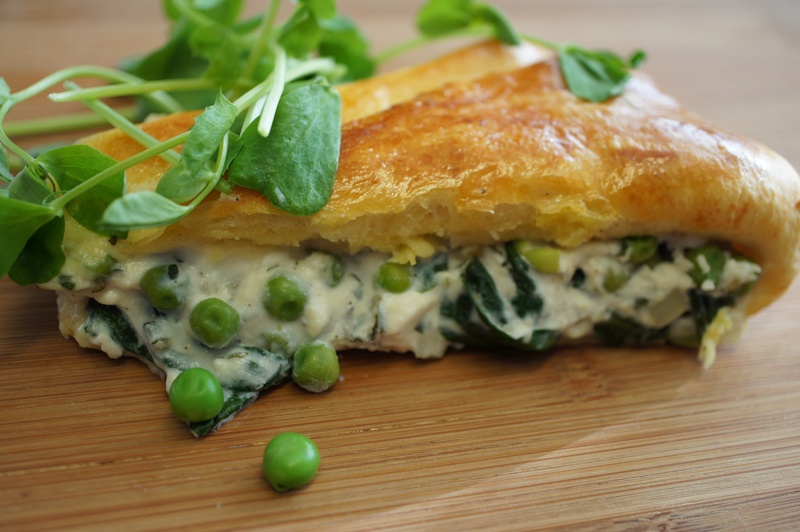 A few years ago my hubby and I went to the beautiful Greek Islands on a Cruise ship and we came across a little back street bakery selling a delicious puff pastry, spinach and herb pastry that the locals were queuing out of the door to buy. After a lot of smiling and pointing we managed to buy a slab for our lunch and wandered around the old town of Corfu with the sun shining in an azure blue sky sharing just the most delicious street food possible.
This is my version, I have strayed from using either puff or filo pastry and instead gone for ready to bake croissant dough as I adore the light texture and flavour, I have also added some petit pois peas for a touch of sweetness and colour. This is absolutely delicious served either hot or cold, as a lunch with a light, crisp and bright salad or as a hearty vegetarian main course served with buttered new potatoes, asparagus spears and some carrot and cumin puree.
I have wrapped it in foil and taken it on summer picnics in the past cut into hearty chunks….
What you need
150g onion, finely chopped
1 tablespoon olive oil
100g spinach, washed
200g feta cheese, crumbled
250g ricotta
1-2 teaspoons chopped fresh mint (a good handful of leaves)
150g defrosted petit pois
1 heaped teaspoon preserved lemon paste or if you can't find the paste use 1 tablespoon of very finely chopped preserved lemon
Salt and plenty of freshly ground black pepper
2 x 250g Jus rol bake it fresh croissant dough ( find this in the chilled section along with ready to bake pastry
1 egg, to glaze the croissants
What to do
Fry the chopped onion in the olive oil until soft and a light golden brown then add the spinach and cook until it just wilts. Remove from the heat and add the ricotta, feta, lemon paste, mint, peas and seasoning. Once you have adjusted the seasoning to your liking leave the filling to cool whilst you prepare the croissants. Preheat the oven to 180c or 160c for a fan oven.
Unwrap the croissant dough and separate the six individual triangles before rejoining the pieces of dough into an old fashioned kite shape
Now join the six 'kites' to form a circle on your baking sheet, overlapping them slightly so that they stick together.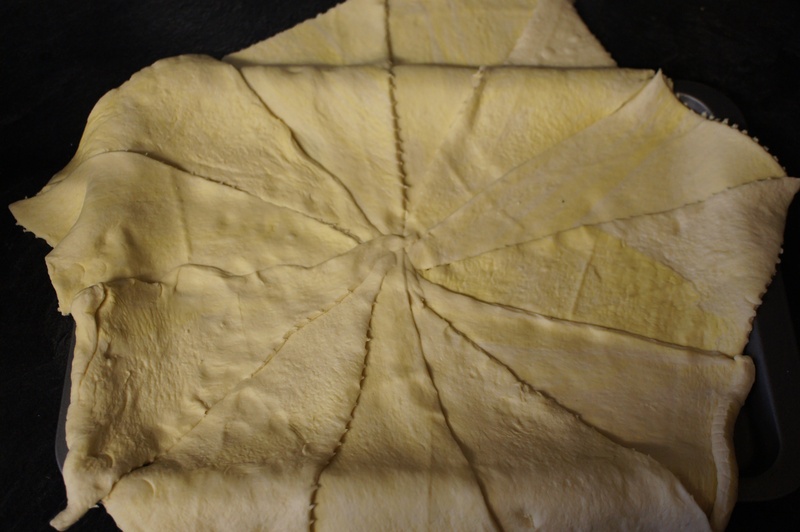 Place the filling in the middle and smooth out to form an even circle then pull the excess croissant into the centre to cover the filling, folding the dough to make it fit nicely.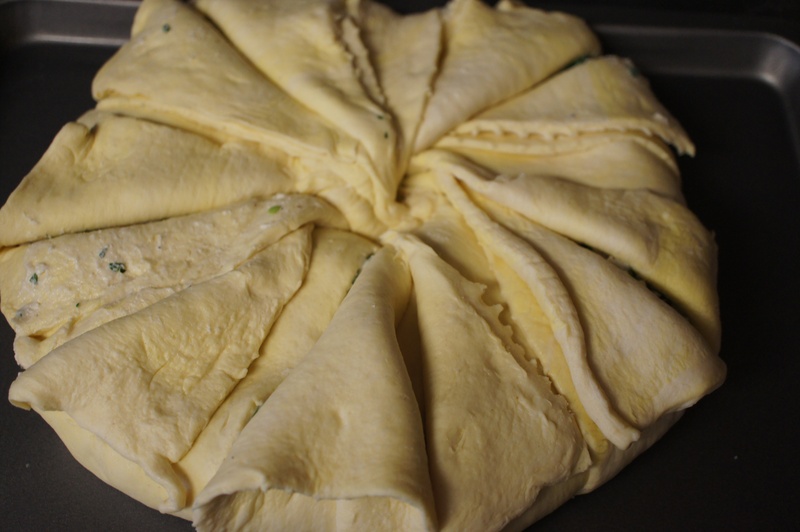 Beat the egg and brush over the croissants before popping into the preheated oven and baking for 25-30 minutes or until the croissant dough is well risen, golden brown and cooked on the bottom.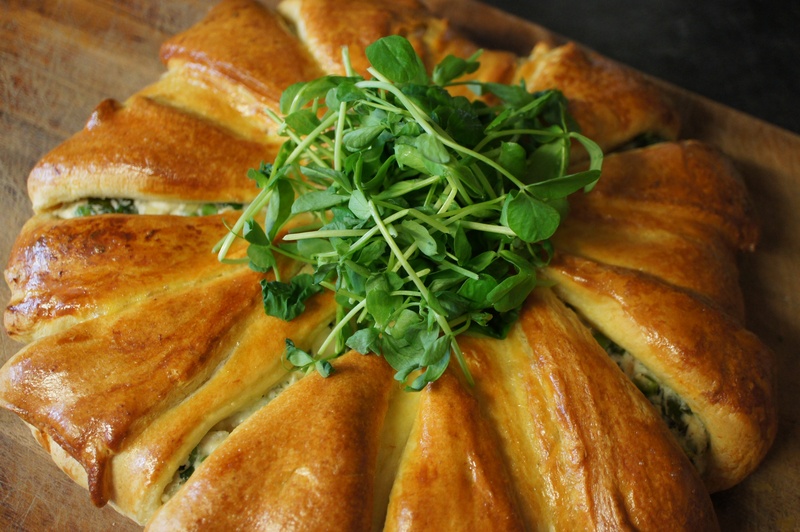 Categories: Free From....., Something savoury, Pies, pastry, Tarts and Tartlets