| | |
| --- | --- |
| Posted by me on February 12, 2014 at 12:10 AM | |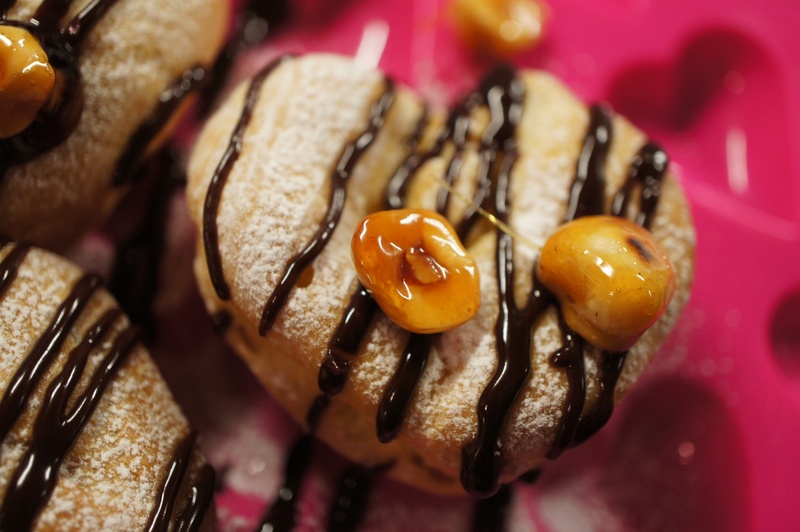 Ooh la la, its nearly that time again when grown men scour the florists (in the case of my husband…. the nearest supermarket) for a bunch of red roses that doesn't cost the national deficit of a small country and will remain alive for longer than a few hours hidden in the back of the car…
Yes my friends it's the month of L'amour, of hearts and flowers and all things slushy as Valentine's Day rears its little cupid shaped face once more.
I decided to create a recipe that encompasses all the things that make Valentine's Day bearable….sorry I mean special… chocolate and alcohol in equal amounts with a sprinkling of caramelised hazelnuts for good measure.
How to make the choux pastry is on YouTube, giving you valuable tips and expert guidance on how to make this very French of pastries
What you need
For the pastry
250mls water
125g strong bread flour
Italian Pinch of salt (three fingers)
Italian Pinch of sugar (three fingers)
100g butter
4 medium eggs, whisked
Cream filling
300mls double cream
75mls Baileys or other cream liquor
1-2 tablespoons of icing sugar to taste
For the chocolate sauce
200g good quality plain chocolate
100mls Baileys or other cream liquor
200mls double cream
1-2 tablespoons of icing sugar to taste
Caramelised hazelnuts
50g hazelnuts, toasted and skins removed then cut into halves
50g caster sugar
a little icing sugar to dust...
What you do
Start by making the choux pastry.
Place the water, salt, sugar and butter into a saucepan and bring the mixture to the boil. As soon as the mixture is boiling add all the flour in one go and beat fast and vigorously until the mixture forms a ball and leaves the sides of the pan clean. STOP, don't beat any more or the mixture will end up heavy and greasy. Leave to cool for ten minutes to stop the egg from turning into a scrambled mess if you add it to soon…. Preheat the oven to 200c or 180c for a fan oven.
After 10 minutes the mixture will be cool enough for you to start adding the eggs a little at a time beating well after each addition until you have a firm but 'dollopable' mixture that drops from the spoon if given a little shake. You don't want the mixture too runny so if your eggs are particularly large you might not need all of them.
Place the mixture into a piping bag and pipe small heart shapes onto a baking sheet lined with baking parchment or pipe or spoon simple walnut sized blobs if you would prefer to make profiteroles. Wet your finger and push the little dimple flat to give a clean finish then place the baking sheet into the oven for 25-30 minutes or until the choux buns are well risen and golden brown in colour then remove the tray and reduce the oven to 120c or 100c for a fan oven. To ensure your choux buns are crispy you need to make a small hole in the base of the buns to allow the steam to escape (this also gives you somewhere to pipe the cream into as well) once you have made small holes in all your hearts or profiteroles pop the tray back into the oven for a further 10 minutes to really crisp them up then remove and allow to cool.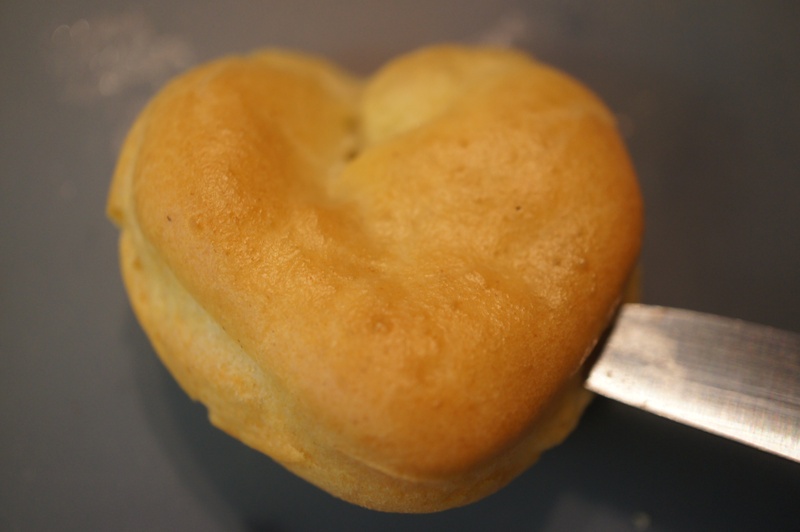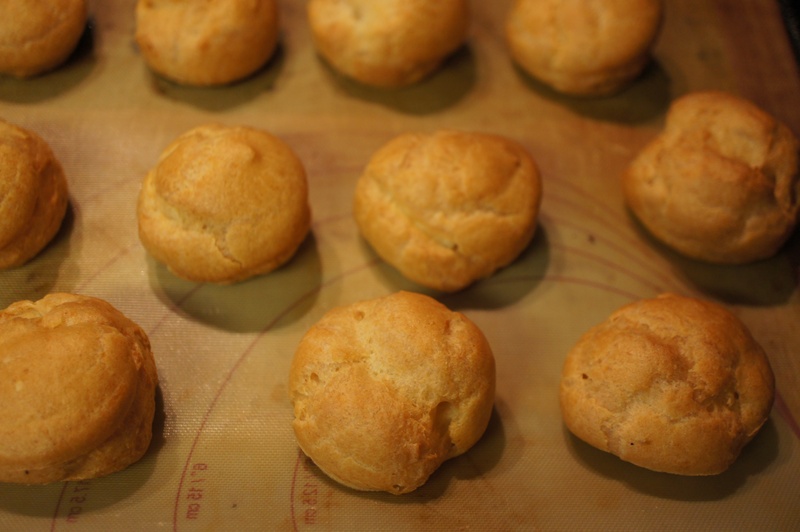 Make your Baileys filling- whip the double cream and baileys together with just enough icing sugar to sweeten, cover and keep in the fridge till required. Fill the choux buns using a piping bag (you won't need a nozzle, just push the pointed cut end of the bag into the holes you made earlier), place onto a serving plate or into a pretty bowl.
Melt the chocolate, cream and baileys in a small saucepan with a little icing sugar to sweeten to your taste, stir until smooth.
Finally, place the caster sugar into a very small non stick frying pan or small heavy based saucepan and melt gently over a low heat, you could add a tablespoon of water if you wanted to make it easier but I prefer to just take it slowly over a low heat. Turn the heat up and gently caramelise the sugar until it is a golden brown, if you move the pan around gently the sugar won't burn but don't be tempted to use a spoon to stir it or it will crystallise. Once your sugar is a deep golden brown add the halved hazelnuts and gently move the pan around to cover them then tip them out onto a sheet of baking parchment separating them out with the tip of a small knife or two teaspoons. Leave to cool.
How to serve- Turn the lights down low, grab your other half, the bowl of profiteroles the sauce in a jug and the caramelised hazelnuts and a spoon and indulge your inner sex kitten…. Go on I dare you, or you could simply pour the sauce over the choux buns sprinkle with the hazelnuts and eat with a modicum of decorum… whatever floats your boat x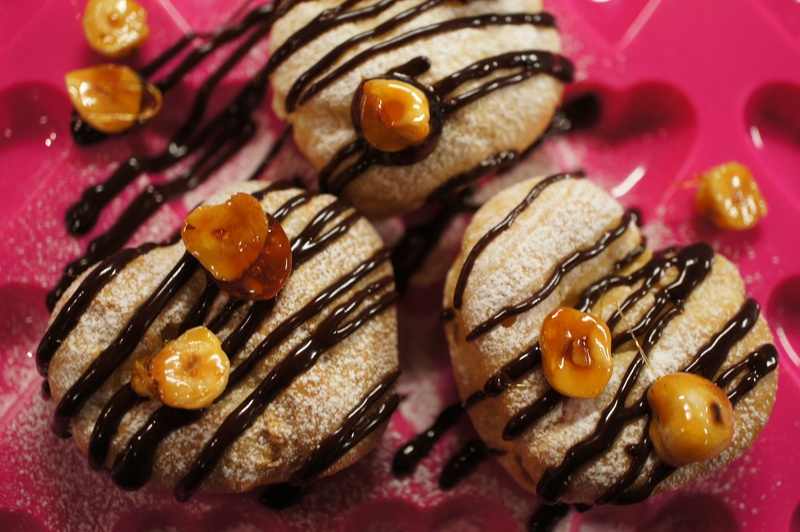 Categories: Chocolate... chocolate and more chocolate!, something a little bit special..., Pies, pastry, Tarts and Tartlets