| | |
| --- | --- |
| Posted by me on February 11, 2014 at 3:25 PM | |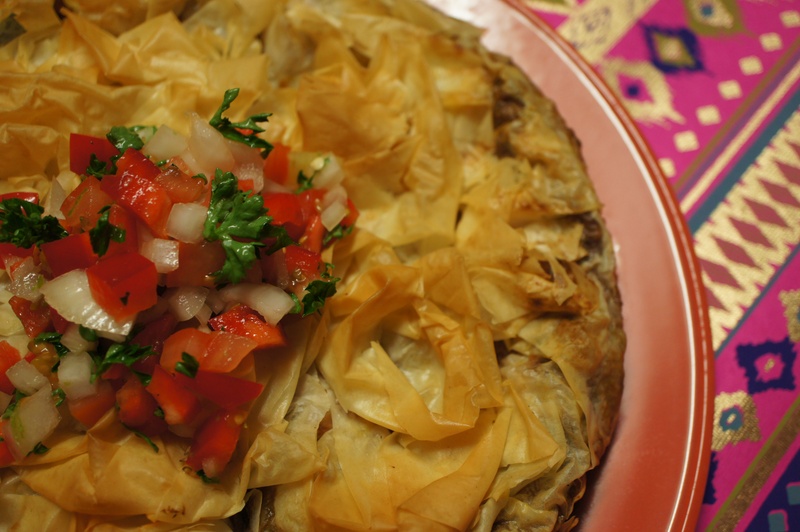 Tinga de pollo is an absolutely fabulous Mexican dish made with smoky chipotle chillies, tomatoes and garlic and remains one of my all time favourite dishes when we visit good Mexican restaurants.
As we Brits are so famous (or infamous) for our love of pies I thought I would combine the two with a yummy filo based creation, bursting at the seams with warm spices, plump aubergine and little white tender chick peas.
I serve it simply, with some fresh zesty tomato and pepper salsa, some garlic roasted potatoes and plenty of green vegetables, Ariba Hombres!!!
What you need
3 tablespoons olive oil
150g onion, chopped
2 large cloves of garlic, finely chopped
200g aubergine cut into 1cm dice
200g cherry vine tomatoes, halved
400g can of chickpeas with their liquid
2 heaped tablespoons tomato puree
200g cooked chicken
1 heaped tablespoon of Mexican Tinga paste ( if you can't find it don't worry use 1 heaped teaspoon of regular chilli paste and two tablespoons of a good quality BBQ sauce
150g of filo pastry
50g butter, melted
Seasoning
For the salsa
1 red pepper, finely chopped
1 small onion, finely chopped
2 medium tomatoes (vine if you can, they are so much sweeter), chopped
Zest and juice of 1 lime
Small bunch of coriander, finely chopped
What to do
Fry the onion in the olive oil for five minutes until softened and just beginning to colour, add the garlic and aubergine and cook for a further 5 minutes then add the halved cherry tomatoes the tin of chick peas and their liquid, the Tinga paste, tomato puree and season to taste. Cook the mixture until it thickens and most of the liquid has evaporated off then add the cooked chicken and check the seasoning again adding a little more Tinga paste if you want it a little hotter.
Leave the mixture to cool.
Make the salsa now by mixing everything together, season with a little salt and freshly ground pepper then cover the bowl and leave in the fridge till needed.
Once the chicken mixture is cool you can preheat the oven to 190c or 170c for a fan oven and prepare your tin. Use a 10" round tin and place a few strips of paper in the base to help you turn the cooked pie out.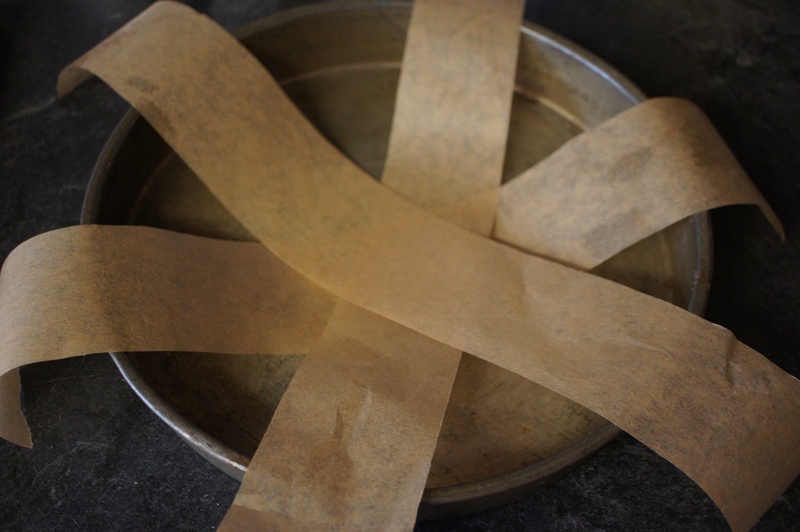 Layer and overlap 5 sheets of filo pastry in the tin, brushing each sheet with melted butter before placing another on top, leave the excess overhanging the sides of the tin.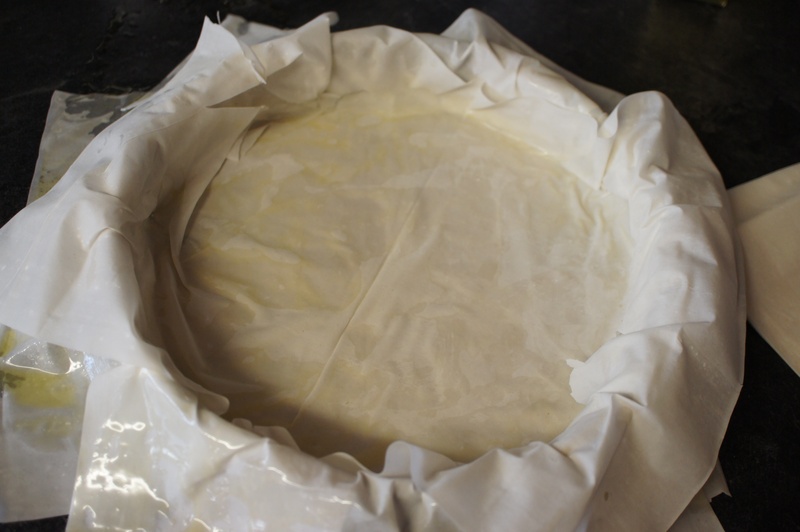 Place the cooled filling on the pastry and smooth it down until its all the same thickness then gently bring the excess pastry over and 'scrunch it up around the edge, brush more sheets of filo with more melted butter and scrunch them up on top to cover the filling.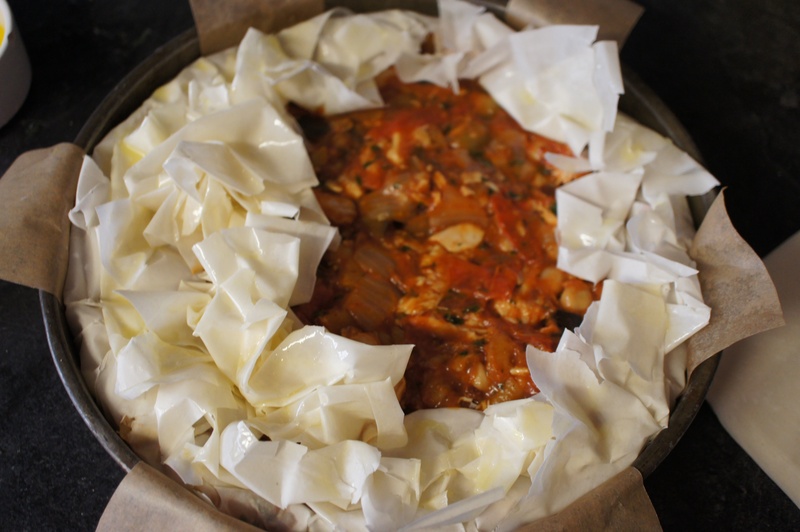 Once all the filling is covered brush the remaining butter over the top then place the pie into the preheated oven for 35- 40 minutes or until the pastry is golden brown and crisp. Leave to cool in the tin for ten minutes before placing a flat plate on top and gently tipping the pie out onto a serving plate, pull out the strips of baking parchment.
Serve hot or warm with the zesty, bright and beautiful salsa and a jug of Mojito and imagine you are on the Rio Grande, OLE
Categories: Something savoury, Pies, pastry, Tarts and Tartlets