| | |
| --- | --- |
| Posted by me on February 18, 2014 at 2:15 PM | |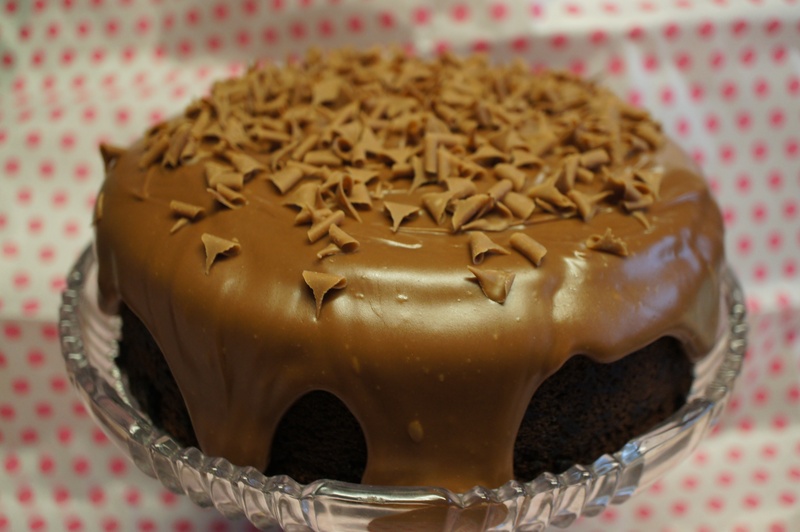 Gluten...Schmooten... who needs that old chestnut in their cakes and bakes???
This totally gorgeous chocolate fudge cake was bought about by the need to create gluten free recipes that could fool someone not suffering from IBS or a gluten intolerance. As far as I am concerned I would never make or bake anything that I wouldn't want to eat myself, if it passes my tick list it comes on the website if not its back to the drawing board until I have the recipe right. DO NOT be put off by the mayonnaise, I guarantee you cannot taste it and no one will guess its there, the mayonnaise simply gives the lightest most moistest texture and just replaces eggs and oil. Try this whether you are gluten intolerant or not I know you will absolutely love it....  
What you need
For the Cake
280g white gluten free self raising flour (I used Doves farm)
220g soft light brown sugar
200g good quality mayonnaise
200mls water
2 teaspoons bicarbonate of soda
4 tablespoons cocoa powder
1 teaspoon vanilla essence
For the frosting
200g milk chocolate broken into chunks
80g butter
150g icing sugar
3 tablespoons milk
20g of chocolate curls or sprinkles to decorate
What to do
Preheat the oven to 180c or 160 for a fan oven and line the base of an 18cm round, deep cake tin.
Place all the ingredients for the cake in a large bowl and mix with an electric hand mixer or with a wire whisk until the mixture is well combined, smooth and lump free.
Pour the mixture into the tin and bake for approximately 45 minutes or until the cake is very well risen and firm to the touch. Leave to cool in the tin then transfer to a wire cooling rack and leave to cool completely.
Place the chocolate and butter into a microwavable bowl, microwaving in 30-45 second bursts until the butter and chocolate have melted, add the milk and icing sugar and beat well until you have a glossy smooth frosting. Spread over the top and side of the cake, swirl decoratively then sprinkle with the chocolate curls.
Categories: Free From....., Chocolate... chocolate and more chocolate!, Cutting cakes