| | |
| --- | --- |
| Posted by me on February 18, 2014 at 2:30 PM | |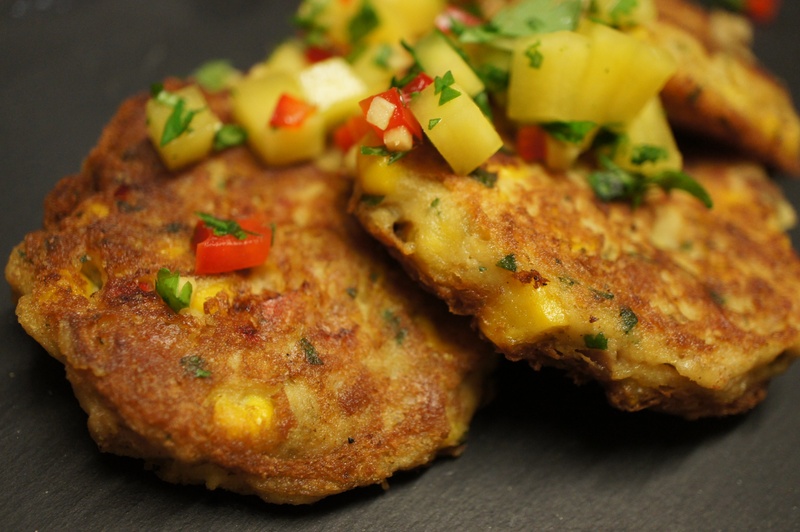 What do you do when the rain is hammering down, its freezing cold and you are dreaming of escaping to some exotic destination???
You make Caribbean pork and sweet corn fritters  with a sunshine inspired zesty mango salsa of course..
What could be better than munching through a plate of tropical island inspired yumminess that can be eaten by just about everyone including our coeliac friends and those suffering from a gluten intolerance.
Packed full of flavour and made with a mixture of Soya and brown rice flours ( readily available in any health food shop) they are the perfect light lunchtime meal served with a bright salad or with veggies and spicy wedges at dinner time.
Makes 12 fritters 
What you need
200g frozen sweet corn cooked in salted boiling water for 5 minutes then drained
75g chick pea flour
25g rice flour
400g cooked pork, shredded
½ red pepper finely diced
1 egg
½ teaspoon salt
1 teaspoon sugar
1 tablespoon finely chopped coriander
1-2 red chilli peppers finely chopped depending on how hot you want the fritters
1 teaspoon bicarbonate of soda
200mls water
1 egg
For the salsa
125g mango chopped into ½ cm dice
¼ red pepper chopped into ¼ cm dice
½ lime, zest and juice
1 tablespoon coriander finely chopped
2 ½ cm piece of fresh ginger, peeled and very finely chopped
1 red chilli pepper, finely chopped
A little oil to fry the fritters
What to do
Start by making the salsa. Combine all the salsa ingredients in a bowl then cover with cling film or food wrap and place in the fridge till required.
Combine the chick pea and rice flours, sugar, salt and bicarbonate of soda in a large bowl then add the egg and water to make a smooth batter. Add the remaining ingredients and mix well.
Heat a large frying pan over a medium flame, add a little oil then gently fry tablespoons of the pork mixture for 4-5 minutes or until the base is firm and golden brown. Flip the fritters over and cook the other side for a further 4-5 minutes ensuring the middle is cooked. Remove to paper towel then keep hot whilst you fry the remaining fritters.
Serve the hot pork and sweet corn fritters with the zesty mango salsa.
Categories: Free From....., Something savoury