| | |
| --- | --- |
| Posted by me on February 23, 2014 at 9:25 AM | |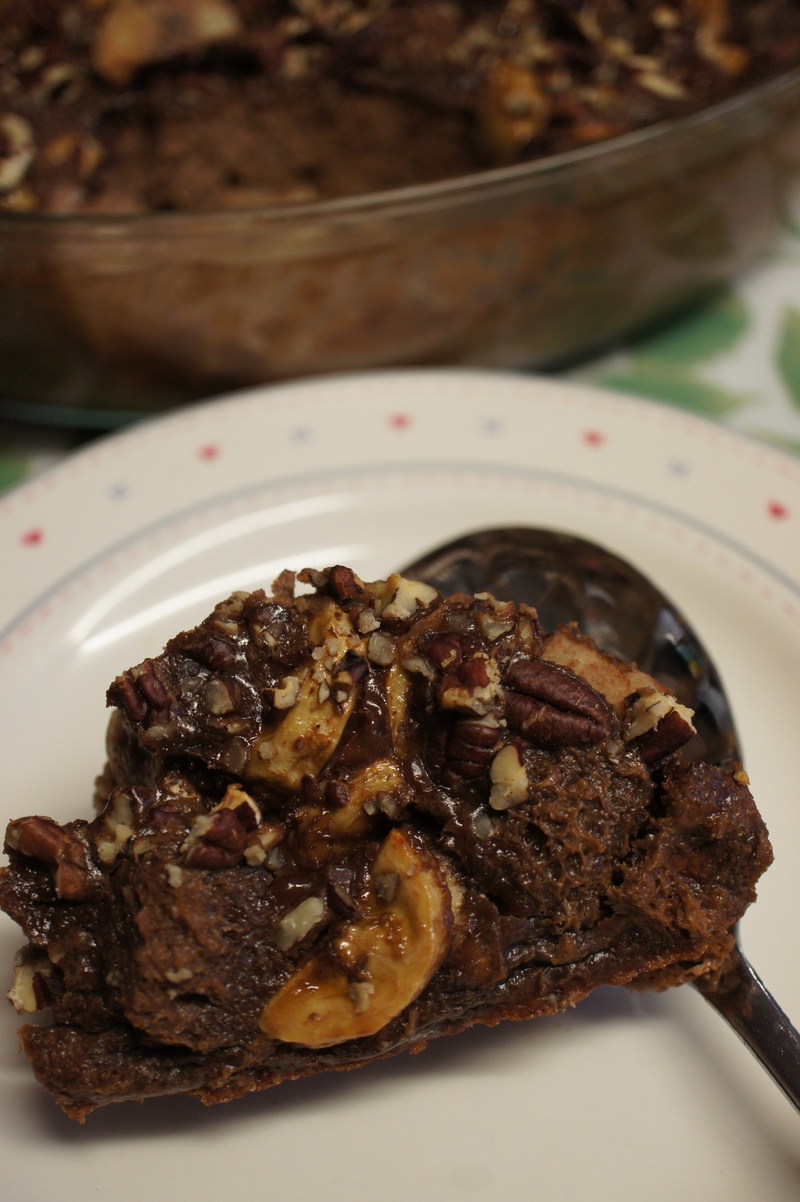 Its amazing where you get inspiration from... This decadent little number came to me one evening whilst watching a documentary about rescued baby orangutans in an orphanage in Borneo and got me thinking about bananas. Bananas led onto chocolate which then went wildly off tack and took me in the direction of the deep south and Kentucky Bourbon. After a bit of messing about with quantities and ingredients Flying monkey pudding was born.... Why the name? well if the poor orphaned orangutans ever got hold of a bottle of Bourbon I think they would be flying through the trees with joy especially if they were given a great big bowl of this chocolate and banana pudding too....
What you need
150g day old uncut bread, cut into1cm dice
300mls single cream
100mls milk
100g plain chocolate (at least 75%), broken into pieces
4 medium eggs
1 teaspoon vanilla extract
2 bananas, each weighing 180-200g in weight, peeled then cut into circles the thickness of a £1 coin
2-3 tablespoons maple syrup
30g pecans chopped
For the sauce
3 tablespoons maple syrup
3 tablespoons Kentucky Bourbon
300mls of double cream
What you do
Preheat the oven to 140c
Place the cream, milk, broken chocolate, vanilla essence and maple syrup into a saucepan and place over a medium heat, stir the pan until the chocolate melts then remove from the heat and allow to cool for 10 minutes
Place the egg yolks into a large bowl and beat well. Once the cream mixture has cooled slightly add it to the beaten eggs and whisk well to combine.
Add the diced bread, followed by the banana and leave to soak for 20 minutes then check the sweetness by tasting a little of the liquid, you can always drizzle a little more maple syrup in at this stage.
Tip the bread mixture into a 1-1 ½ litre oven proof dish, sprinkle with the chopped pecans and place into the preheated oven. Bake for 50-60 minutes or until the pudding has risen and is firm to the touch with no squidgy centre, serve with the maple and Kentucky bourbon sauce.
To make the sauce
Place the maple syrup into a small saucepan and place over a high heat, boil rapidly until the syrup has reduced by half and is thicker and syrupy. Add the bourbon followed by the double cream and bring to the boil then simmer for 2-3 minutes to intensify the flavour and reduce slightly.
Categories: Chocolate... chocolate and more chocolate!, Puddings and desserts