| | |
| --- | --- |
| Posted by me on February 23, 2014 at 3:10 PM | |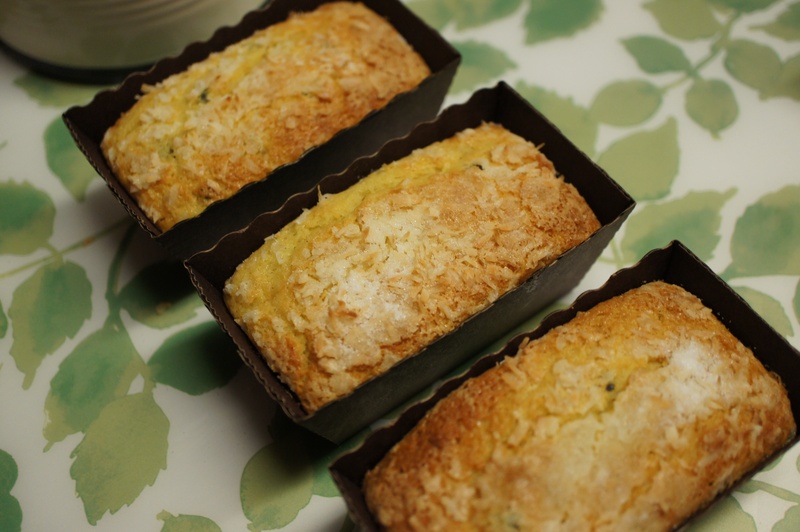 Light as a feather and gently perfumed with passion fruit these delicious little cakes nestled in their miniature loaf cases are a delight whether you are gluten intolerant or not. You can always substitute regular self raising flour for the gluten free variety if you so choose without losing flavour or texture. 
Makes 8
What you need
100g cake margarine
120g caster sugar
150g gluten free self raising flour
100g sour cream
2 large passion fruit, cut in half and the seeds and pulp scooped out
2 medium eggs
1 teaspoon vanilla extract
1 level teaspoon bicarbonate of soda
Desiccated coconut to sprinkle on top
Extra Caster sugar to sprinkle on top
What you do
Preheat the oven to 180c or 160c for a fan oven
Place 8 mini disposable loaf boxes onto a tray or line a muffin tin with paper muffin cases (I bought my mini loaf boxes from the baking section of my local supermarket)
Place all the ingredients into a large bowl (except the coconut and extra caster sugar) and beat for two minutes with an electric hand mixer or three-four minutes with a wooden spoon.
Divide the mixture between the mini loaf tins and sprinkle the tops with desiccated coconut followed by some caster sugar and place into the preheated oven for approximately 18-20 minutes or until the cakes are well risen and golden brown.
Categories: Free From....., Cupcakes