| | |
| --- | --- |
| Posted by me on March 4, 2014 at 9:45 AM | |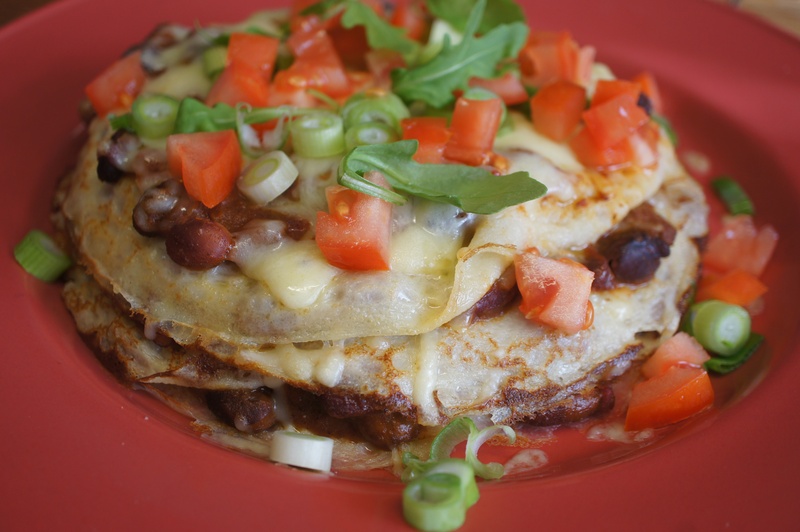 When I lived in the South of England my son and I used to visit the seaside town of Brighton and its famous pier. They used to make the best sweet and savoury pancakes and waffles in a little cabin on the wooden pier and my favourite filling had to be chilli con carne and cheese, folded into a cone shape and eaten as we walked along, bliss.... This is my homage to those halcyon days of endless sunshine and blue skies ( unlike the semi permanent gloom of my home county now in the North of England) and I thought I would share it with you. I used a shop bought chilli as I know that's what the little stall used but you could easily make a batch of homemade up, either way, enjoy! 
What you need
For the pancakes
1 egg
100g plain flour
50g butter, melted
800mls skimmed or semi skimmed milk (approximately)
½ teaspoon salt
½ teaspoon sugar
For the filling
400g – 500g chilli con carne (I used a 400g can of Stagg Silverado less than 5% beef chilli con carne but you can use homemade if you prefer)
100g mature cheddar cheese, grated
To garnish
1 spring onion, sliced thinly
1 tomato, chopped into small dice
A few rocket leaves to garnish (optional)
What you do
Start by making the pancakes.
Place the flour, sugar and salt into a 1 litre jug and break the egg into it, start adding the milk a little bit at first to make a smooth paste then top the milk up to the 800ml line on your jug. You will now have 800mls of smooth pancake batter. Melt the butter if you haven't already done so and add to the batter mix leave the batter to rest for half an hour.
Heat a small 20cm non stick frying pan and pour a little batter into the bottom (about 2-3 tablespoons) run the batter around the base to cover and cook for 2-4 minutes or until the top surface looks 'dry' and the edges are browned, flip and cook the other side then slide the pancake out onto a sheet of baking paper and allow to cool. Repeat this at least three more times ( you can make sweet dessert pancakes with the remaining batter as you only need four pancakes for this recipe). Preheat your oven to 180c or 160c for a fan oven.
Heat the chilli con carne in a small saucepan then place a pancake onto your serving dish, spread with a ¼ of the chilli con carne and a ¼ of the grated cheese then place another pancake on top. Continue stacking chilli, cheese and pancake finishing with a thin layer of chilli sprinkled with cheese.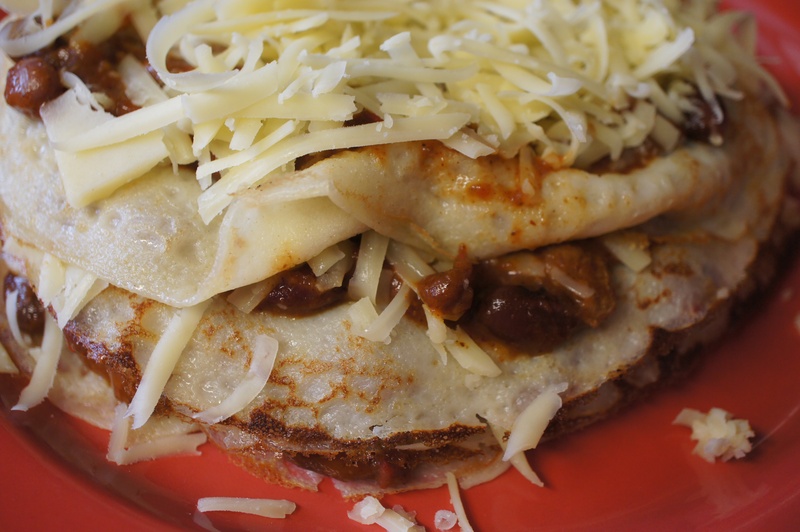 Place the pancake stack into the preheated oven and bake for approximately 10-15 minutes or until the cheese has melted and the pancake stack is piping hot.
Remove from the oven and garnish with the chopped spring onions, tomatoes as well as the rocket if you are using.
Categories: Something savoury