| | |
| --- | --- |
| Posted by me on March 4, 2014 at 10:00 AM | |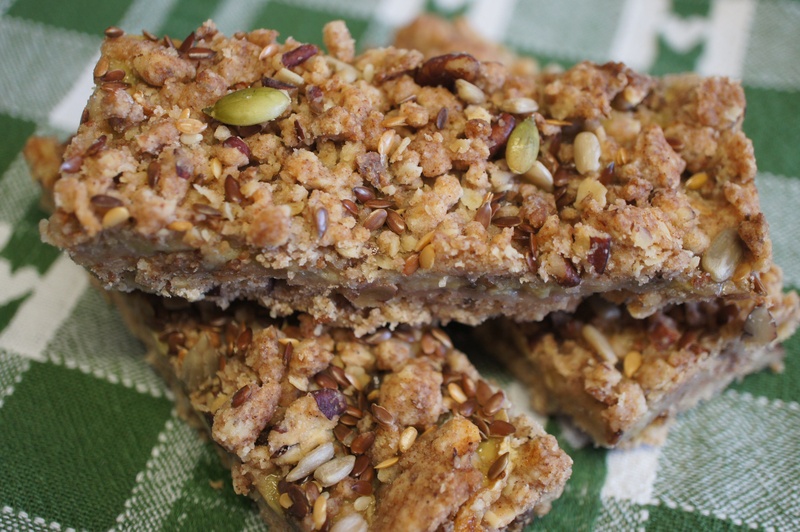 Packed full of energising bananas, seeds, oats and nuts these wonderful bars make a brilliant mid morning snack when energy levels are low and you need something satisfying  without hitting excess sugar. They keep brilliantly too and stay moist for a week or two ( if they last that long without being scoffed of course). Make a batch for the kids packed lunch boxes they are so much healthier than a plastic wrapped chocolate bar....
(makes 14 bars)
What you need
75g bran flakes, crushed
60g pecans, chopped
50g porridge oats
50g dried apricots, chopped into small pieces
225g self raising flour
2 teaspoons baking powder
120g Xylitol
1 level teaspoon ground cinnamon
½ teaspoon ground nutmeg
170g butter, melted
3 large bananas
2 tablespoons of mixed seeds, I used a readymade breakfast mixture with pumpkin, sunflower and linseeds but you can use any seeds that take your fancy or even desiccated coconut it's up to you.
What you do
Line a 18x28cm shallow baking tin with baking paper and preheat the oven to 180c or 160c for a fan oven.
In a large bowl mix the crushed bran flakes, chopped pecans, porridge oats, apricots, flour, baking powder, Xylitol, cinnamon and nutmeg and finally the melted butter and stir well until it looks like a chunky crumble mixture.
Place 2/3rds of the mixture into the base of the prepared tin and squash down using your hands to compact the mixture then slice the bananas thinly on top to create an even layer. Sprinkle over the remaining crumble mixture followed by the seeds and place into the preheated oven for 30-45 minutes or until the mixture is firm ( it doesn't go very brown as there is no sugar to caramelise) leave to cool in the tin then cut into 14 equal sized bars.
Categories: Free From....., Just like Grandma used to make, Brownies and bars