| | |
| --- | --- |
| Posted by me on March 14, 2014 at 5:45 AM | |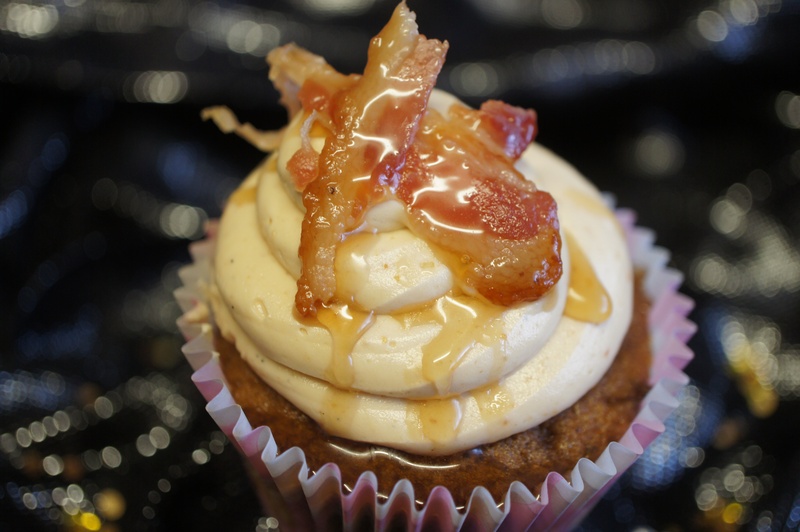 Moist banana cake... peanut butter frosting.... crispy bacon drizzled with maple syrup....Huh???? Bacon...on a cake...for real??? yes my friends! There is bacon on top of this cake and by jiminy it works.
Elvis Presley's favourite snack was a fried peanut butter, banana and bacon sandwich and if that winning combination was good enough for the King of Rock and roll its good enough for a mere mortal like me. The salty/sweet combination is truly delicious and works on every level, even the peanut butter frosting is loved by my family that normally hate the stuff and I have made true believers from sceptics, if you don't still quite believe me bake a tray of these delicious cupcakes and feel the love...Thank you very much...uhn huh....x8) 
What you need
150g baking margarine
150g soft dark brown sugar
3 medium eggs
180g self raising flour
1 heaped teaspoon mixed spice
2 very ripe bananas, peeled and mashed- the browner the banana the more intense the flavour so don't be afraid of using bananas that are over ripe
For the frosting
75g Trex (this is a white vegetable shortening, find it next to the butter and lard)
100g butter, softened
125g smooth peanut butter
175g icing sugar
2 teaspoons vanilla essence
¼ teaspoon salt
2 tablespoons milk (approximately)
To garnish
75g streaky bacon
3-4 tablespoons maple syrup
What you do
Preheat the oven to 180c or 160c for a fan oven and line a 12 hole muffin tin with paper cases.
Stretch and smooth the streaky bacon out with the back of a knife to make it longer and thinner and place onto a non stick tray. Drizzle with a tablespoon of maple syrup then place into the oven and bake for approximately 15 minutes or until the bacon is crispy, remove and place the bacon onto a wire rack to cool and for any fat to drain. Break or cut the bacon into pieces about 2cm long
Place the soft dark brown sugar and margarine into a large bowl and beat until the mixture is very soft and fluffy and has lightened in colour then add the eggs one at a time beating really well after each addition. Now fold in the mashed banana followed by the flour and mixed spice, stir really well to combine then divide the batter between the 12 paper cases (they should be ¾ full).
Place the tray into the oven and bake for 18-20 minutes or until the cakes are well risen, golden brown and firm to the touch when pushed with your finger. Remove and leave to cool on a wire rack whilst you make the frosting.
Place the butter and Trex into a bowl and beat together until smooth and combined then add in the icing sugar, peanut butter, vanilla essence and salt and whip until the frosting is soft, light and fluffy- add enough milk to make it a pipeable consistency.
Place the frosting into a piping bag and cut the end off, pipe swirls on top of the cakes then top with the strips of bacon and a little drizzle of maple syrup… absolutely delicious
Categories: something a little bit special..., Cupcakes