| | |
| --- | --- |
| Posted by me on March 25, 2014 at 1:10 PM | |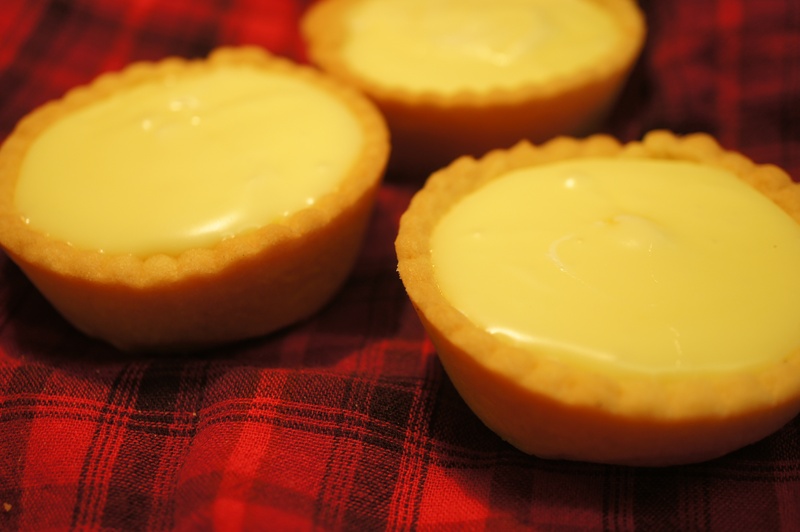 When I was contacted by Liz in Canada about a pineapple tart that she used to enjoy in her native homeland of Scotland I knew there was a challenge afoot... There were absolutely no recipes on the internet and very little information as to what it consisted of but I am a glutton for punishment and there is nothing I like more than a challenge. So armed with the basic information I had, I did some research into the 'fluffy white filling' that is the integral part of this little tart. After speaking to my Jedi baker friend Jim Bridge ( all hail the font of all knowledge baking wise) It turned out to be a commercial product called Mallo Mallo which is unavailable to the general public :-(....But with a bit of experimentation I think I have duplicated it as accurately as possible for the amateur baker to sink their teeth into these pretty little golden tarts. Enjoy x
What you need
Pastry
350g plain flour
175g butter
½ tablespoon icing sugar
½ level teaspoon salt
1 egg yolk
Water to bind
Marshmallow filling
75g butter, softened
75g Trex or other white vegetable based shortening
100g icing sugar
1 teaspoon vanilla extract
75g white marshmallows
¼ teaspoon salt
Pineapple filling
200g pineapple jam
432g tin of crushed pineapple
1 teaspoon lemon juice
Fondant icing
200g icing sugar
2 ½ tablespoons boiling water
1 tablespoon liquid glucose, find this in the home baking section or from a chemist
½ teaspoon lemon essence
1 teaspoon vegetable oil
Few drops yellow food colouring
What you do
Start by making the pineapple filling.
Place the pineapple jam, crushed pineapple and lemon juice into a small non stick saucepan and boil rapidly for 10 minutes or until all of the liquid has evaporated. Leave to cool.
Now make the pastry by placing the flour, salt and icing sugar into a large bowl and adding the butter cut up into small dice. Using your fingertips, rub the butter into the flour until you get the consistency of fine bread crumbs then add the egg yolk and enough water to bring the pastry together into a firm dough (4-6 tablespoons). Leave the pastry to rest for half an hour before rolling out thinly and cutting out 12 circles to fit your deep 12 hole muffin tin.
Bake the pastry cases blind by placing 2 sheets of cling film or food wrap into each of the pastry lined holes and filling up to the top with rice or dried lentils then folding and scrunching the cling film over to make little rice/lentil filled parcels. Bake in a preheated oven 180c or 160c for a fan oven for 12-15 minutes or until the top of the pastry colours a light golden brown, remove the little rice parcels and continue baking for a further 5 minutes or until the pastry is fully cooked and a light golden brown colour, remove from the oven and leave to cool in the tin, then remove ready for filling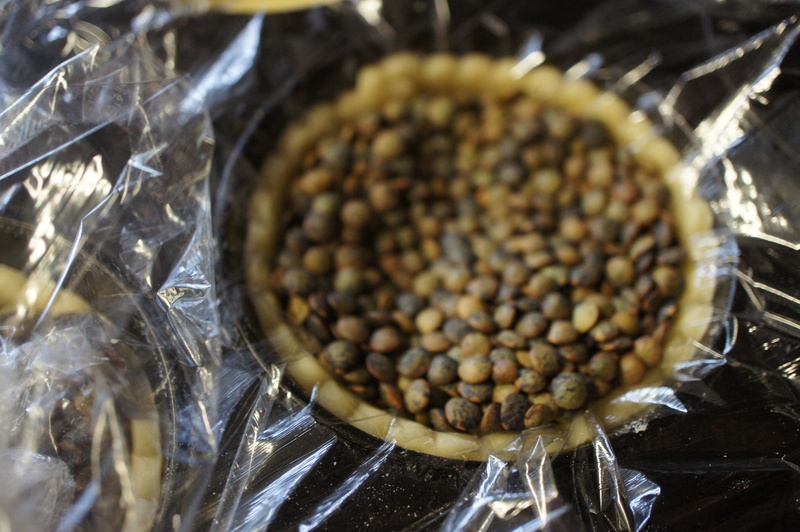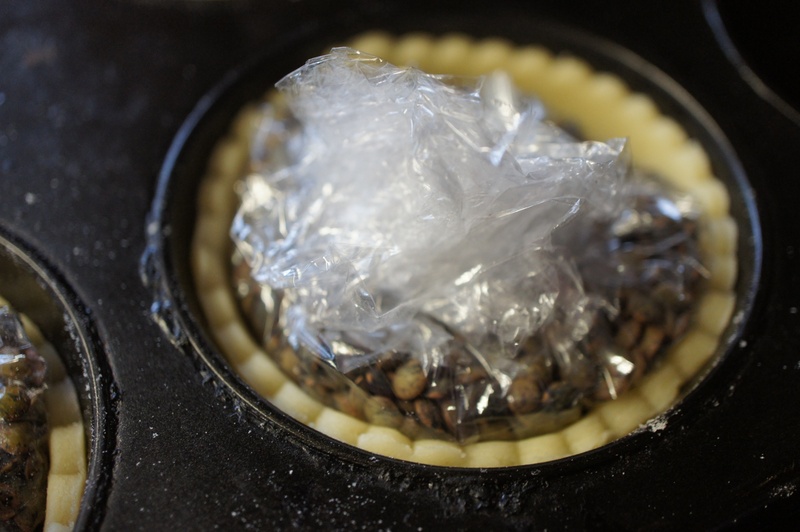 Now make the marshmallow filling by placing the butter, Trex, salt, icing sugar and vanilla essence into a bowl and beating with an electric whisk for 5 minutes or until light and fluffy.
Place the marshmallows into a medium sized plastic or glass bowl and heat in a microwave for a 10-20 seconds until the marshmallows melt, tip the melted marshmallows into the butter cream and continue whisking on the highest speed until the mixture has cooled and is very pale in colour. Spoon the mixture into a piping bag (you don't need a nozzle) and cut the end off so you are left with a hole about 1- 1 ½ cm wide.
Finally make the fondant icing by mixing the icing sugar, oil, lemon essence, glucose, boiling water and food colouring together to make a smooth icing.
To assemble your tartlets place a heaped teaspoon of the pineapple crush into the bases of the cooled pastry cases. Pipe a layer of marshmallow on top coming to about ¾ full, finally finish the top of each tartlet with a thin layer of lemon fondant icing and leave to set.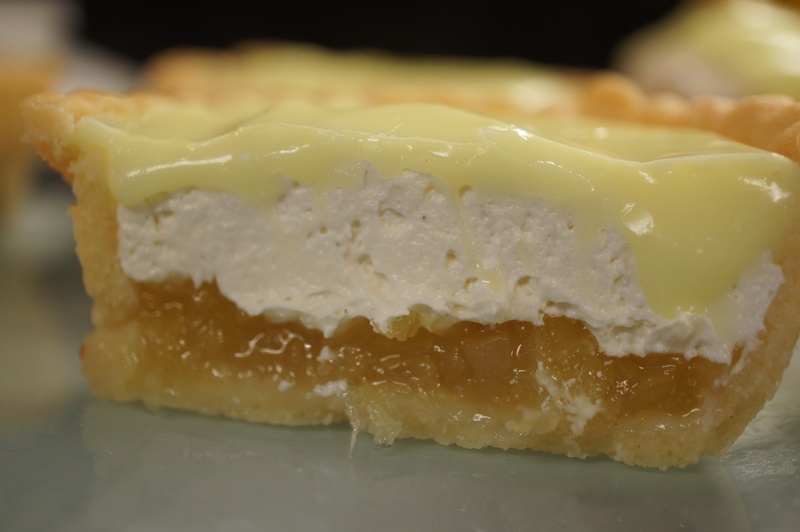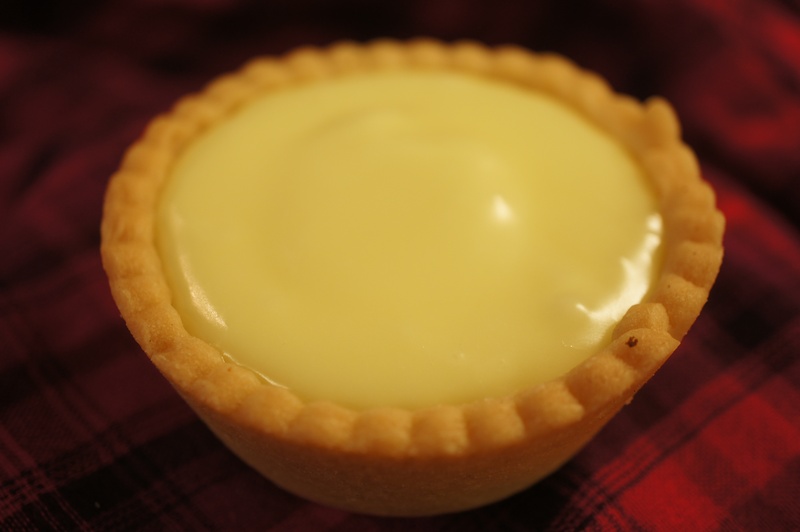 Categories: Pies, pastry, Tarts and Tartlets