| | |
| --- | --- |
| Posted by me on April 30, 2014 at 12:15 AM | |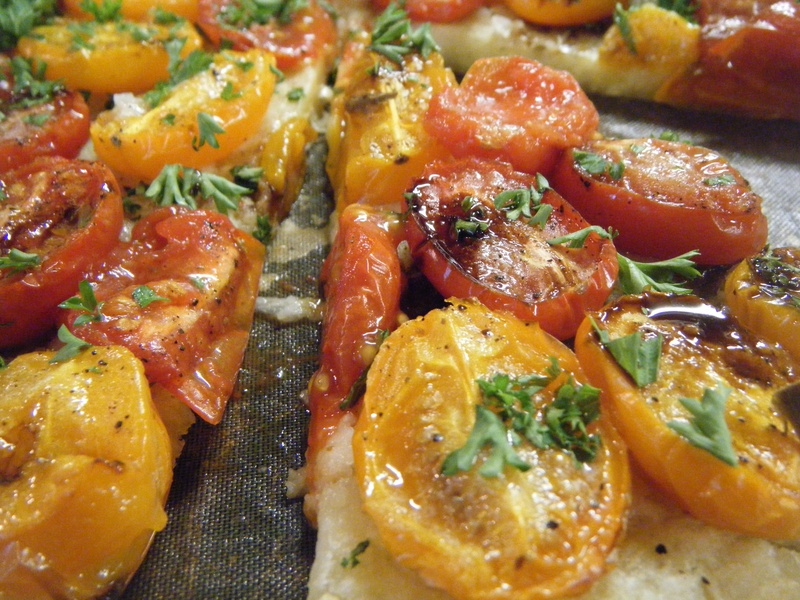 I adore tomatoes, especially pert little golden globes that are still clinging to the vine and have the aroma of warm summer days. My parents who live in Surrey, grow just THE juiciest little 'matos that I frequently sneak into the greenhouse to devour  them by the handful whenever I visit.
The tomatoes for this simple tart were bought from a local farmers market and are almost as sweet as my mums and were the inspiration for this delectable pastry dish.
The sweetness of the tomatoes is emphasised by the lush parsnips in the pastry and when drizzled with a little balsamic glaze is the perfect light lunch. Enjoy x
What you need
200g parsnips, peeled, topped and tailed and grated
50g cold butter, grated
120g plain, gluten free flour
½ level teaspoon salt
2 -3 tablespoons cold water
A little extra flour to dust
400g cherry tomatoes (I used a mixture of golden yellow and red cherry plum tomatoes) cut into halves
20g cold butter, grated
Freshly ground black pepper
½ teaspoon Malvern sea salt or other crystal or flaked salt
1 tablespoon roughly chopped parsley to garnish
1-2 teaspoons of balsamic glaze or 2 tablespoons of balsamic vinegar reduced down in a small saucepan to 1 teaspoon of liquid by boiling it.
What you do
Preheat the oven to 180c or 160c for a fan oven
Grate the parsnips directly into a bowl and then grate the butter on top, stir well to mix the two together.
Sprinkle the gluten free plain flour on top followed by the ½ level teaspoon of salt and two tablespoons of cold water. Stir well to combine then bring the mixture into a dough by squashing it together with one hand, form into a ball ( if you need to add a little more water add it now, the dough should be just slightly sticky not wet).
Roll the pastry out into a circle just slightly larger than a small dinner plate, place onto a baking tray then place the plate on top, cut round it and remove the excess pastry.
Place the tomatoes on top of the pastry in circles then sprinkle with the flaked sea salt and ground black pepper. Grate over the 20g of cold butter.
Bake in a preheated oven for 30-35 minutes or until the tomatoes have softened and the pastry is a light golden brown colour around the edges. Drizzle with the balsamic glaze or reduced balsamic vinegar and sprinkle with the chopped parsley.
Categories: Something savoury, Free From....., Pies, pastry, Tarts and Tartlets