| | |
| --- | --- |
| Posted by me on April 29, 2014 at 1:05 PM | |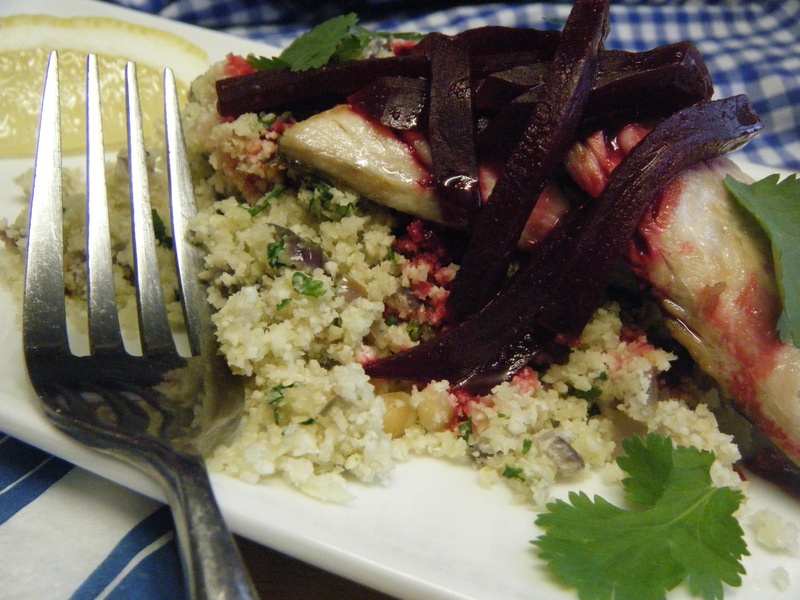 I thought I would share this recipe despite the fact that its not really a 'baking' recipe because its just so yummy. I try and eat more fish in my diet these days as its so good for you, especially the oily fishes and mackerel is not only cheap its tasty as well.....
I found out about Cauliflower 'Couscous' a little while ago and was intrigued as despite its resemblance to the mainstay of Moroccan cookery its really not couscous at all and contains nothing but pulverised cauliflower, some herbs and seasoning. Perfect if you are watching your weight or choose not to eat wheat based products.
Try this simple dish for lunch, its super healthy and is full of flavour. The sweet and sour of the beetroot compliments the oily mackerel perfectly and I guarantee no one will guess the secret ingredient....
What you need
400g cauliflower florets
1 red onion, finely diced
4 tablespoons of oil
2 tablespoons pine nuts
2 tablespoons finely chopped fresh coriander
1 level teaspoon salt
Freshly ground black pepper
400g mackerel fillets
300g raw beetroot, peeled and cut into thin matchsticks
200mls orange juice
50mls raspberry vinegar
1 tablespoon maple syrup
A little Chopped fresh coriander to garnish
What to do
Place the beetroot, orange juice, raspberry vinegar and maple syrup into a small sauce pan and bring to the boil then turn the heat down to a simmer and cook the beetroot for approximately 20 minutes or until the beetroot is tender and most of the liquid has evaporated, season with a little freshly ground black pepper and salt.
Place the cauliflower florets into a food processor and blitz until it looks like couscous.
Place two tablespoons of oil into a large frying pan and fry the diced onion for 5 minutes until it softens, add the pine nuts and fry for another two minutes then add the cauliflower couscous frying for a further 4-5 minutes, sprinkle with the teaspoon of salt and the fresh coriander and stir well to combine, drizzle with a tablespoon of oil. Keep the couscous warm whilst you fry the mackerel.
Add a tablespoon of oil to a large, hot frying pan and fry the mackerel fillets for 3-4 minutes on each side.
Serve the mackerel fillets on top of the couscous and spoon a little of the sweet and sour beetroot on top. Garnish with a little extra freshly chopped coriander.
Categories: Something savoury, Free From.....