| | |
| --- | --- |
| Posted by me on May 1, 2014 at 2:45 PM | |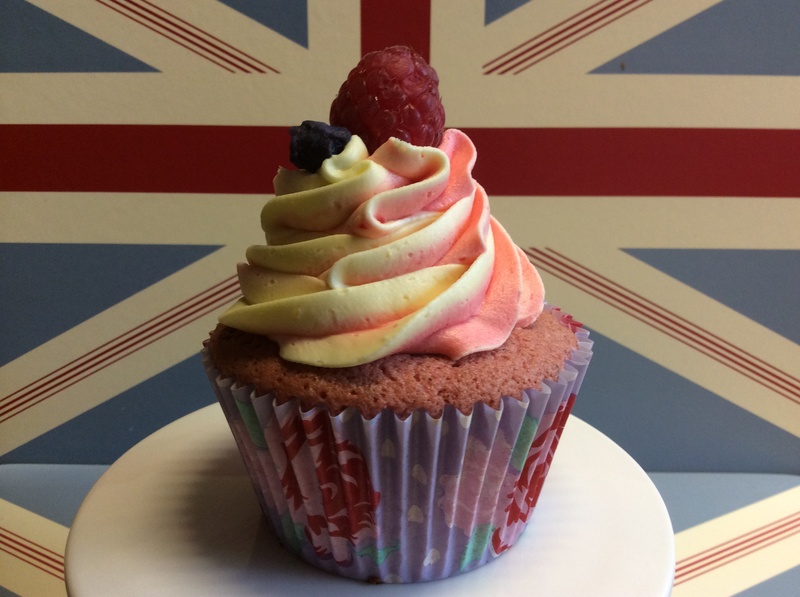 These glorious cupcakes were inspired by my parents lovely garden in Surrey with aromas and flavours of lavender, roses and violets. They are so pretty and so evocative of gentle summer days that it would be a shame not to make them all year round x
What you need
150g baking margarine
150g caster sugar
150g self raising flour
3 medium eggs
6-8 drops of lavender oil, find this in your local health store
A little purple food colouring
A few crystallised violet petals or rose petals
12 fresh raspberries
Frosting
125g butter
75g Trex
250g icing sugar
2 tablespoons Rose water
A little red food colouring
What you do
Preheat the oven to 180c or 160c for a fan oven then line a 12 hole muffin tin with paper cup cases.
Cream the margarine and caster sugar until very soft, light and fluffy then add the egg a little at a time beating well after each addition. Add the purple food colouring and the lavender oil followed by the self raising flour and mix until well combined but don't over beat. Check the flavour of the lavender and add a drop or two more if you want a stronger flavour.
Spoon into the paper cup cases and bake in the oven for 18-20 minutes then leave in the tin to cool down to prevent the papers pulling away from the cakes.
To make the frosting beat the butter, Trex and icing sugar until soft and fluffy, remove half then add the rose water and enough red food colouring to turn the remaining butter cream a pretty shade of pink.
Place a large star nozzle into a piping bag then spoon the plain butter cream into one side of the bag (use either a pallet knife or the back of a spoon to make it easier) turn the bag over and spoon the pink icing on top then squeeze the bag a little to produce a two tone effect. Pipe the butter cream on top of the cup cakes and top with a fresh raspberry and a piece of crystallised violet.
Categories: something a little bit special..., Cupcakes