| | |
| --- | --- |
| Posted by me on May 3, 2014 at 10:15 AM | |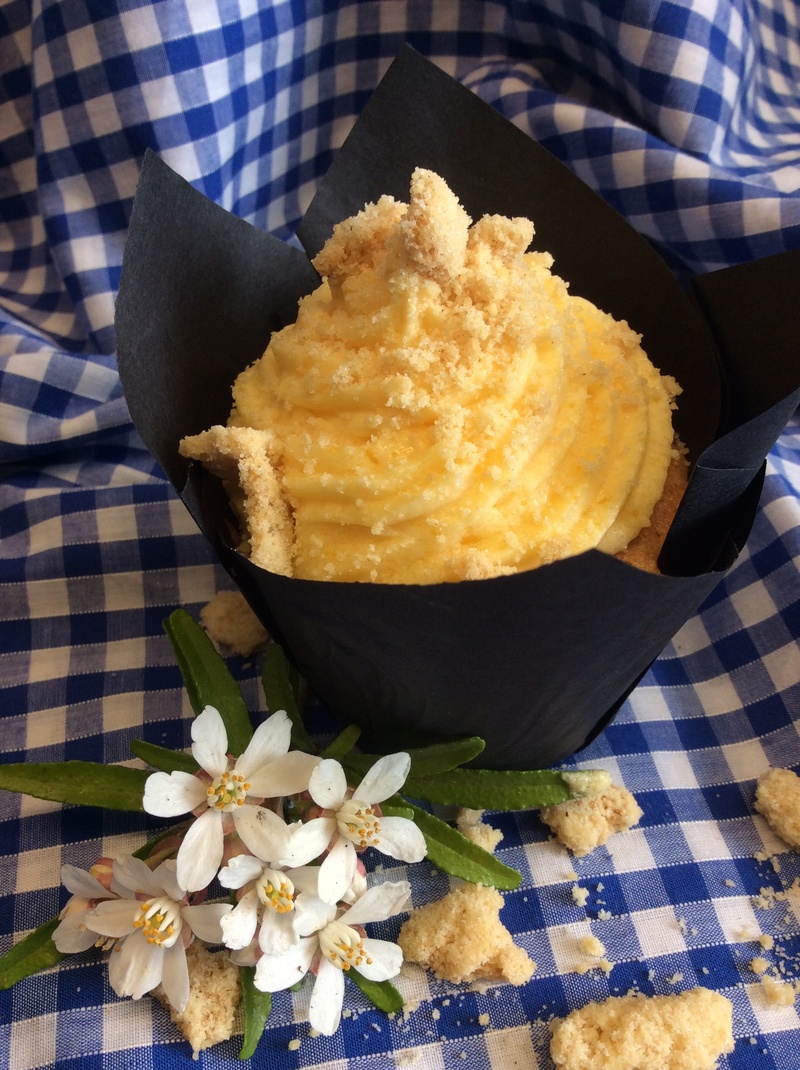 If I had to choose a dessert for my very last meal, it would without a seconds hesitation, be rhubarb crumble and custard.... For me, the pink stems nestled under a layer of buttery crumble with a big jug of hot creamy custard shouts of comfort and warmth and being snug and cosy. I had to make (and eat)  three batches of this recipe in order to get the balance right but I think it really works and they are one of my all time favourite flavoured cupcakes....Enjoy x
What you need
150g cake margarine
150g caster sugar
3 medium eggs
150g self raising flour
1 teaspoon vanilla essence
540g tin of rhubarb in light syrup (approximately 250g once drained)
1 tablespoon seedless raspberry jam
Frosting
200mls milk
4 level tablespoons custard powder
200g butter
300g icing sugar
Crumble topping
30g butter
60g plain flour
2 tablespoons caster sugar
What you do
Start by making the rhubarb filling…. Drain the tinned rhubarb of its excess liquid then tip the fruit into a small saucepan and bring it to the boil, reduce the heat and simmer for 5-10 minutes to remove as much excess liquid as you can then add the raspberry jam and simmer again until you get a thick pink puree, leave to cool.
Preheat the oven to 180c or 160c for fan ovens and line a 12 hole muffin tin with large paper cup cake cases (I used tulip paper cases but any large case will do)
Cream the cake margarine, vanilla essence and caster sugar until soft, light and fluffy then add the eggs in one at a time, beating well after each addition.
Add the self raising flour and mix until just combined, spoon into the paper cup cases.
Place the cooled rhubarb puree into a piping bag and cut about ½ cm from the end. Push the end of the piping bag into the middle of each of the cupcakes and squeeze gently to push a teaspoon of mixture into each cake, place into the oven and bake for 18-20 minutes or until the cakes are well risen, golden brown and spring back when pushed gently with your finger. Remove from the oven and leave to cool in the tin to prevent the papers from coming away from the cakes.
To make the frosting…. Whisk the milk and custard powder together and place into a small non-stick saucepan. Bring to the boil stirring all the time until the mixture is very thick, cover the surface with a piece of cling film to prevent a skin forming and allow to cool.
Place the cooled custard into a bowl and beat with the butter until smooth then add the icing sugar and beat again to make a smooth butter cream.
To make the crumble topping
Rub the butter, plain flour and caster sugar together in a small bowl until it looks like bread crumbs then tip them onto a baking sheet and bake in the preheated oven for approximately 15 minutes or until the crumble turns a light golden brown, remove and cool. The mixture will have clumped together in the cooking process, don't worry, break it up into a crumble once it is cooled.
To finish the cupcakes, place the custard butter cream into a piping bag with a large star nozzle attached and pipe a large swirl on top of each cupcake then sprinkle with some of the crumble topping
Categories: Cupcakes