| | |
| --- | --- |
| Posted by me on June 4, 2014 at 10:10 AM | |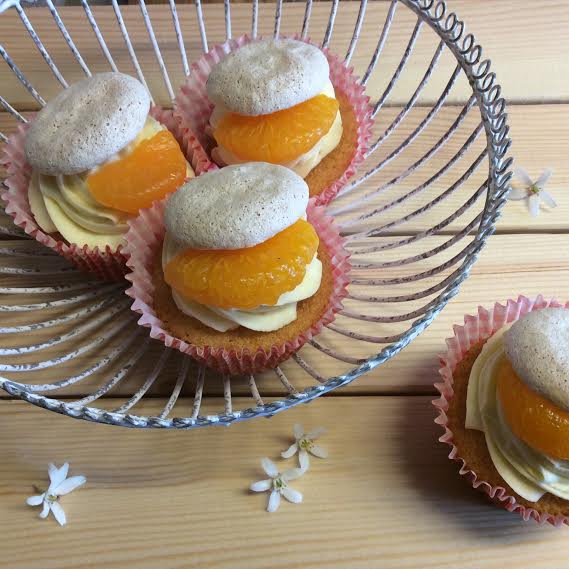 I remember making  a Japonaise gateaux when I was at catering college in 1983, it was one of my first culinary successes and I loved making all the different elements. I haven't seen the recipe I used for a very long time so decided to create a simpler more contemporary version that could be made into cupcakes rather than an elaborate old fashioned gateaux. The little Japonaise biscuit that perches rather jauntily on top of an orange and sherry infused cream perfectly complements the light sponge cake and I have substituted Gluten free flour for traditional self raising flour as it means everyone can indulge in these delicious little cupcakes...
What you need
100g baking margarine
100g caster sugar
2 medium eggs
Grated rind of 1 large orange
120g gluten free self raising flour
2 tablespoons sherry
Japonaise biscuits
50g caster sugar
1 egg white
40g ground almonds
Drizzle
1 tablespoon fresh orange juice
1 tablespoon sherry
Topping
100g mascarpone
100g icing sugar
150mls double cream
Grated Zest of 1 large
2 tablespoons of fresh orange juice
1 orange, skinned and segmented
What you do
Preheat the oven to 180c or 160c for a fan oven and line a 12 hole muffin tin with 9 large paper cup cases.
Place the margarine, orange zest and caster sugar into a large bowl and beat with an electric whisk until the mixture is pale, soft and fluffy, add the eggs one at a time beating well after each addition then fold in the sherry and finally the flour. Spoon the mixture between the paper cup cases and bake in the pre heated oven for 18-20 minutes or until the cakes are well risen and a light golden brown. They should be firm when pushed with your little finger.
Leave to cool in the tins to prevent the paper cases coming away from the cakes.
Meanwhile make the drizzle by combining the sherry and fresh orange juice in a small bowl, spoon the mixture over each cooled cupcake.
To make the Japonaise biscuits place the egg white and caster sugar in a large bowl and whisk together until the mixture is thick, white and will hold soft peaks, fold in the ground almonds then place the mixture into a piping bag and pipe small discs the size of a 10p (1$) piece, spaced well apart on silicone or baking parchment on a baking sheet. Bake in the oven 150c or 130c for a fan oven and bake for 20 minutes or until the Japonaise are firm and light brown in colour, leave to cool on the tray.
Place the mascarpone, double cream, orange juice and zest and icing sugar into a bowl and whisk until the cream stands in firm peaks.
To assemble, spoon or pipe the mascarpone cream on top of each cupcake then place a segment of orange and a Japonaise biscuit on top.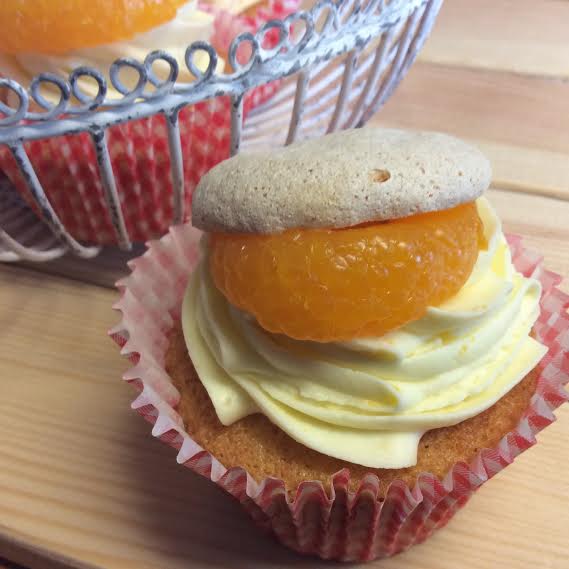 Categories: Cupcakes, Free From....., Just like Grandma used to make