| | |
| --- | --- |
| Posted by me on June 4, 2014 at 10:40 AM | |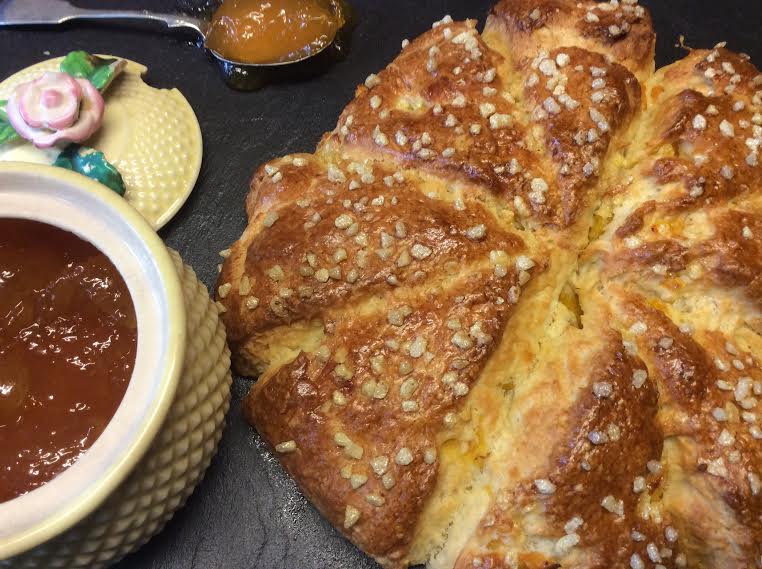 Peaches are one of those fruits that epitomise summer and remind me of a lovely week in Italy, when they are juicy and ripe and the sweet, sticky nectar is running down your chin you know that summer has really arrived and these simple wedge scones are the best way of using up a glut of ripe fruit or luscious tinned peaches when fresh peaches are not at their best. Spread with some creamy butter and a spoonful of peach conserve they are an absolute delight whilst you swing gently in your hammock under a shady tree ( or in my case a rickety old deckchair next to my 10 foot tall bamboo ) ...  Enjoy!
What you need
225g self raising flour
1/2 teaspoon baking powder
40g caster sugar
75g butter
120g pot smooth peach yogurt
100g tinned peaches in juice, drained and chopped or 100g of very ripe, soft fresh peachs, skin and stone removed
Good pinch of salt
Lemon sugar or crushed white sugar cubes to decorate
A little beaten egg to glaze
What you do
Place the flour, baking powder, salt and sugar in a large bowl and whisk with a balloon whisk to combine the ingredients.
Add the butter and rub together between your fingertips to make fine breadcrumbs then add in the chopped peaches and all of the yogurt, mix together with a fork then pat out into a neat circle on a lightly dusted surface until the scone is 2cm thick. Place onto your baking tray, brush with beaten egg and sprinkle with some lemon sugar or crushed sugar cubes, portion through the circle into 8 wedges with a large knife. Leave to rest on the work surface for 30 minutes to allow the gluten in the flour to relax then bake in a preheated oven 200c for 25-30 minutes or until well risen and golden brown. Leave to cool then cut into wedges to serve, spread with butter....
Categories: Scones, Just like Grandma used to make