| | |
| --- | --- |
| Posted by me on October 21, 2014 at 6:10 AM | |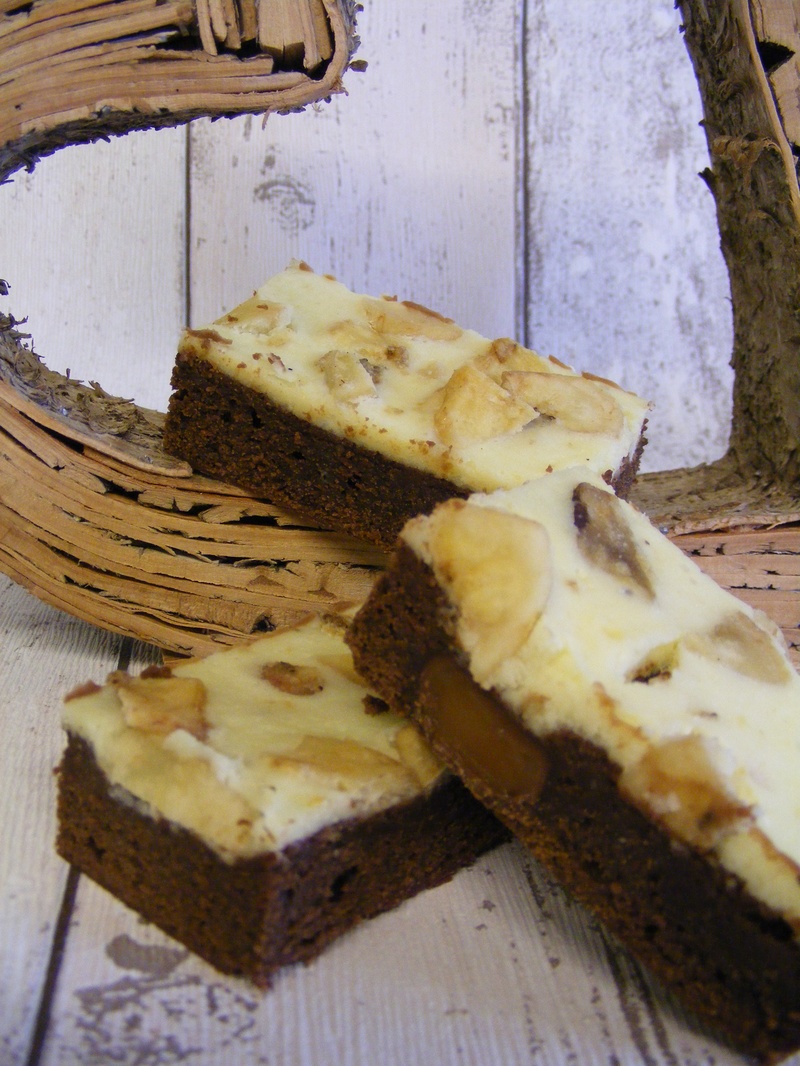 You can never have enough brownie recipes, and this one is particularly good with soft nuggets of golden caramel under a luscious cheesecake and banana chip topping. serve warm with creamy vanilla ice-cream and some hot caramel sauce.....
makes 12 pieces
What you need
125g butter
125g plain chocolate
2 medium eggs
160g light soft brown sugar
110g plain flour
¼ level teaspoon salt
100g bar of chocolate with a soft caramel centre, broken into squares (I used a galaxy caramel bar)
For the cheesecake topping
200g full fat cream cheese
1 medium egg
50g caster sugar
½ teaspoon vanilla paste, if you can't find this then use ½ teaspoon of a good quality vanilla essence
Handful dried banana chips, broken into smaller pieces
What you do
Prepare an 9" x 9" baking tin by lining it with baking paper then preheat the oven to 180c or 160c for a fan oven
Melt the chocolate and butter in a small bowl oven a pan of hot but not boiling water or in the microwave then leave to cool down a little.
Whisk the eggs and light soft brown sugar together for about five minutes or until the whisk leaves a trail then add in the melted chocolate mixture and whisk gently until well mixed, finally add in the salt and plain flour and fold the mixture together until its smooth and the flour is incorporated.
Pour into the prepared tin and stud with the broken squares of caramel chocolate, pushing the pieces below the surface then bake in the oven for 20 minutes.
Meanwhile make the cheesecake topping by whisking the cream cheese, vanilla extract, eggs and caster sugar together.
After the brownie has baked for 20 minutes remove the tin gently from the oven and pour the cream cheese filling over the top ensuring that the surface of the brownie is completely covered, sprinkle with the broken up banana chips. Return to the oven for a further 15 minutes and then leave to cool completely ( I normally leave overnight to ensure that the brownie has set completely)
Cut into 12 equal pieces
Categories: Brownies and bars, Chocolate... chocolate and more chocolate!