| | |
| --- | --- |
| Posted by me on October 23, 2014 at 9:55 AM | |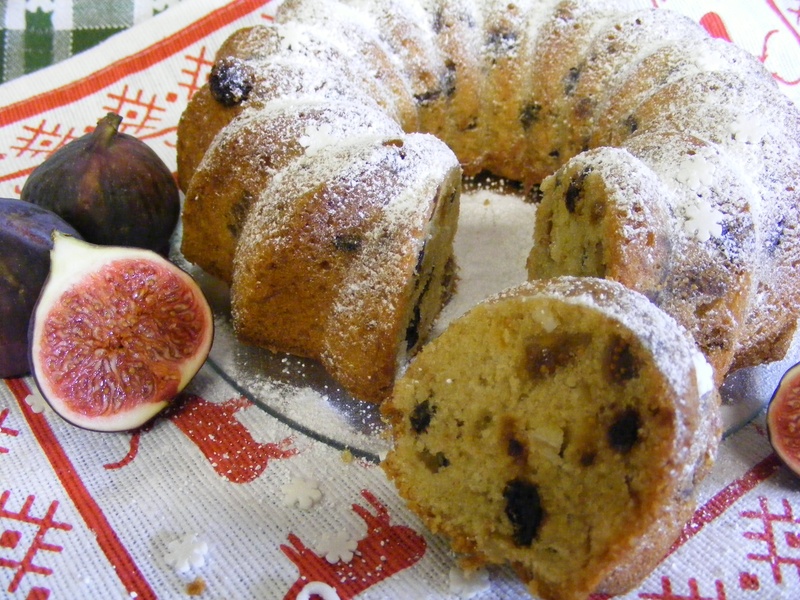 I am truly fascinated by other cultures at Christmas time- or it could just be that I'm ultra nosy! And the food that is traditionally served as part of the yuletide festivities. I heard about this cake from Finland many years ago but was unable to find a recipe for it translated into English and unfortunately Finnish is most definitely NOT my second language. Thankfully just about everything can be translated via the internet these days and although the recipe I found wasn't completely 'Anglicised' it gave me enough of an idea how to create this light, buttery fig and hazelnut cake, simply dusted with icing sugar. I have to say, I do prefer it to a heavy traditional English celebration fruit cake served at Christmas and it's already a real winner in our family. Nauttia…or Enjoy as they would say in Finland x
What you need
170g butter
115g light soft brown sugar
1 level teaspoon orange extract or the finely grated zest of two large oranges
3 medium eggs, beaten
100g dried figs, finely chopped
70g dried dates, chopped
50g hazelnuts, toasted and roughly chopped
40g chopped mixed peel (you can use glace cherries if you don't like mixed peel)
170g plain flour
1 level teaspoon baking powder
1 level teaspoon ground cinnamon
½ level teaspoon ground nutmeg
1 tablespoon icing sugar to dust
What you do
Preheat the oven to 180c or 160c for a fan assisted oven and grease a non stick ring mould (mine was silicone) or an 8" round cake tin lined, with a small tin in the middle that has been wrapped in baking parchment to create a ring shape after baking.
Place the butter, sugar and orange essence or grated zest into a large bowl and beat until the mixture is very light and fluffy.
Add in the eggs a little at a time beating continuously.
Place the flour, baking powder, cinnamon and nutmeg into a bowl and stir with a hand held wire whisk to blend all the ingredients together then add in the chopped figs, dates, hazelnuts, and mixed peel, stirring well.
Tip the flour and fruit mixture onto the butter and sugar and fold together gently to incorporate all the ingredients then tip into your prepared ring mould or tin.
Bake in the preheated oven for approximately 45 minutes or until a wooden skewer comes out clean when inserted into the middle of the cake. Leave to cool for thirty minutes in the tin before turning out onto a wire rack to cool completely.
Dust heavily with icing sugar to serve.
Categories: Christmas, Cutting cakes