| | |
| --- | --- |
| Posted by me on October 23, 2014 at 9:55 AM | |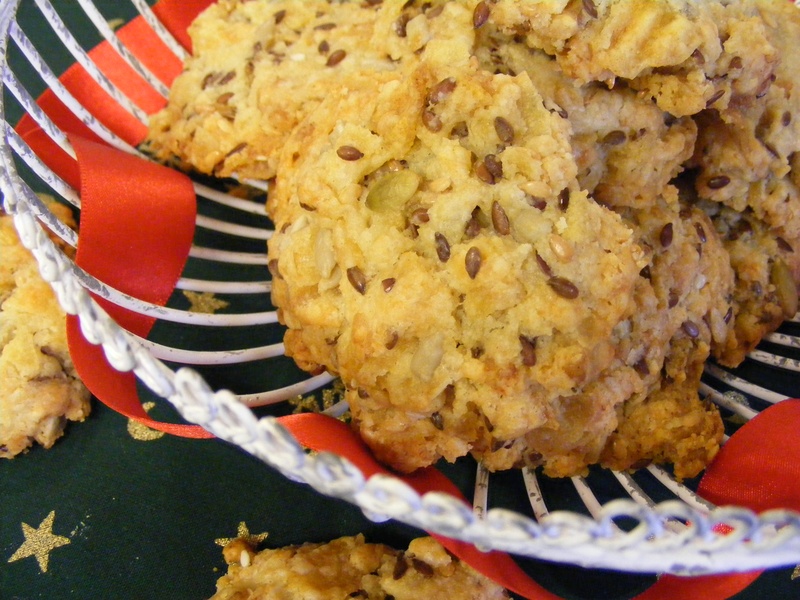 Makes 12
The first time I ever made these biscuits I ended up knocking the dried mustard powder everywhere, triggering a humungous sneezing attack, so rather than calling them something boring such as 'seeded cheesy biscuits' I decided to name them in honour of their first tumultuous baking in this world.
Perfect with drinks, they are decidedly morish and well worth making up a double batch for if you have friends coming over.
What you need
100g extra mature cheddar cheese, grated
60g thick cut cheese and onion crisps, crushed in the bag to small pieces
40g mixed seeds (I used a readymade mixture of sunflower, pumpkin, linseed and pine nuts )
75g plain flour
1 level teaspoon of English mustard powder
1 level teaspoon of caster sugar
70g butter, melted
What to do
Preheat the oven to 190c or 170c for a fan assisted oven
Place the grated cheddar cheese, mixed seeds and crisps into a large mixing bowl then stir in the flour, mustard powder and sugar and mix well. Pour in the melted butter and stir well with a wooden spoon top combine all the ingredients.
Divide the mixture into 12 equal portions and place them onto two non stick baking sheets, squashing them down slightly with slightly damp hands. Bake in the preheated oven for approximately 15 minutes or until the biscuits are golden brown and crisp, leave to cool on the trays.
Serve with a nice chilled glass or two of wine…
Categories: Something savoury, Biscuits and Cookies, Christmas