| | |
| --- | --- |
| Posted by me on October 25, 2014 at 11:15 AM | |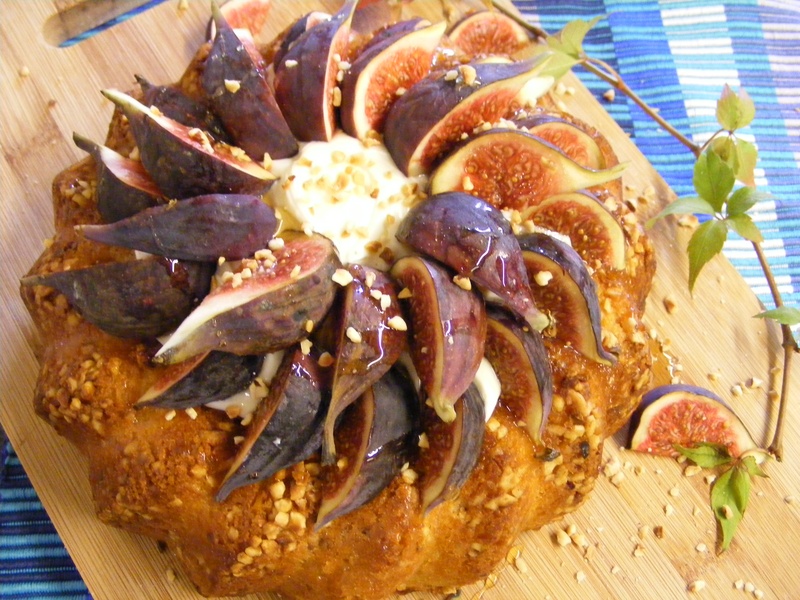 12 slices
What you need
20g butter
1 level tablespoon finely chopped toasted hazelnuts
For the cake
150g caster sugar
150g baking margarine
1 level teaspoon of natural orange extract or the finely grated zest of 2 large oranges
3 medium eggs, beaten,
100g Greek yoghurt
180g self raising flour
2 tablespoons Cointreau, or other orange flavoured liquor
For the mascarpone cream
250g mascarpone
2 tablespoon Cointreau
50g Greek yogurt
3 – 4 level tablespoons icing sugar
1/2 level teaspoon natural orange essence or the finely grated zest of 1 orange
4 ripe fresh figs
1 teaspoon finely chopped hazelnuts roasted to garnish
1tablespoon runny honey to garnish
What you do
Preheat the oven to 180c or 160c for a fan assisted oven.
Using the butter, grease the inside of a non-stick ring mould (I use a silicone mould) then sprinkle with the chopped, toasted hazelnuts.
Place the caster sugar, orange extract and baking margarine into a large bowl and beat until the mixture is soft, light and fluffy then add in the eggs a little at a time beating well after each addition. Fold in half the flour followed by the yogurt and then the remaining flour.
Tip the mixture into the prepared ring mould and bake for approximately 40-45 minutes or until the cake is well risen, golden brown and a wooden skewer comes out cleanly when inserted into the middle of the cake.
Remove from the oven and immediately pour two tablespoons of Cointreau over the hot sponge then leave the cake to cool for half an hour in the mould before turning out onto a wire rack to finish cooling completely.
Meanwhile make the mascarpone cream by mixing the mascarpone, Greek yogurt, two tablespoons of Cointreau, 3-4 tablespoons of icing sugar and the orange essence together in a bowl.
Slice the fresh figs into 8 pieces each.
Place the cooled cake onto a serving plate and heap the mascarpone cream into the middle then top with the cut, fresh figs, a drizzle of honey and a sprinkle of finely chopped and toasted hazelnuts.
Categories: something a little bit special..., Cutting cakes