| | |
| --- | --- |
| Posted by me on October 25, 2014 at 11:20 AM | |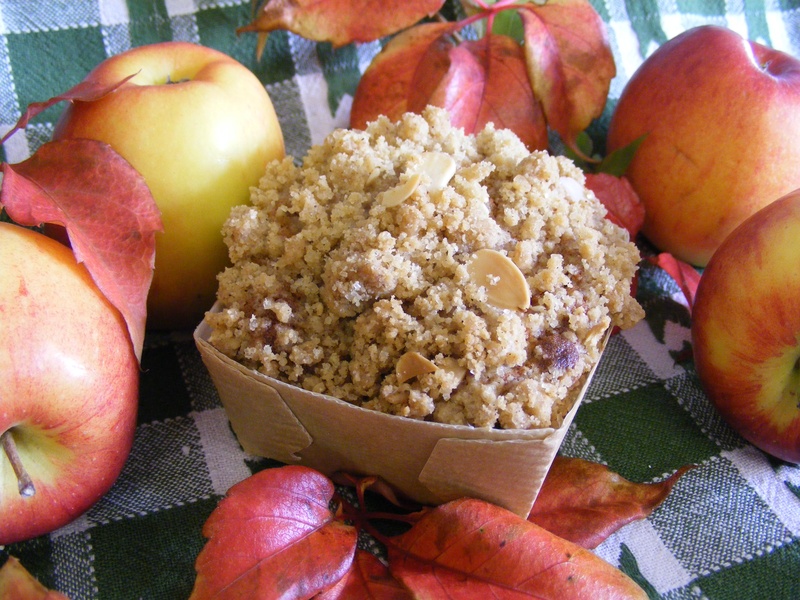 -Season of mists and mellow fruitfulness,
close bosom-friend of the maturing sun;
conspiring with him how to load and bless
with fruit the vines that round the thatch-eaves run;
To bend with apples the moss'd cottage-trees,
and fill all fruit with ripeness to the core...
Ode to Autumn by Keats remains a favourite poem of mine, extolling the wonderful harvest ready to be plucked from the gnarly boughs hanging overhead.
Apple streusel muffins are my ode to Autumn and are best eaten slightly warm when the fragrance of fragrant spices fills the kitchen.
Streusel topping
75g demerera sugar
50g butter
85g plain flour
1 level teaspoon ground mixed spice
1 level tablespoon flaked almonds
wet mixture
115g sunflower oil
2 medium eggs
120g Greek yogurt
60g milk
1 level teaspoon good quality vanilla paste or extract
Dry mixture
125g light soft brown sugar
220g plain flour
1 level teaspoon baking powder
1 level teaspoon bicarbonate of soda
2 level teaspoons mixed spice
150g finely chopped apple ( approximately 2 medium apples)
What you do
Preheat the oven to 200c, 180c for a fan assisted oven and place 10 cardboard muffin cases onto a tray (alternatively use paper muffin cases and place them into a muffin tin.
Start by making the streusel topping by placing the sugar, flour, mixed spice and butter into a small bowl and rubbing it through your fingertips until you have a coarse, lumpy mixture then add in the flaked almonds, set aside.
Now prepare your wet ingredients by combining the eggs, oil, milk, yogurt and vanilla essence in a jug, whisk gently to combine
For your dry ingredients, mix the flour, sugar, baking powder, bicarbonate of soda and mixed spice in a large bowl, whisk gently with a wire whisk to combine all the ingredients then add the chopped apples and stir again.
Pour the wet ingredients onto the dry ingredients and mix quickly and gently until JUST combined, do not beat or over mix, or you will end up with rubbery muffins.
Divide the mixture equally between the muffin cases then divide the streusel topping over the tops, pushing the mixture down very gently with your fingertips to help it stick to the muffin mixture.
Bake in the preheated oven for 10 minutes then drop the temperature to 180c or 160c and continue baking for a further 20-25 minutes or until a wooden skewer comes out clean when inserted into the middle. Leave to cool.
Categories: Cupcakes