| | |
| --- | --- |
| Posted by me on October 28, 2014 at 9:50 AM | |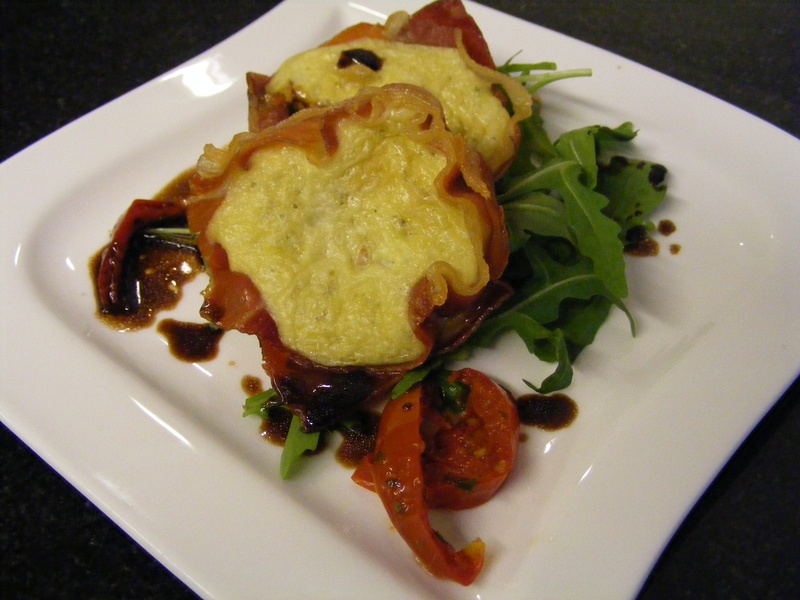 Serves 6 as a starter
What you need
12 slices of prosciutto or Serrano ham
150g mascarpone
20g green pesto
2 medium eggs
Salt and pepper to taste
125g mozzarella cut into 12 equal pieces
100g sun blush tomatoes, drained (1 tablespoon of oil reserved for the dressing) cut length ways into thin strips
6 tablespoons of balsamic vinegar, boiled in a small saucepan to reduce the amount by half
1 heaped teaspoon of runny honey
Wild rocket leaves to garnish
What to do
Preheat the oven to 160c or 140c for a fan assisted oven.
Cut the prosciutto ham slices in half and use two pieces to line each hole in a 12 hole shallow bun tin.
In a jug mix the eggs, pesto and mascarpone until smooth and then season to taste (don't add too much salt as the prosciutto is quite salty once baked)
Place a piece of mozzarella into each of the prosciutto lined holes then spoon a heaped dessertspoon full of the mascarpone mixture over the top.
Bake in the preheated oven for 14-15 minutes or until the egg mixture is only just cooked.
Remove and leave for two minutes to cool.
Meanwhile make the dressing by placing the reserved oil into a small bowl and adding the reduced balsamic vinegar and honey, whisk well to combine.
To serve as a starter place a handful of wild rocket onto individual plates then place two tartlets on top with a drizzle of dressing and a few juicy pieces of sun blush tomatoes.
To serve as individual tartlets top each with a little rocket, a few pieces of sun blush tomatoes and a drizzle of dressing, serve warm
Categories: Something savoury, Pies, pastry, Tarts and Tartlets, something a little bit special...