| | |
| --- | --- |
| Posted by me on October 29, 2014 at 2:15 PM | |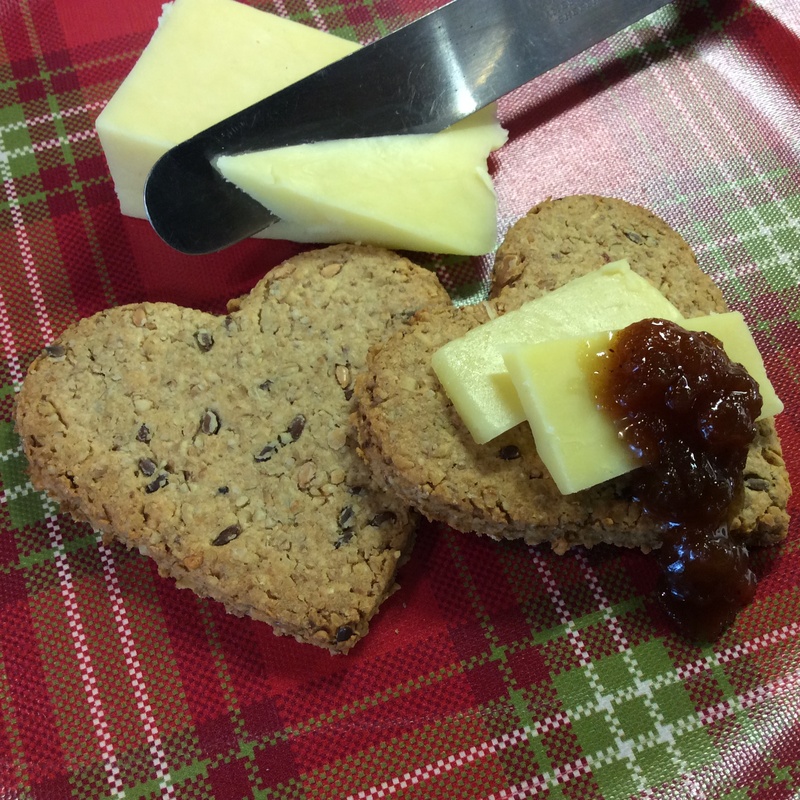 In 1755 Samuel Johnson in his famous dictionary of the English language quoted rather unkindly to the staple diet of Scots (oats) as "a grain, which in England is generally given to horses, but in Scotland supports the people' to which Patrick Murray, 5th Lord Elibank of East Lothian replied 'yes and where would you see such horses and such men!'
I for one wouldn't argue with a big hairy Scotsman when he's wearing a kilt, if they are man enough to wear a tartan skirt they are not to be trifled with, or indeed our illustrious Queen Elizabeth II who eats them for breakfast every morning.
I created these oatcakes a little tongue in cheek. Most recipes contain only oatmeal, oil and water and are round or square but I have added a couple of extra ingredients and cut them into little heart shapes as I feel that the hairy wee fella's north of the English border could do with getting in touch with their feminine side every once in a while. You can make them any shape you like and they are delicious spread with a little butter or topped with some strong cheese and a little chutney, served alongside a wee dram of single malt whisky.
What you need
225g medium oatmeal
15g plain flour
100g extra mature cheddar cheese, grated
1 teaspoon celery salt
½ level teaspoon salt
½ level teaspoon caster sugar
40g mixed seeds- I used pumpkin, sesame, linseed and sunflower
1 tablespoon oil
100mls hot water
A little plain flour for dusting the work surface
What you do
Preheat the oven to 200c or 180c for a fan assisted oven and line a baking sheet with baking paper.
Place the oatmeal, celery salt, salt, sugar, seeds and flour into a bowl and stir with a fork until well combined then add the grated cheese and stir again.
Pour in the oil and NEARLY all the water but don't add it all at this stage, you want to end up with a slightly sticky but firm dough, reserve the water you don't use at this stage.
Roll out the dough on a lightly floured work surface to 5mm thick and cut out whatever shape you choose (I used an 8cm wide heart shaped cutter) then place them onto the prepared baking tray), put the trimmings back into the bowl and sprinkle on a little bit of the reserved water as you will find that it has gone quite dry, cut out more shapes and repeat until you have used all the dough up.
Bake the oatcakes for 15-20 minutes until they are golden brown at the edges, cool on a wire rack once baked (smaller oatcakes will take less time so keep an eye on the oven, don't over bake them or they will taste bitter).
Categories: Something savoury, Biscuits and Cookies, A blast from the past.... old fashioned recipes with a modern twist!