| | |
| --- | --- |
| Posted by me on November 2, 2014 at 4:00 PM | |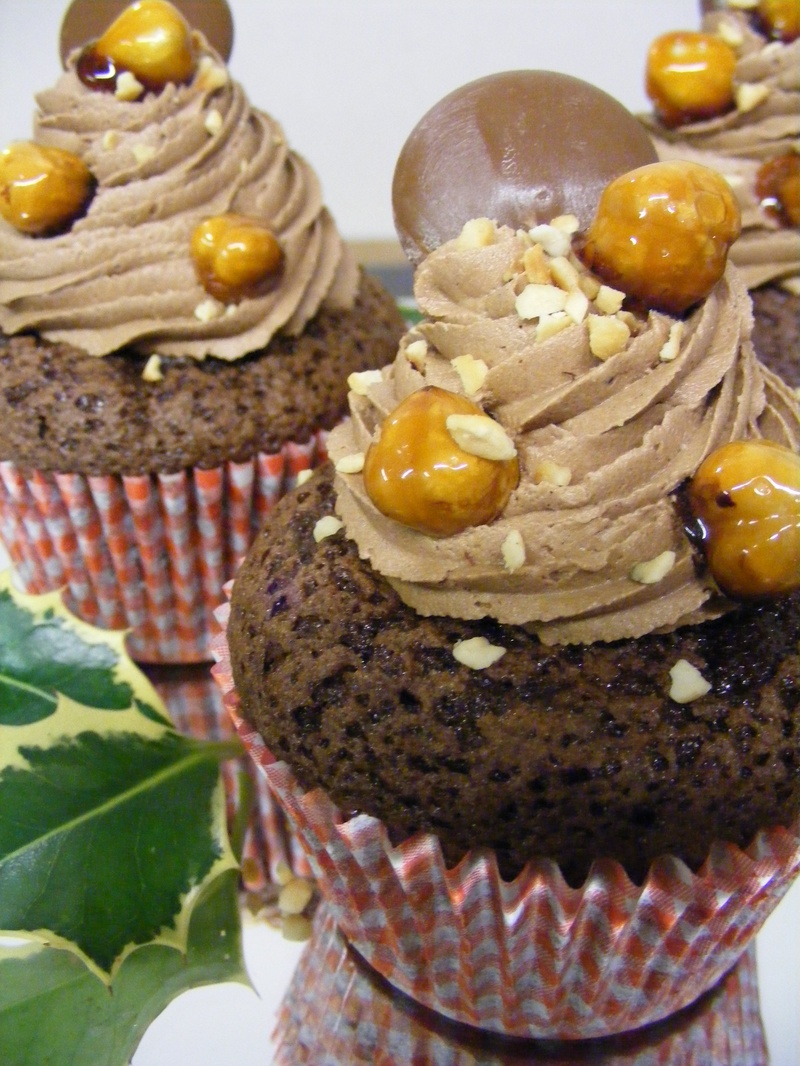 Makes 12 large cupcakes
What you need
50g cocoa
6 tablespoons hot strong coffee
3 medium eggs
50mls milk
175g self raising flour
1 teaspoon baking powder
100g vegetable oil
300g soft light brown sugar
½ teaspoon salt
1 level teaspoon vanilla extract
Frosting
75g butter
100g icing sugar
10mls milk
1 level tablespoon cocoa powder
125g chocolate and hazelnut spread
½ teaspoon hazelnut essence (available online) or a few drops of almond essence if unavailable
To decorate
36 whole blanched hazelnuts
100g caster sugar
1 tablespoon water
12 large milk chocolate buttons
½ teaspoon vegetable oil to make the buttons shiny
1 tablespoon finely chopped toasted hazelnuts
What you do
Preheat the oven to 180c or 160c for a fan assisted oven and place 12 large muffin paper cases into a 12 hole muffin pan
Place the cocoa powder and strong coffee into a mixing bowl and mix to a smooth paste then add the remainder of the cake ingredients and beat with an electric mixer for two minutes or three minutes by hand.
Divide the mixture between the muffin cases and bake in the preheated oven for approximately 25 minutes or until the cakes are well risen and firm to the touch. Leave to cool in the tin or the paper cases will start to come away from the cakes.
Whilst the cakes are cooling make the frosting by placing the butter, icing sugar, chocolate hazelnut spread, hazelnut essence and milk into a medium sized bowl and beating until the mixture is smooth, soft and creamy. Place into a piping bag fitted with a large star nozzle.
Place the caster sugar and the tablespoon of water into a small non-stick, heavy saucepan and stir gently over a low heat to dissolve the sugar then turn the heat up and boil the sugar syrup rapidly until it goes a golden caramel colour. Immediately place the base of the saucepan into cold water to stop the caramel from cooking any further.
Place the whole blanched hazelnuts into the caramel and leave for 2-3 minutes to cool a little then remove them individually and place onto a sheet of baking parchment to harden.
Rub the large chocolate buttons with a little vegetable oil to give them a lovely shine.
To finish the cakes, pipe a swirl of frosting on top of each cake then top with a shiny chocolate button, three caramelised hazelnuts and a sprinkle of finely chopped toasted hazelnuts
Categories: Cupcakes, Christmas, Chocolate... chocolate and more chocolate!