| | |
| --- | --- |
| Posted by me on November 25, 2014 at 4:00 PM | |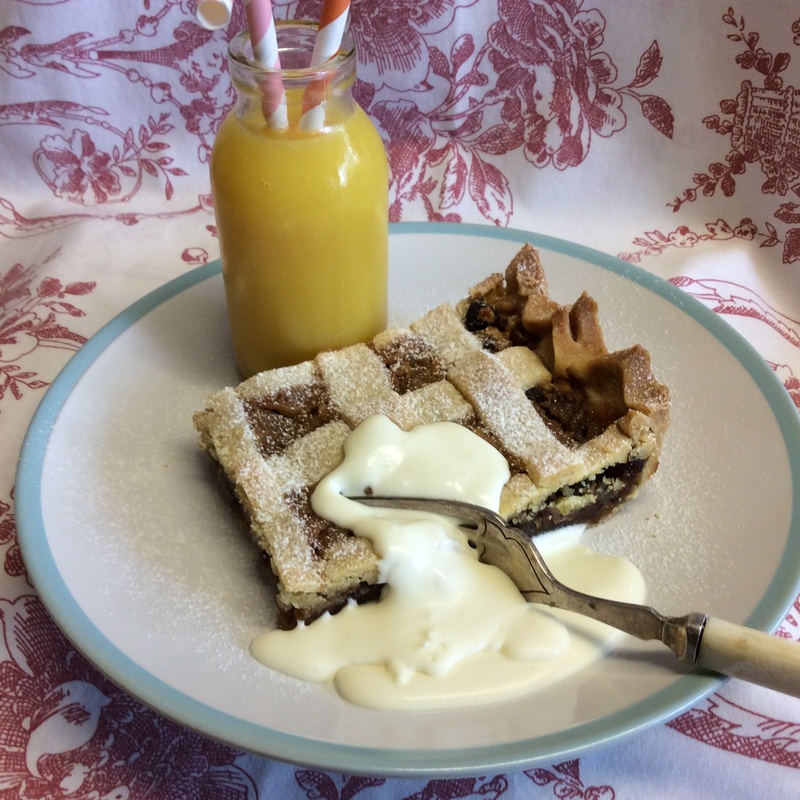 I can't describe just how good this gorgeous tart is and is the perfect alternative to traditional mince pies at Christmas but its just as good eaten any time of the year. Cumberland Rum Nicky originated in Cumbria in the North West of England as a favourite of Sailors in the 1800's returning from the West Indies on ships laden with Rum, fruit and spices and the 'Nicky' part of the name possibly refers to the sailors 'nicking' the remaining ingredients they needed....
What you need
For the pastry
150g chilled butter
75g icing sugar
2 medium egg yolks
1 teaspoon spiced rum
250g gluten free plain flour
Zest of 1 large lemon
For the filling
200g chopped dried dates
50g chopped dried apricots
85g chopped, ready to eat prunes
1 large apple, peeled, cored and grated
140g butter, melted
60g light dark brown sugar
4 tablespoons spiced rum
1 egg white
Mascarpone Rum cream
180g mascarpone
2 tablespoons spiced rum
2 tablespoons icing sugar
2 tablespoons milk
What you do
Preheat the oven to 180c or 160c for a fan assisted oven.
Start by making the pastry, place the flour into a large bowl and add the grated lemon zest and icing sugar, stir with a wire whisk to combine then add the butter in small pieces and rub the mixture between your fingertips to make fine breadcrumbs. Add the two egg yolks and rum and bring the mixture together with a fork until it forms a smooth ball, wrap in cling film then chill in the fridge for 45 minutes.
Meanwhile make the filling by placing the chopped dates, apricots prunes and grated apple in a large bowl. In a smaller bowl mix the melted butter, soft dark brown sugar, rum and egg white until well mixed then pour the liquid over the fruit, stir well to combine then leave to cool.
Roll out 2/3rds of the chilled pastry on a lightly floured surface and use to line a 24cm square tin, trim and reserve the overhang to use for the lattice top.
Pour the cooled fruit mixture into the tin then roll the remaining pastry out and cut 1cm strips and lay over the filling to produce a lattice effect.
Bake in the preheated oven for 15 minutes then reduce the heat to 160c or 140c for a fan assisted oven and continue baking for a further 30 minutes or until the pastry is golden brown. Leave to cool in the tin then serve with the mascarpone cream (mix all the mascarpone ingredients together and keep chilled till required)
Categories: Pies, pastry, Tarts and Tartlets, Christmas, A blast from the past.... old fashioned recipes with a modern twist!