| | |
| --- | --- |
| Posted by me on February 3, 2015 at 3:15 PM | |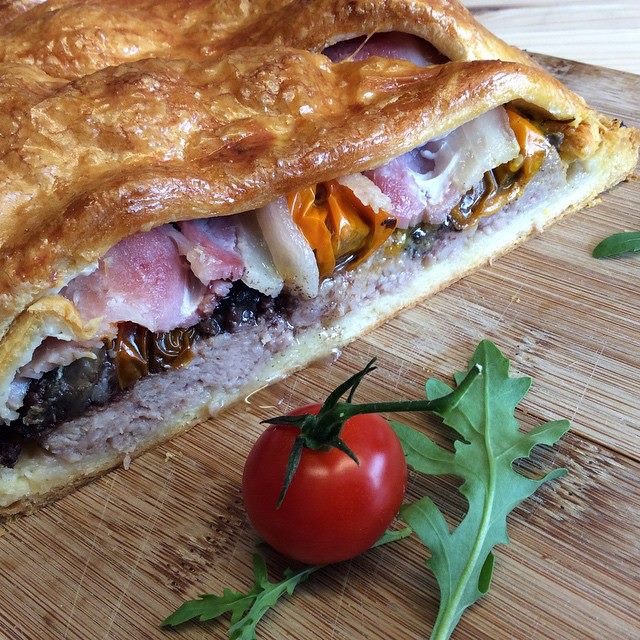 Pies are just as much a part of a staple diet in the North as pasties are in Cornwall and the infamous Wigan kebab (meat pie in-between a soft bread roll) is just one example of haute cuisine up t'north.
This is my version of a 'posh' pie as I have used ready-to-bake croissant dough instead of short crust or puff pastry and I have filled it with all my favourite breakfast items.
We pride ourselves in the North of England for the hearty fried breakfasts of sausages, bacon and of course sliced Bury ( rhyme with berry ) Black pudding made with pig's blood and diamond like chunks of white fat…Mmmm! guaranteed to put hairs on your chest and a spring in your step when you went down the mines or into the cotton mills for a twelve hour day.
This is a hearty pie made for cold winter tea times served hot, with some cheesy butter beans (recipe is at the end of this page), mushy peas or simply with a pint of Newcastle Brown ale
What you need
2 x 250g Jus Roll bake it fresh croissants – find it in the chiller section next to readymade pastry
375g good quality sausage meat
150g large flat field mushrooms, cut into ½ cm slices
220g fresh cherry tomatoes cut in half
4 slices lean back bacon
200g Bury black pudding or any other quality black pudding, cut into thin slices
1 egg, beaten
What you do
Preheat the oven to 160c or 140c for a fan assisted oven and cover a baking sheet with a piece of baking paper.
Unroll the packs of croissant dough by unwrapping the containers (I once forgot to put a can of this away and left it in the hallway in my bag, when I finally remembered it a couple of hours later it had exploded and expanded and the inside of my bag was covered in croissant dough with Bic pen lids, tampons and loose change stuck to it like a zany Danish pastry….)
Cut the dough along the dotted lines so that you have 6 x 2 rectangles (each rectangle will be made up of two triangles)
Now turn three rectangles around so that they are 'portrait' not 'landscape' and place them onto your prepared baking sheet, slightly overlapping them so they form one sheet.
Pat the sausage meat out on top of the dough coming to within 1 ½ cm of the edges then top with the sliced black pudding followed by the sliced mushrooms, the halved cherry tomatoes and finally the sliced back bacon.
Use the beaten egg to wash around the edges and place the three remaining rectangles of croissant dough on top of the bacon, pushing the edges down firmly so they stick together, egg wash the top of the pie and bake in the preheated oven for approximately 30-35 minutes or until the pie is golden brown, well risen and the sausage meat is cooked.
Recipe for cheesy butter beans
Open up a tin of baked beans, add a large knob of butter and a handful of grated mature cheddar cheese and heat until the beans are hot and the cheese has melted.
Categories: Something savoury