| | |
| --- | --- |
| Posted by me on March 8, 2015 at 4:05 PM | |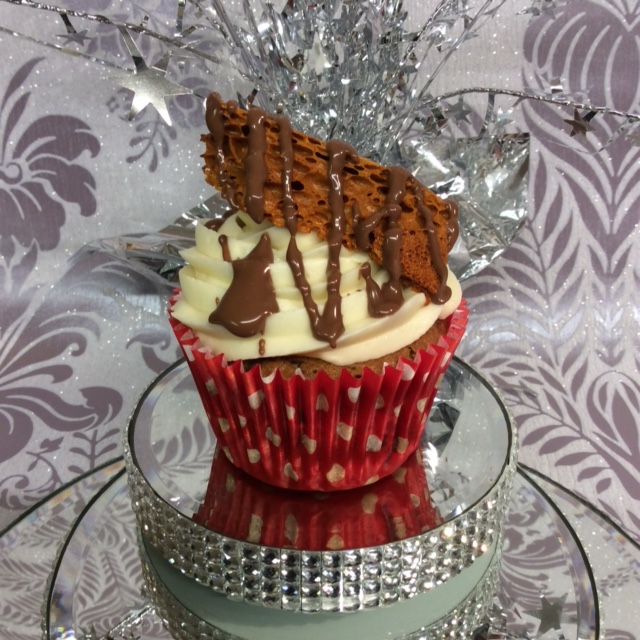 if ever there was a Fred Astaire and Ginger Rogers of cupcakes, this little beauty would fit the bill... with sophisticated notes of coffee and vanilla, smooth and creamy cream cheese frosting and a gleaming nugget of bubbly champagne coloured toffee perched jauntily on  top this is a cupcake strictly for the grownups....
What you need
For the cinder toffee
75g granulated sugar
125g golden syrup
Good pinch of salt
1 teaspoon vinegar
15g bicarbonate of soda
For the cupcakes
150g soft light brown sugar
150g baking margarine
3 medium eggs
150g self raising flour
4 level teaspoons instant coffee granules ( not powder as you want to be able to see little flecks of coffee)
1 level teaspoon vanilla essence
For the frosting
125g butter, at room temperature
125g full fat cream cheese
400g icing sugar
1 level teaspoon vanilla essence
50g milk chocolate, melted to drizzle over the top of the cakes
What you do
Start by making the cinder toffee. I use a baking sheet with a silicone mat on to cool and set the cinder toffee but if you don't own a silicone sheet you will need to grease a baking tray with oil.
Place the sugar, golden syrup, salt and vinegar into a large, deep, heavy based saucepan with two tablespoons of water and place over a low heat to melt the sugar then turn the heat up and boil gently until the liquid turns a golden amber colour then remove from the heat, grab a wire whisk and tip the bicarbonate of soda in, whisking rapidly but carefully. The mixture will froth up! Tip the frothy toffee out onto the prepared baking sheet and leave to cool in a dry place. Break into nuggets and store in an airtight bag. This recipe makes more than you need but is tastes so good it's worth making extra just so you can eat it on its own.
Preheat the oven to 180c or 160c for a fan assisted oven and line a 12 hole muffin tin with paper cases.
Place the margarine, soft brown sugar and vanilla essence into a bowl and beat until pale, creamy and fluffy then beat in the eggs one at a time. Once all three eggs have been added, scrape the sides of the bowl down and fold in the flour and coffee granules until well combined. Divide the mixture equally between the paper cases and bake in the preheated oven for 15-20 minutes or until the cakes are firm to the touch, well risen and golden brown.
Leave to cool in the tin to prevent the paper cases coming away from the cakes.
Meanwhile make the frosting by placing the butter, cream cheese, vanilla essence and icing sugar into a large bowl and beat until the frosting is soft and fluffy, set aside until required.
To finish the cakes, place the cream cheese frosting into a piping bag with a large star nozzle and pipe generous swirls of frosting on the top of the cooled cakes, top each cake with a nugget of cinder toffee then drizzle with a little melted chocolate.
Categories: Cupcakes, Sweets, treats and chocolates...., something a little bit special...