| | |
| --- | --- |
| Posted by me on April 5, 2015 at 12:00 AM | |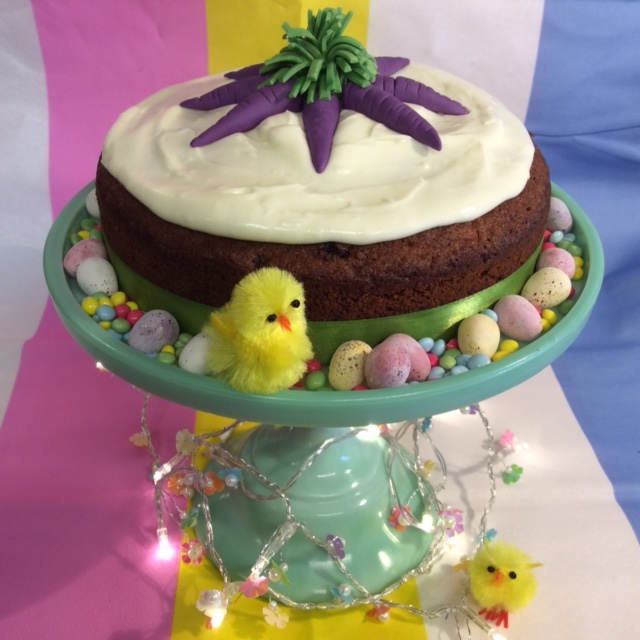 I'm incredulised (lol what a fabulous made up but very apt word) that this is the very first time that I have devised a carrot cake recipe for my website. This light, moist and gently spiced fruitcake is a staple on the afternoon tea table and a definite must have when it comes to Easter. My recipe contains toasted caraway seeds which add a gorgeous subtle hint of aniseed flavour which complements the sweetness of the carrots perfectly, as well as the more traditional spice, cinnamon and freshly grated orange zest.
I decided to make little purple carrots for decoration on top of the cream cheese frosting as carrots were originally a lovely purple shade rather than the bright orange we know so well today (allegedly Dutch Growers in the 17th century turned them orange in tribute to William of Orange the leader of the Dutch in their struggle for independence) but if you can't find purple food colour just make them orange or exchange them for sugar eggs, edible flowers or just a light dusting of cinnamon…
What you need
3 medium eggs
175g light soft brown sugar
175ml vegetable oil
150g carrots, peeled and grated
100g raisins
50g dried, ready to eat apricots, chopped
Grated zest of 1 large orange
180g self raising flour
1 level teaspoon baking powder
1 level teaspoon ground cinnamon
1 level teaspoon of caraway seeds that have been lightly toasted for a few minutes in a dry frying pan to release their flavour and aroma
For the frosting
50g full fat cream cheese
25g butter, softened
120g icing sugar
40g purple coloured sugarpaste (also called fondant or ready to roll icing)
15g green coloured sugarpaste
What you do
Line an 8" round deep tin with baking paper (on the base and sides) and preheat the oven to 180c or 160c for a fan assisted oven.
Place the sugar, eggs and oil into a large bowl and whisk with a wire whisk until they are well beaten and a little frothy then add in the grated carrot, raisins and chopped apricots. Stir well.
Fold in the self raising flour, baking powder and both spices and stir gently to combine all the ingredients then tip the mixture into the prepared tin and bake in the preheated oven for 55-70 minutes or until the cake is risen, golden brown and a thin, pointed knife or skewer comes out cleanly when inserted into the middle of the cake. leave to cool in the tin for 15 minutes then remove and leave to cool completely on a wire rack.
Meanwhile make the frosting by beating the butter until soft then add the cream cheese and icing sugar and beat once more until smooth, spread over the top of the cooled cake, leaving a 1cm border all around the edge then decorate with little sugarpaste carrots, edible flowers, sugar coated chocolate eggs or a little dusting of ground cinnamon.
Store this cake in the fridge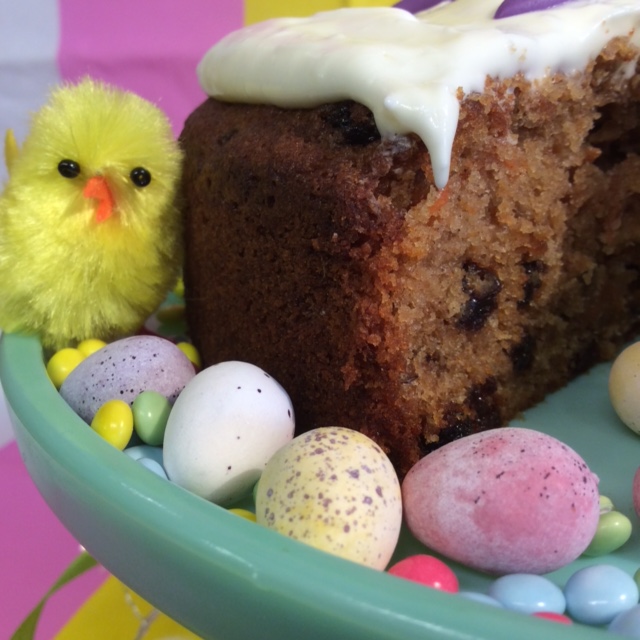 Categories: Cutting cakes, Seasons eatings...., something a little bit special...