| | |
| --- | --- |
| Posted by me on April 12, 2015 at 3:55 PM | |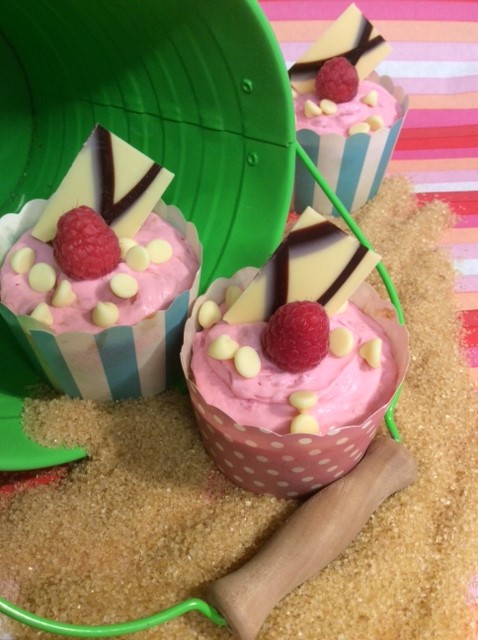 I created these gorgeous, light, soft, fluffy and moist cupcakes on a very cold and wet afternoon when the wind was howling around the rafters and the rain was lashing against the windows.... I wanted to create the taste of a seaside summer in a cupcake but that would also evoke memories from my childhood and drinking bottles of ice cold cream soda on a golden, sandy beach in Jersey in the channel islands was just one lovely memory I used to inspire me.
These have a real old fashioned flavour without the heaviness that traditional cakes normally have and are moist and very light.
The mascarpone and raspberry frosting is zingy and fresh and adds to the richness of flavour, so go on pull out a deckchair, tie a handkerchief around your head, roll up your trouser legs and sing with me.... oh I do like to be beside the sea side..... 
what you need
125g butter
125mls vegetable oil
300g self raising flour
300g caster sugar
1 level teaspoon baking powder
200mls good quality cream soda
50g mascarpone
2 medium eggs, beaten
2 teaspoons vanilla extract or essence
For the frosting
250g fresh raspberries (reserve 16 for decorating)
450g mascarpone
1 teaspoon of lemon juice
A few drops of pink/red food colouring
75g icing sugar
16 small chocolate decorations (I used readymade marbled chocolates from a supermarket)
3-4 tablespoons of white chocolate drops
What you do
I used cardboard cake cases for my cuppies but if you use paper cases make sure they are extra large as these babies do grow in the oven, you might need a few more than the 16 cardboard ones if you use paper, but I digress…. place 16 cardboard cake cases onto a baking sheet or 16-24 paper cases into 2 x 12 holed bun tins and preheat the oven to 180c or 160c for a fan assisted oven.
Melt the butter in a small saucepan then whisk in the oil and cream soda, followed by the mascarpone, eggs and vanilla essence.
Place the flour, baking powder and sugar into a large mixing bowl and whisk gently with a handheld wire whisk, just to mix all the ingredients together then pour the wet ingredients on top of the dry and whisk well to incorporate all the ingredients.
Divide the mixture between the cases (no more than just under ½ full) and place into the preheated oven for 18-20 minutes or until well risen, golden brown and firm to the touch. Remove and leave to cool (don't worry if they sink a little on cooling, this is perfectly normal).
Whilst the cakes are cooling make the frosting by picking 16 nice raspberries for decoration then mashing the remainder with the icing sugar and lemon juice. Add the mascarpone and a few drops of pink food colouring and whisk gently until you have a lovely smooth, creamy frosting.
Once the cupcakes are cool swirl a good tablespoon of the pink frosting on the top of each cupcake and top with a raspberry, a little sprinkle of white chocolate chips and a chocolate decoration…
These also look stunning with a fresh edible flower on the top with the raspberry
Categories: Cupcakes, Just like Grandma used to make